Our Scriptural Focus:
Is anyone among you in trouble? Let them pray. Is anyone happy? Let them sing songs of praise. Is anyone among you sick? Let them call the elders of the church to pray over them and anoint them with oil in the name of the Lord. And the prayer offered in faith will make the sick person well; the Lord will raise them up. If they have sinned, they will be forgiven. Therefore confess your sins to each other and pray for each other so that you may be healed. The prayer of a righteous person is powerful and effective (James 5:13-16).
April Objective:
On the four Mondays in April,[NOTE] we are focusing on shared prayer as a way for "Living My MUSD!" No amount of "social distancing" can keep the power of the Holy Spirit away from those we bless with our prayers!
Focusing on the Issue:
This week, our focus is "Interceding Personally" in prayer for others. One of my favorite stories about the power of intercessory prayer involves the apostle Peter. In the early days of the church, the number of disciples kept increasing. The authorities in Jerusalem became more and more alarmed, so Herod decided he would do something to put a stop to it:
It was about this time that King Herod arrested some who belonged to the church, intending to persecute them. He had James, the brother of John, put to death with the sword. When he saw that this met with approval among the Jews, he proceeded to seize Peter also. This happened during the Festival of Unleavened Bread. After arresting him, he put him in prison, handing him over to be guarded by four squads of four soldiers each. Herod intended to bring him out for public trial after the Passover (Acts 12:1-4).
Herod's brutal murder of James, the apostle, demonstrated that his hostility toward followers of Jesus was malicious and violent. Next, Herod intended to execute Peter, a recognized leader of the early church in Jerusalem. What power did these early believers have in the face of political corruption with such violent intentions?
The power was in shared prayer — the power to intercede personally for Peter, asking God to deliver him from prison and death!
So Peter was kept in prison, but the church was earnestly praying to God for him (Acts 12:5).
Herod had Peter bound with chains and placed him between two soldiers, locked securely in prison (Acts 12:6). The church prayed, earnestly and fervently, for Peter's deliverance and release. While they prayed, God intervened miraculously, rescuing Peter from his chains, from the soldiers guarding him, and from the prison cell that held him. An angel delivered the apostle from certain death (Acts 12:6-11) and back to the people who were praying for him.
Peter went immediately to the house of Mary and knocked on the outer gate. Meanwhile, Peter's church family was praying inside the house for him. When Rhoda, the servant girl, told everyone that Peter was knocking at the gate door, they thought she was either crazy or had seen an angel. Meanwhile, Peter kept knocking on the gate until the prayer group inside realized that God had answered their prayers!
Peter described how God had delivered him from prison. He then asked that other believers in Jerusalem, those who met with James the brother of Jesus, be notified (Acts 12:12-16). God had responded mightily to the prayers of Christians for Peter despite their surprise that God had answered their prayers so directly and immediately. Peter then left town to begin his mission work elsewhere.
The Power of Interceding Personally for Others in Prayer:
One of the greatest blessings we have as followers of Jesus is our ability to intercede personally in prayer for someone else. The James that Peter wanted to have notified of his deliverance from prison was also a leader of the church in Jerusalem. He is probably the same James who told us, "The prayer of a righteous person is powerful and effective" (James 5:16).
No wonder James emphasized that we should "pray for each other"! (James 5:16) He knew from experience that prayers for others could be "powerful and effective"! He, and the other Christians in Jerusalem, had experienced this powerful blessing with Peter's miraculous release from prison.
James also knew we are all can be forgetful. He knew that he must remind his brothers and sisters in his time — just as we need to remind each other — of the power we have to intercede for others. We can quickly forget when faced with seemingly insurmountable problems.
Let's open our hearts to James' reminder. Even when confined to our houses and limited in our travels and frustrated with social distancing, we still have the incredible ability to pray for others, especially our brothers and sisters in Christ (Ephesians 6:18):
We can pray for others to have the strength to overcome temptations and trials (Luke 22:31-32).
We can pray for God to forgive others (Matthew 18:18-20; James 5:13-16).
We can pray for their healing (James 5:14-16).
We can pray for their deliverance from prison (Acts 12:1-16).
We can pray for their effectiveness in sharing the message of Jesus (Colossians 4:2-4).
We can pray for people to live for Jesus in a holy and pure way (1 Thessalonians 5:23-24; 2 Thessalonians 1:11-12).
We can pray for each other's courage and boldness when under attack (Acts 4:23-31).
We can pray for those who abuse and persecute us (Matthew 5:44-45).
We can pray for others to find peace and joy in Jesus (Romans 15:13; 2 Thessalonians 2:16-17).
We can follow Jesus' example and pray for the unity of our brothers and sisters in Christ (John 17:20-23).
God promised us that he hears our prayers. The Holy Spirit intercedes for us when we pray, conveying both our words and our emotions to God. The Spirit communicates our words and thoughts to God even when we can't find the right words to pray (Romans 8:26-27). In addition to the Spirit's intercession, Jesus is at the right hand of God interceding for us (Hebrews 2:14-18, 4:14-16, 7:25). The Almighty has chosen to bless us with his power through prayer; let's use this incredible blessing!
God is bigger than any human limitations, and he invites us to tap into his power to bless others by interceding personally for them!
A Blessing We Can Share Virtually:
God designed prayer as a way for us to empower and bless each other. This gift of prayer has always been "virtual"! We don't have to be in the same room, the same town, or the same country to bless others. Our God is the great "I AM," the one who is and was and is to come (Exodus 3:1-14; Revelation 1:4, 8). He can bless, forgive, empower, and deliver because he is always with us. He invites us to ask for his help in blessing, healing, forgiving, and empowering others in their times of need.
During this challenging time, we must remind ourselves of the gift God gave us long ago to bless each other; that gift is interceding personally for others. Let's use the time we are spending away from crowds to do something more than read, watch TV, eat, and sleep.
To help us focus on prayer, we can designate a special place in our houses or apartments or offices for prayer. We can pray specifically for people who need God's blessing and mention their needs specifically. Many of us have found it a best practice to go aside at a specific time to pray and keep a list of those for whom we've prayed. Some of us pray for specific intercessory concerns on different days. And, when we have prayed for people, let's remember to drop them a note, a text, or an email letting them know that we've prayed for them and what we've prayed for them.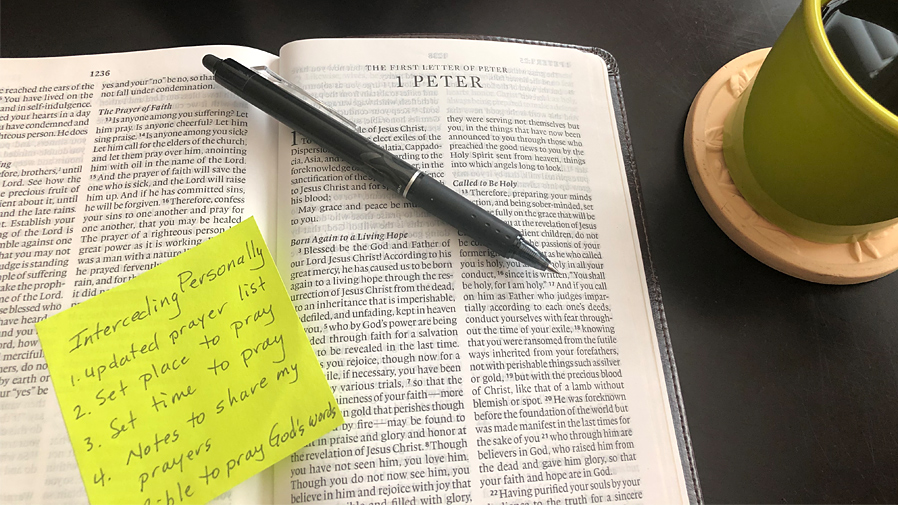 As I finish these thoughts, I want you to know that these are not idle thoughts I've written for someone else to do. The first thing I did this morning, like many mornings, was open WhatsApp and touch base with several people from around the world. Each of them has specific needs. They face different challenges and problems. Some are given unique opportunities for ministry. One of the best things I can do to bless them is praying for them!
Interceding personally for others is "powerful and effective." What's more, it is always available. I can pray for people whether I am with them in the same room, house, church building, or city. God is bigger than any human limitations, and he invites us to tap into his power to bless others by interceding personally for them!

---
---
[NOTE] What do we mean by using the words "shared prayer" and how do we effectively engage in it? We are looking at shared prayer from four different vantage points:
---
---