And pray in the Spirit on all occasions with all kinds of prayers and requests. With this in mind, be alert and always keep on praying for all the Lord's people. Pray also for me, that whenever I speak, words may be given me so that I will fearlessly make known the mystery of the gospel, for which I am an ambassador in chains. Pray that I may declare it fearlessly, as I should (Ephesians 6:18-20).
April Objective:
Over the four weeks of April,[NOTE] we are focusing on shared prayer as a way for "Living My MUSD!" No amount of "social distancing" can keep the power of the Holy Spirit away from those we bless with our prayers!
Focusing on the Issue:
So often, we think the success of our missions, missionaries, and ministries is dependent on just two things:
Our efforts.
Our giving.
These two things are essential, but so is shared prayer to support missional efforts.
I never want to diminish our need to be involved and give our best efforts toward growing the Kingdom of God. Neither do I want to lessen the importance of our giving money to support our missions, missionaries, and ministries.
The apostle Paul made clear in his letter to his dear friends, the Philippians, that they were full partners with him in sharing the Good News of Jesus. They participated in his ministry by sharing their financial gifts with him (Philippians 1:3-5, 4:14-16). He also praised those who had exerted purposeful effort in sharing the Good News of Jesus (Philippians 4:3-4). He even held himself up as an example of someone who put every ounce of his energy into the work of the gospel (Philippians 3:12-17, 4:9, 13). This great missionary stressed the importance of the Christians in Philippi passionately working for the cause of Christ (Philippians 1:27-30, 2:12-16).
Our efforts to share Jesus and to give generously to missions, missionaries, and ministries are always vital. Our efforts and generosity are especially necessary during this challenging time. However, we must not skip the fundamental first step in empowering missional efforts: shared prayer for missions, missionaries, and ministries.
---
---
Where All Effective Ministry Begins:
Years ago, a strong personality on our international missions' committee was very angry. The elders of our congregation needed for him to wait a week to present his proposal on missions' funding. Their explanation was, "This is the night that we are committed to praying for people, our missionaries, our mission efforts, and our ministries. We will be busy praying for at least two hours, and we believe you need to come back next week with your proposal."
As a young minister, I was the one "blessed" with leaving the prayer meeting and conveying the eldership's message to this impatiently waiting, strong personality, just outside the door. When I shared with him what the eldership had said, his face immediately flushed a deep shade of red. He started to respond, gathered himself, and turned to leave. He then paused, turned back around, and through clenched teeth, he quietly spat out the words, "I wish all I had to do on Wednesday night was to sit around and pray."
Most of us would never say anything as brazenly disrespectful about our church leaders and their prayer life. I wonder, however, how often we operate from a similar perspective. Prayer can quickly become an afterthought to our efforts and the concerns over money for missions. The truth is the opposite: Prayer is the launching pad and the power source for all of our missions, missionaries, and ministry.
I later shared this brother's spiteful words with one of our elders that this brother deeply admired because of his involvement in world evangelism and international missions. This leader visited with our angry missions committee member. He reminded him gently of a truth they both had said to others: "I get done only what I pray for!"
Prayer isn't just a tool we pull out to aid our efforts in missions, missionaries, and ministries; it is the toolbox that carries and empowers every tool we have. While not all of us are gifted and called to be evangelists or missionaries, we all can, and should, pray for these efforts. When we do, we enter into a partnership both with the Holy Spirit and with each other to accomplish Jesus' mission. We also partner with those for whom we pray and empower them to new opportunities.
Paul yearned for the people in the churches he planted to pray for him and his work in sharing the Good News of Jesus. He saw this prayer as indispensable to his effectiveness as well as essential at opening the hearts of the people he was trying to reach:
Devote yourselves to prayer, being watchful and thankful. And pray for us, too, that God may open a door for our message, so that we may proclaim the mystery of Christ, for which I am in chains. Pray that I may proclaim it clearly, as I should (Colossians 4:2-4).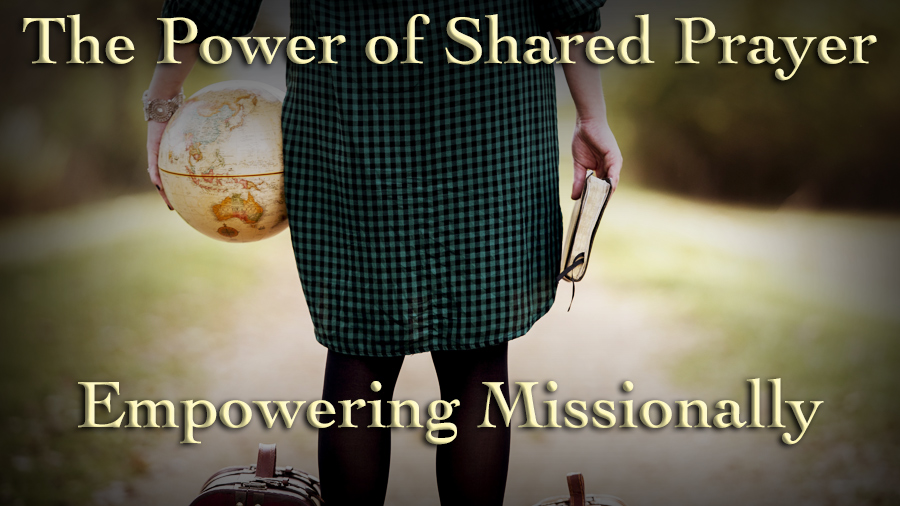 Prayer isn't just a tool we pull out to aid our efforts in missions, missionaries, and ministries; it is the toolbox that carries and empowers every tool we have.
As I commit to "Living My MUSD" this week, I am committing to shared prayer. One aspect of my shared prayer will be to empower our church's missions, missionaries, and ministries that need the release of the Holy Spirit's power into their efforts! We may be social distancing right now because of COVID-19, but we can release the power of the Holy Spirit to be at work around the world in the lives of all peoples.
---
---
Final Thoughts:
This week, let's make a point to pray for missionaries, missions effort, and ministry leaders. Remember, using last week's emphasis of partnering in prayer through communicating personally, we not only want to pray for them, but we also want them know that we have prayed and what we have prayed!
If you need help to guide you in this effort, try the Compassion International Global COVID-19 Prayer Guide.

---
---
[NOTE] What do we mean by using the words "shared prayer" and how do we effectively engage in it? We are looking at shared prayer from four different vantage points:
---
---