---
Drawing Near:
We're thankful that you joined us for this week's ToGather.church! (Find out more.) We hope that today's worship guide blesses your home worship and that you can safely share your worship with your friends, family, home group, and house church.
The year is still new, but the freshness feels a bit wilted with the ongoing pandemic and the political violence. This week's focus is aligning ourselves with God's purposes for us and his guidance of our steps through life. We believe that God's people need his help and power more than ever if we are going to have a redemptive influence in our broken world. While our effort #NewYearwithNewHope focused on the first hour of the year, we hope you will continue praying for our three prayer areas of emphasis:
Exalting Jesus as Savior and Lord.
Healing and health for our broken world.
United in love and prayer as followers of Jesus.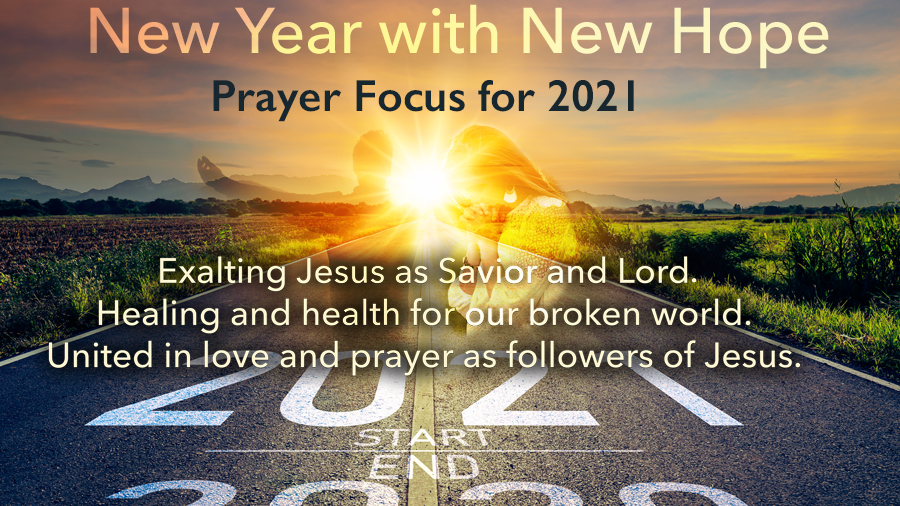 We also thank all who participated in this effort with us and those who will join us going forward.
Our ToGather.church family comes together to join our hearts in worship and be filled by the Holy Spirit in this New Year. We will sing, open the Scriptures, pray, and share the Lord's Supper. If you would like to connect to a larger community to share prayer, fellowship, and discussion, please check out our comments section at the bottom of the Verse of the Day web page!
Let's begin today's ToGather with Vertical Church Band's song, "Found in You," that invites God to join us in our worship:
Let's join in prayer.
Dear Father in heaven, the one true and living God, we come to you and pray:
May the nations of the world recognize you, LORD,
recognize that you, the LORD, alone are glorious and strong.
We seek to give you, LORD, the glory you deserve!
We bring our offerings of love, praise, and prayer, as we come into your presence.
We desire to worship you, LORD, in all your holy splendor.
May the words from our mouths
and the meditations of our hearts
be pleasing to you,
O LORD, our rock and our redeemer.
We pray this together, from different parts of your world, with thankful hearts unified by your grace to us in Jesus, our Savior, Christ the Lord. Amen.
(Adapted for prayer from 1 Chronicles 16:28—29 NLT and Psalm 19:14 NLT.)
---
---
Opening the Scriptures:
Will we let the Holy Spirit transform our plans into God's purposes and lead us into God's future for us?
Let's answer that question with a resounding, "Yes!" and commit ourselves in song, with Elevation Worship, to be "Available":
Our Verse of the Day reminds us that the LORD wants us to let his purposes transform our plans as he guides our steps in the direction he wants us to go:
In his heart a man plans his course, but the LORD determines his steps (Proverbs 16:9 NIV11).
Phil challenges us to be available for God's purposes and follow his plan to live our best future for him:
---
---
Sharing the Supper:
As we prepare to share in the Lord's Supper, let's join Bethel Music in singing our thanks and praise to our Father using the song, "Goodness of God":
From Thailand, Robert joins us and reminds us that the Lord's Supper is not just a remembrance of Jesus' suffering and death for us, but also of his VICTORY from sin, death, and hell, for us! Let's be blessed as Robert leads us in these thoughts as we share the bread and the cup of blessing, hope, and promise!
Since the Supper we've shared today is a declaration of Jesus' victory, let's celebrate this triumph over sin, death, and the grave with Elevation Worship and sing, with great joy, the song, "Graves into Gardens":
---
---
Closing Blessing:
Our closing call to mission and obedience comes from Jesus' last words to his disciples before returning to the Father:
"I have been given all authority in heaven and on earth. Therefore, go and make disciples of all the nations, baptizing them in the name of the Father and the Son and the Holy Spirit. Teach these new disciples to obey all the commands I have given you. And be sure of this: I am with you always, even to the end of the age" (Matthew 28:18—20 NLT).
We conclude ToGather.church with a shared promise to fulfill Jesus' call for us to reach the world with his grace:
May God bless us as we seek to align our plans with God's purposes, and may our glorious Father continue to guide our steps as we move into his future for us!
---
---
Postscript:
Shortly after ToGather is posted each weekend, the videos are professionally captioned and posted on YouTube. See all of our ToGather.church videos on our YouTube® Channel.
Special thanks for Multi Transcription Services of America (MTSOA.com) for their fine work. See them for all your questions about marketing YouTube® videos and expanding your online reach. Email Lee for more info.
---
---
Special thanks for the use of images related to Jesus' ministry from The Lumo Project and Free Bible Images.
---
---