---
Drawing Near:
We pray that you are having a blessed Christmas season, and we wanted to share a beautiful declaration of Jesus' glory at his birth and the even greater glory when he returns to reign in his eternal glory. This beautiful song is from the Westover Singers from Austin, Texas. The song is led by Brent Allen and Demetrius Collins (our music director for ToGather.church. We pray that you are blessed by this beautiful declaration of Jesus' glory:
We're also thankful that you have joined us for this week's ToGather.church. (Find out more.) We hope that this worship guide blesses your home worship and that you can safely share your worship with your friends, family, home group, and house church.
Our ToGather.church family has come to join our hearts in worship and be filled by the Holy Spirit as we sing, open the Scriptures, pray, and share the Lord's Supper. If you are looking for a larger community to share prayer, fellowship, and discussion, please check out our comments section at the bottom of the Verse of the Day web page!
We begin today's ToGather with Phil Wickham's song, "Living Hope," that reminds us that Jesus didn't just die for our sins; he was raised and is our living hope and assurance of our eternal home with God:
Let's join the apostle Peter in a prayer of praise to God for all that Jesus, our living hope, has done for us. This is an incredibly relevant prayer of praise for our challenging times:
Praise be to the God and Father of our Lord Jesus Christ! In his great mercy, he has given us new birth into a living hope through the resurrection of Jesus Christ from the dead, and into an inheritance that can never perish, spoil, or fade. This inheritance is kept in heaven for us, who through faith are shielded by God's power until the coming of the salvation that is ready to be revealed for the last time.
In all this, we greatly rejoice, though now for a little while we may have had to suffer grief in all kinds of trials. These have come so that the proven genuineness of our faith — of greater worth than gold, which perishes even though refined by fire — may result in praise, glory, and honor when Jesus Christ is revealed. Though we have not seen him, we love him; and even though we do not see him now, we believe in him and are filled with inexpressible and glorious joy, for we are receiving the end result of our faith, the salvation of our souls.
We offer our thanksgiving and praise in the name of our Savior Lord, Jesus of Nazareth. Amen. (Adapted from 1 Peter 1:3-9 NIV.)
---
---
Opening the Scriptures:
Let's honor our Lord with heartfelt praise as we sing with Pat Barrett the confessional song, "Build My Life." In this song, we are also promising to build our lives on the work and grace of God in Jesus, our firm foundation, and to share that grace with others:
Our Verse of the Day emphasizes that each of us is a vital part of Jesus' body. As we work together, each of us using our spiritual gifts, we function as the bodily presence of Jesus:
Now you are the body of Christ, and each one of you is a part of it (1 Corinthians 12:27).
This scriptural truth means that we choose to build our lives on Jesus as our firm foundation. We also commit to reflect the faithful love, righteous character, and gracious compassion of Jesus as our personal goal (2 Corinthians 3:18). Let's use our spiritual gifts as different parts of Jesus' body and join together to live like Jesus.
You will want to open your Bible to 1 Corinthians 12 as Phil shares seven principles about using our spiritual gifts and living as indispensable parts of Jesus' body:
---
---
Sharing the Supper:
The song "More Like Jesus," led by Kristian Stanfill, is a powerful prayer commitment. We pledge to live for Jesus and as Jesus in our broken world. As we sing, let's notice the message of this song that resonates powerfully with our theme, using our spiritual gifts as we join together to live as the body of Christ:
Jesus is our living hope! He is alive, resurrected from the dead. Each Sunday carries with it the echo of that first Sunday after the Lord's crucifixion and reminds us that the Lord is not in the tomb; he has risen just as he promised he would and is alive for us, in us, and through us. The risen Lord lives through his bodily presence, the church. When we share in the bread during the Lord's Supper, we are also entering into a covenant to live for him and like him in our world as he forms us into his body:
The cup of blessing that we bless, is it not a sharing in the blood of Christ? The bread that we break, is it not a sharing in the body of Christ? Because there is one bread, we who are many are one body, for we all partake of the one bread (1 Corinthians 10:16-17 NRSV).
---
---
Closing Blessing:
Donna Ware shares our blessing today — a blessing-prayer that we will view each other as Jesus views us and that we will come together to live for him:
We pledge to live for Jesus and as Jesus in our broken world.
May the God who gives endurance and encouragement give you the same attitude of mind toward each other that Christ Jesus had, so that with one mind and one voice you may glorify the God and Father of our Lord Jesus Christ (Romans 15:5-6).
We conclude ToGather.church with the prayer song, "For the One," and pray that we can share the love of Christ to bring his grace to the world and lead others to exalt him as Savior and Lord. Let's prayerfully sing to love with open arms as Jesus does:
May God bless us as together we seek to live for Jesus.
Once again, we remind you to be part of the world-wide prayer effort, "New Year with New Hope"!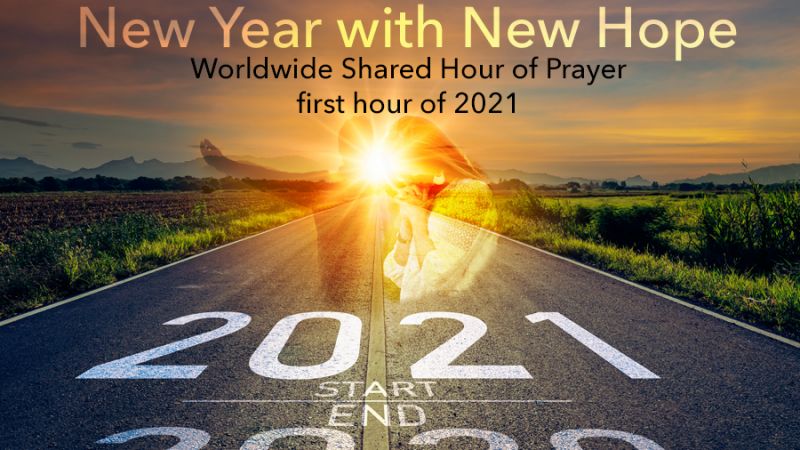 ---
---
Postscript:
Shortly after ToGather is posted each weekend, the videos are professionally captioned and posted on YouTube. See all of our ToGather.church videos on our YouTube® Channel.
Special thanks for Multi Transcription Services of America (MTSOA.com) for their fine work. See them for all your questions about marketing YouTube® videos and expanding your online reach. Email Lee for more info.
---
---
Special thanks for the use of images related to Jesus' ministry from The Lumo Project and Free Bible Images.
---
---