What a blessing!
We have heard from people in 65 nations, 49 of the 50 states in the US, many of the provinces in Canada, all of the countries in the UK, along with countries in Africa, India, Australia, New Zealand, South America, Oceania, and a number of countries where active persecution of Christians is occurring. These followers of Jesus, and many others we do not know about at this time, took part in the "New Year with New Hope" hour of prayer. Most of these people prayed in the simultaneous hour of prayer coordinated with the first hour of 2021, based on time in Auckland, New Zealand. Others prayed during the first hour of 2021 in their time zone. Others have picked up the prayer effort at the beginning of this workweek. Many of us are committed to continuing our prayer efforts throughout the year. Thank you!
The key commitment was to pray for three areas of emphasis:
Jesus to be exalted as Savior and Lord in our world.
God to bring spiritual and physical Healing and Health to our world.
God's people to unite in Love and Prayer for the sake of our world and to glorify Jesus.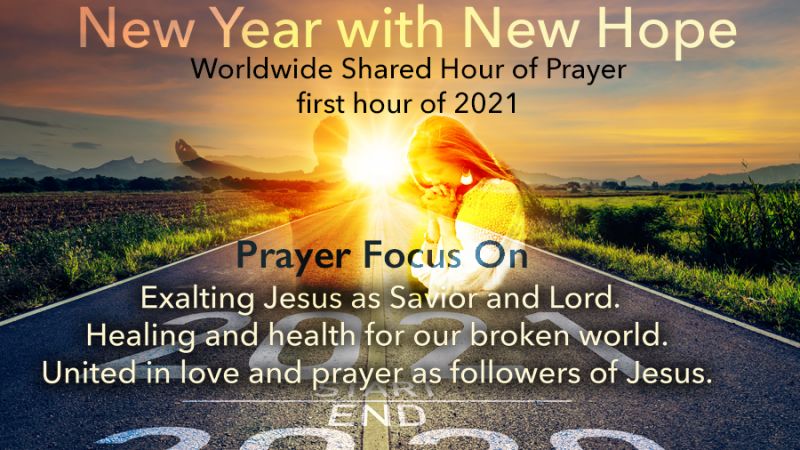 Thank you to all who participated in this effort. We encourage you to make these three areas of focus, as a regular emphasis, in your prayer life this year. As you pray, please know that many people around the world who love Jesus and want to see our world brought to Christ are praying these same things.
As the following passage in Revelation 7:9-12 reminds us, God's people, his Kingdom, is made up of his precious children "from every nation, tribe, people and language" who are gathered in worship of Jesus:
After this I looked, and there before me was a great multitude that no one could count, from every nation, tribe, people and language, standing before the throne and before the Lamb. They were wearing white robes and were holding palm branches in their hands. And they cried out in a loud voice:

"Salvation belongs to our God,
who sits on the throne,
and to the Lamb."

All the angels were standing around the throne and around the elders and the four living creatures. They fell down on their faces before the throne and worshiped God, saying:

"Amen!
Praise and glory
and wisdom and thanks and honor
and power and strength
be to our God for ever and ever.
Amen!"
#NewYearwithNewHope
John's glimpse into heaven reveals that our prayer time with our brothers and sisters around the world is just a foretaste of a far glorious time when we are in the presence of Jesus, with God's people, forever, sharing in the glory of our Lord.
Thank you again for praying. Let's keep the promise of 2 Chronicles 7:14 on our hearts as we continue to humble ourselves and turn to God seeking grace in prayer for the healing of our world!