Editor's Note:
Today, we wrap up our November donation drive deeply appreciative for all of our long-term supporters, ongoing donors, and all who participated in this year's giving. For more than 21 years, we have been blessed to offer our resources on the web for free to people all over the world. We've done this because of the generosity of people like you. Thank you! You are one of God's many gifts to us. We hope the following window into "Ware Christmas 2017" is a blessing to you and a discussion starter for your families!
---
For you know the grace of our Lord Jesus Christ, that though he was rich, yet for your sake he became poor, so that you through his poverty might become rich (2 Corinthians 8:9).

Thanks be to God for his indescribable gift! (2 Corinthians 9:15).
The Christmas explosion came exactly one month early for our three grandsons. 2017 was our year to be with them at Thanksgiving for both holidays. This past Saturday, November 25, we spent all morning having Christmas. We had a great time opening gifts and loving on each other. We then shared a fun breakfast together. Then we played games and tried out new toys most of the rest of the morning and early afternoon.
After a late lunch, Donna and I spent some time with our two oldest grandsons. We wanted to focus a few minutes on what we believe should be our real purpose for this season: gratitude and sharing. We are grateful for God's incredibly gracious gifts, the greatest of which is Jesus. Now that our not so little guys are getting older, we wanted them to help us share with others in response to all the ways God has blessed us. More than adding another pile of toys to stack on their heap of other toys, we wanted them to have a deeper appreciation of how they are blessed and what they should do with some of their blessings.
We pulled out the Compassion Gift Catalogue and $200. We began looking through the catalog.
As we did, we talked about different types of gifts we could pool our money and give to other children with serious needs. We mentioned our 5 "Compassion kids" by name and talked about where and how they lived. We tried to help our boys understand how little these children have.
To help our boys better understand, we shared what our "Compassion kids" used their birthday and Christmas money to purchase — things like socks, underwear, a pair of jeans, a month's rice and beans to feed their family, and one very simple toy. We talked about how hard it was for our "Compassion kids" and their families to get clean water. Dirty water stuck firmly in the heart of our six-year-old grandson. Our ten-year-old is a thinker, so he wanted to help a child more comprehensively.
We told them they each had $50 they could spend to help children in need. We let our boys know that we would match the money they gave and that meant we had $200 to give. The younger grandson wanted to give $52 for a water well. He was determined to help a whole family have clean water.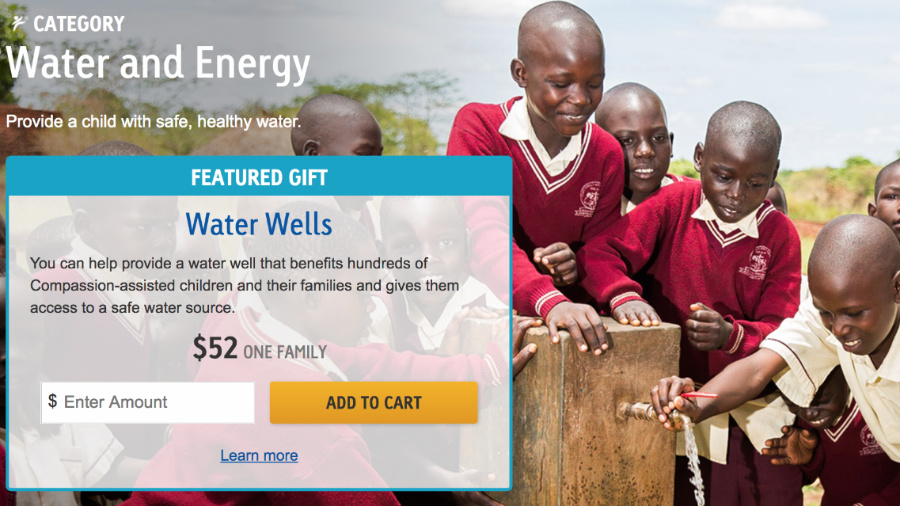 The older grandson chose the "Mind-Body-Soul" bundled gift, which was $150. His choice would provide textbooks, a water filter, food, and a Bible for a child and that child's family. Our older grandson was pleased with this kind of life-sustaining gift. He was concerned, however, about two problems. He would need us both to partner with him and not match his little brother's gift if he were going to have enough money for his donation. Even then, he pointed out; we were $2 over on the amount we had to spend.
We assured him that we could handle the $2. His little brother thought that his suggestion was a great idea. We didn't need to match his gift. He wanted us to use our money to match his brother's donation. If you know brothers, this spirit of partnership and sharing was a refreshing blessing. They were both pleased. The older one marked the selections on the order form, then totaled the amount. The younger one watched as Donna wrote the check and put it in the envelope.
Wow! What a precious addition to our Christmas with these boys. We hope to do something like this every year. We also talked with them about going with us on one of our mission trips when they are older. We want them to know children in other places who have so much less but who love openly. We also want them to experience Jesus as they share his love with others.
Most of us (who read an article like this on a mobile device or computer) are incredibly blessed financially. What we consider as "not having much" is considered rich in so many places in the world. Our blessings spiritually are, as Paul declared, "indescribable"! God's gift to us in Jesus touches every fiber of our humanity and blesses each touch-point with grace. All of our giving is second-hand generosity. We bless others out of what we've received. We share out of the overflow of God's blessings. How we use these blessings directly reflects how much we appreciate our blessings and the Father who generously provided them to us.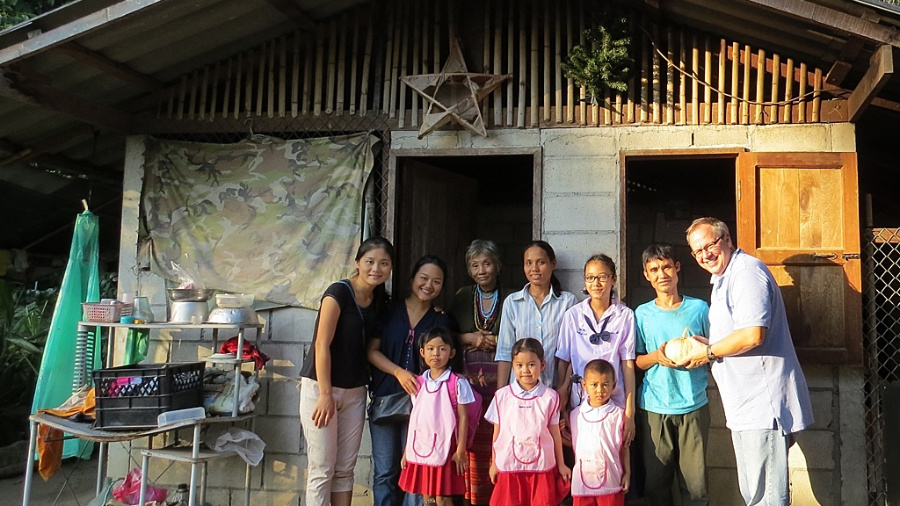 How we use these blessings directly reflects how much we appreciate our blessings and the Father who generously provides them to us.
We have the power to prevent the Christmas season from becoming a greed-grab experience for our families. We can keep the spirit of Jesus alive in our celebration of the season regardless of what the world does around us. Most of us already have too much stuff. Most of our children and grandchildren are "overly blessed" with stuff. They need to have grateful hearts willing to share with others.
Paul quotes a statement of Jesus. None of our four gospels has this statement in the form Paul quotes it. However, Jesus' life is a beautiful testimony to the truth of his words:
It is more blessed to give than to receive (Acts 20:35).
Let's make sure our Christmas season is a clear testimony that we, too, believe this simple yet transforming truth! We are most blessed when we generously share with others. We are also most like our Father when we do!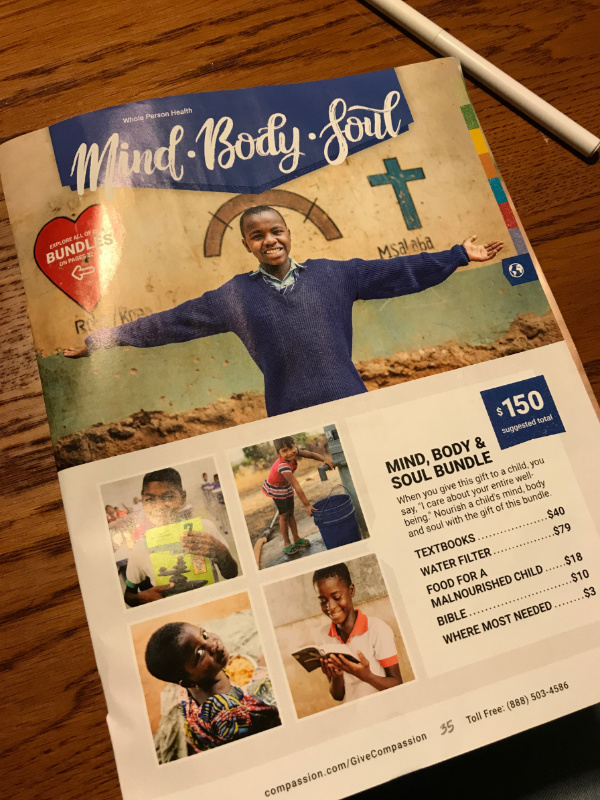 ---
If you are interested in sponsoring a child with Compassion International, we encourage you to do so. We have visited on multiple sites in four countries and are firm believers in what they do and how they help children and families.