Articles Tagged 'Training'
Phil Ware continues his series on "What is CORE" by focusing on Jesus' final and intentional last command to make disciples of all nations, and emphasizes the first process of doing that: GOING!
10/07/2020 by Phil Ware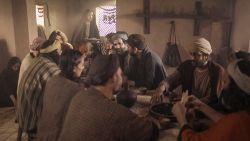 Phil Ware continues his series on what the New Testament teaches about God valuing women and the key role they played in the early church of Jesus.
09/13/2018 by Phil Ware
We look at the sacrifices that athletes make, and we understand why they do what they do. In the same way, we have to be willing to "go into training" to obtain eternal life
08/15/2012 by Tim Archer
Rick Brown talks about discipleship being more than sitting and learning, it involves going and doing.
10/24/2011 by Rick Brown
The generation coming behind us, the millenials, are not hopeless at all, but we must step up and help guide them.
06/21/2005 by Rubel Shelly
An experience of Steve Mc Nair at training camp becomes the opportunity for all of us to remember we teach and train others.
06/18/2005 by Rubel Shelly
No matter what language, dialect, or accent, saying Jesus is Lord is the key thing for all of us to say.
12/06/2003 by Alan Smith