The death of a loved one is a complete alteration of life, hope, and, oftentimes, faith. The separation death brings is overwhelming! When this life-altering grief and separation invade our worlds, we are left with many challenges, some seem insurmountable.
You've lost a precious loved one in death.
What do you do?
Where do you turn?
What should you think?
How do you gather your inner reserves, lean on your faith, and move forward in life without this precious one you love?
Without a doubt, you are hurting immensely. Thankfully, the Bible was written to help us face life's most challenging events practically and with great hope. Because of concerns and the surrounding confusion you are now facing, you can turn to the words of the apostle Paul. He told the believers in Thessalonica who were very close to their recently deceased loved ones that in Christ, they will share in a great reunion. Rather than a parting with someone precious for Eternity, they and their precious ones will spend Eternity together with Jesus!
But we do not want you to be uninformed, brothers, about those who are asleep, that you may not grieve as others do who have no hope. For since we believe that Jesus died and rose again, even so, through Jesus, God will bring with him those who have fallen asleep. For this we declare to you by a word from the Lord, that we who are alive, who are left until the coming of the Lord, will not precede those who have fallen asleep (1 Thessalonians 4:13-15 ESV. See also what Jesus says to loved ones who have lost one someone dear to them — Luke 8:49-56).
In fact, beloved believers in Christ who have died will be raised first. Notice Paul uses the image of going to sleep in Christ — see the underlined words in the Scripture above — for death because their physical death is not their permanent or spiritual death. They will be raised first at Jesus' return, then those still alive when Jesus returns will meet Him in the air (1 Thessalonians 4:16). Then, all those who have "fallen asleep" in Christ and those of us who are alive at his return will always be together with the Lord (1 Thessalonians 4:17).
Paul intended these words to be an encouragement, a source of comfort and fresh instruction for them as they faced their grief — his word παρακαλεῖτε carries all three of these meanings mingled into one word. And Paul challenged us to use these words to encourage each other in our grief, separation, and sense of loss!
When a loved one who belongs to God dies, our hearts are broken. Our lives are radically changed. Yet, in the middle of our confusion, pain, grief, anger, and sorrow, we have hope because of Jesus. This hope is rooted in a word from the Lord (1 Thessalonians 4:15 ESV) and because of our faith in him:
For since we believe that Jesus died and rose again, even so, through Jesus, God will bring with him those who have fallen asleep (1 Thessalonians 4:14 ESV).
We believe in Jesus' victory over death, so we are confident that we will see our loved ones again! Those who have lost loved ones will be reunited when the Father decides the time is correct (Matthew 24:36).
As long as Christians live on Earth, we should remain faithful to Jesus' teachings and allow the Holy Spirit to lead us along our unique spiritual journey until the time of our own death (Philippians 2:12-13). Death is merely a physical separation from our earthly life and earth-bound struggles. When our loved one who loves Jesus dies, they are brought into the presence of Jesus (Philippians 1:19-23) and live a spiritual life unbridled by pain, disabilities, and other physical sufferings (Isaiah 25:8; Revelation 7:17, 21:4).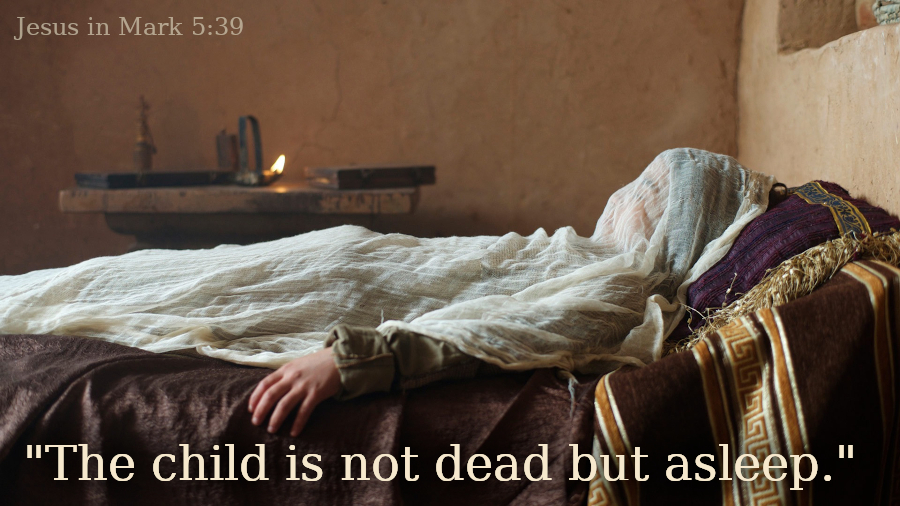 While those of us who are left behind when a loved one passes on to Jesus experience deep sorrow and quite possibly a dramatic change in our daily lives, we can be assured that both the one who has passed on through death and those of us still waiting for Jesus, are never alone (Romans 8:32-39). We are bound together by the Holy Spirit and will be reunited in our heavenly home with Jesus and with each other!
---
Related Scriptures:
"The LORD is close to the brokenhearted and saves the crushed in spirit" (Psalm 34:18 ESV).
 
For to me to live is Christ, and to die is gain. If I am to live in the flesh, that means fruitful labor for me. Yet which I shall choose, I cannot tell. I am hard-pressed between the two. My desire is to depart and be with Christ, for that is far better (Philippians 1:21-23 ESV).
 
For I consider that the sufferings of this present time are not worth comparing with the glory that is to be revealed to us (Romans 8:18 ESV).
Let us pray:
Father, you know the loss I feel for this one who has gone to be with Jesus. I desperately want to be near them again. Until we are reunited, please help me to fill part of this vacuum with greater dependence on your guidance by the Holy Spirit and the Spirit's comforting presence. I accept that the Spirit will not leave me, so help me to cherish this relationship I have with You through the Spirit. In the name of Jesus, I pray. Amen.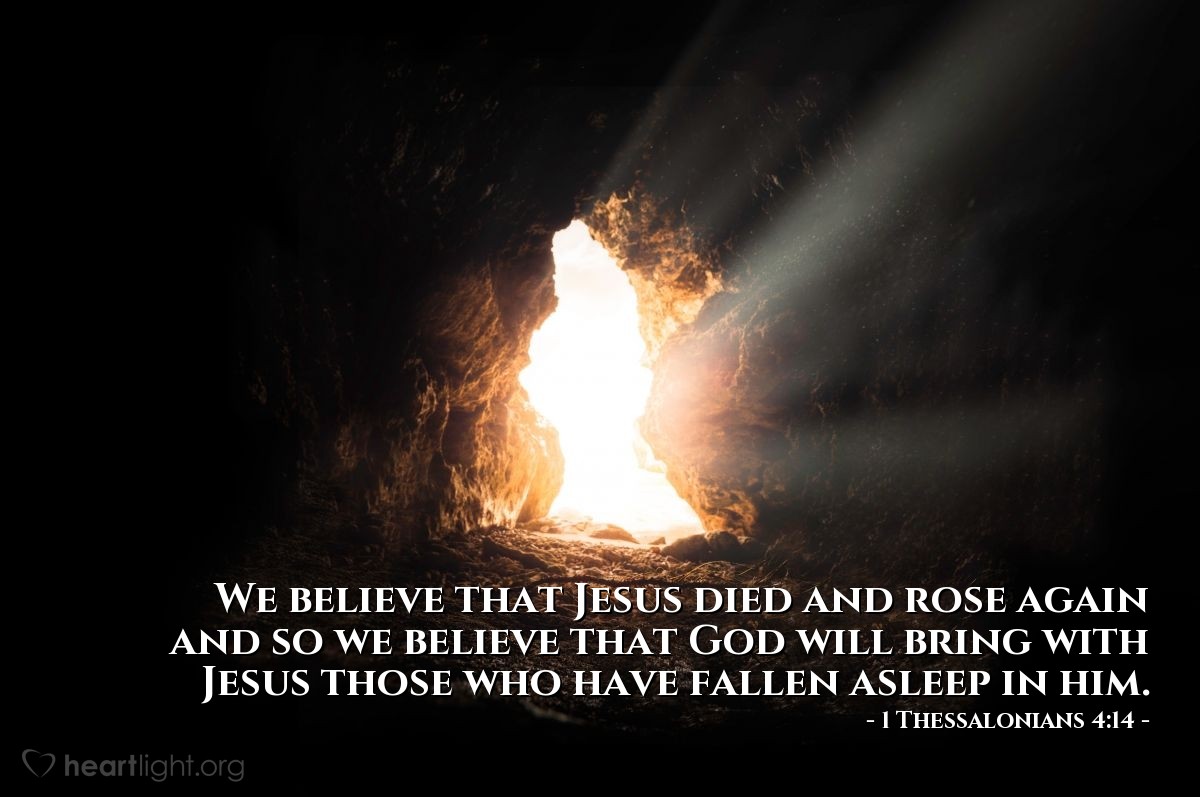 ---
Paul intended his words to be encouraging and a source of comfort and instruction as they faced grief.
Special thanks for the use of images related to Jesus' ministry from The Lumo Project and Free Bible Images.
| | |
| --- | --- |
| For more information on Eternity and our future with Jesus and each other in Eternity, please see Gene's book, Transition To Eternity. The book helps us explore life beyond death and our reason to hope for Eternity in the middle of our struggles with life. | |
---