Let your gentleness be evident to all. The Lord is near (Philippians 4:5).
Bertie had never married. As she had grown old, she had outlived most of her family. Her heart was failing. She knew that she would be "graduating to meet Jesus" very soon. And, to be quite honest, she was scared.
"Phil," she said, summoning all her courage, "I am afraid and don't want to die alone!"
I was twenty-four years old. I wasn't quite sure what to do to help her. So, I prayed with her asking for Jesus to show himself to Bertie. "Lord," I prayed out loud with her, "please show yourself to Bertie in an unmistakable way so that she knows that she is not alone as she dies. Amen."
Bertie was tired of being alone. She desperately wanted reassurance that the Savior she had trusted through life would accompany her through her death. I didn't know what else to ask, so I asked for her to be able to experience Jesus' presence as she died.
After my prayer, I began to turn to different passages of scripture and read them aloud to her. Somewhere during the ninety minutes of Bible reading, she slipped into a peaceful sleep. Eventually, her failing heart quit. There was no struggle. There wasn't even a whimper. Somewhere along our journey through God's promises, the eternal part of Bertie left her body to be with Jesus and await the great reunion at his return (1 Thessalonians 4:13-18). She died with a sweet smile on her face; all fear was gone.
I'm not sure what led me to begin saying that prayer — the straightforward asking that the person dying, along with his or her loved ones, be able to experience Jesus' presence. All I know is that it became part of my care for those in the closing time of life. I wasn't taught to pray for such a thing. In some ways, the audacious request was outside the accepted theology on which I had been raised. However, I know that my simple prayer has been answered more times than I can count.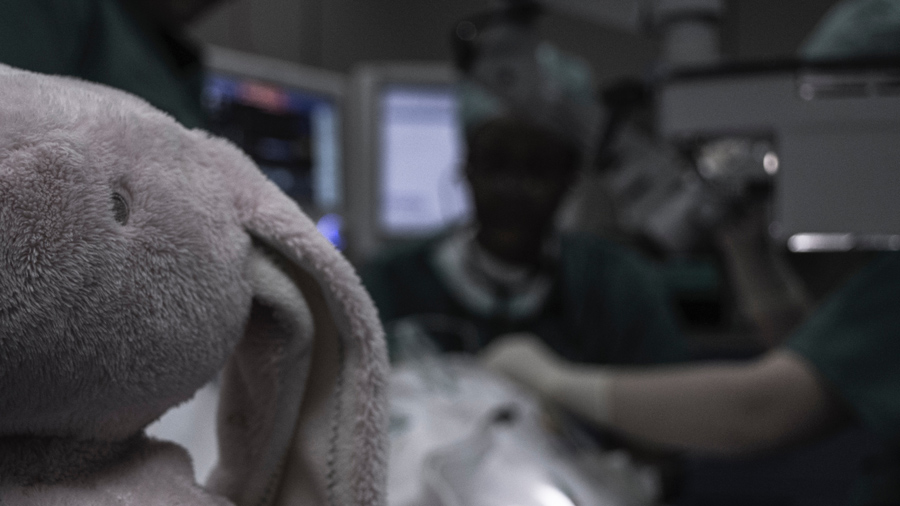 The touches of the Lord's presence have sometimes been experienced in small, almost unnoticeable ways — the timing of certain events, the words of the music playing when a person drew his last breath, or the unexpected card or visit from her old friend. Sometimes the touches of the Lord's presence have felt much grander — the look on her face right before her body failed, the final words he shared before his passing, her reaching upward as if to take a reassuring hand to cross from this life to the next, or the words of a nurse or doctor that seemed a direct answer to a prayer.
That doesn't mean the passing of most of these people was as sweet and peaceful as Bertie's. Many, if I am honest, have been much harder, some even gut-wrenching. But, I am convinced, most families and most of those dying knew they were not abandoned by their Lord in their time of loss and grief.
Over the years, I have grown more and more passionate about my simple, but bold prayer:
Lord Jesus, please make your gracious presence known to this precious person and his or her family during this hard time! We need to experience the nearness of your presence. Amen.
For me, this simple prayer makes the promises of two of my favorite passages in the time of death even more reassuring:
The LORD is my shepherd;
I shall not want.

He makes me to lie down in green pastures;
He leads me beside the still waters.
He restores my soul;
He leads me in the paths of righteousness
For His name's sake.

Yea, though I walk through the valley of the shadow of death,
I will fear no evil;
For You are with me;
Your rod and Your staff, they comfort me.

You prepare a table before me in the presence of my enemies;
You anoint my head with oil;
My cup runs over.

Surely goodness and mercy shall follow me
All the days of my life;
And I will dwell in the house of the LORD
Forever (Psalm 23:1-6 NKJV).

For I am convinced that neither death nor life, neither angels nor demons, neither the present nor the future, nor any powers, neither height nor depth, nor anything else in all creation, will be able to separate us from the love of God that is in Christ Jesus our Lord (Romans 8:38-39).
Over the years, I have grown more and more passionate about my simple, but bold prayer!
My prayer for you, my prayer for me, is that when our time comes — no matter how alone or terrifying or unfair or ill-timed our death may be — we experience the hand of our Shepherd and know that we are not alone as we walk through the dark valley of shadows and into the presence of Jesus!