Welcome & Invitation to Worship:
Welcome to ToGather.church! (What is ToGather?) Below, you will find a guide for a time of worship for you, for your friends and family, and for your home group or house church. We invite you to join us in opening our hearts to God. As we do, the Spirit will fill us with hope, mend our broken hearts, and empower us to love each other, and all people, with love like Jesus (Romans 5:5).
If you are at all like us, this has been an incredibly hard week full of challenging and sometimes painful emotions. Many places in the world — like Mexico, South America, and India — are feeling the overwhelming burden of COVID-19's deadly impact. Here in the USA, our hearts have been outraged and torn apart by the questionable arrest, brutal treatment, and needless death of George Floyd. Unfortunately, Mr. Floyd's death while in police custody is not the only death of a person of color to have broken many of our hearts in recent months. We yearn for fairness, respect for all people regardless of race or skin color, and the values of Jesus to become the values we live and exemplify with others.
Many of us have committed to listening more intently to our brothers and sisters of color so that we can better understand their hurt, fear, and anger. All of us who call Jesus Lord have renewed our commitment to bring his Kingdom and his values more clearly to life in our fellowships and friendships. Jesus died for all (John 3:16-17). Jesus told us in his final words recorded by Matthew to reach all people with the Gospel (Matthew 28:18-20). Jesus gave John a vision of heaven where all people were gathered around God in worship (Revelation 7:9-12). We are committed to making Jesus' death, last words, and future vision real in our fellowship and our world, now!
Where do we turn to find strength and recommit to the work of Jesus to love all people in times like these? We look to God and his sacrificial love for all people demonstrated in the death of Jesus. He is the source of strength we must have if we are going to provide our fractured world with genuine hope. Let's join Jenn Johnson and sing, "God I Look to You":
---
---
Invitation to the Table:
Jesus came to our world in love, only to be broken by human jealousy and hatred. He allowed himself to be broken because all of us will be broken by life somewhere along the way. God wants us to know that in Jesus, he was willing to experience the pain of rejection, ridicule, injustice, and unfair death at the hands of the very people he had made (Hebrews 2:14-18; Genesis 1:26-27).
God knows our hurt, not just because he is God and knows all things, but also because he has worn the spit of our ridicule and now carries the wrath of human hate in the marks on the resurrected body of Jesus. Jesus was willing to be broken to remind us that God uses broken things and broken people to bring healing to our broken world. Let's be blessed by the truth of Ken Young's song, "Broken Things":
You are invited to the Lord's Table to share Communion as Byron Ware leads us in some special thoughts about the significance of the Lord's Supper. Byron challenges us to think about how good gifts are given, showing how Jesus fulfilled all these ideals of gift-giving, and more. He also emphasizes that Jesus came as a gift for ALL of us!
Now that we have shared the Lord's Supper, let's join Praise and Harmony in singing the song of confession, "In Need":
---
---
Invitation to the Word:
Our Verse of the Day today comes with God's timing. Paul's words in Galatians 6:7-10 NRSV speak to us with the perfect timing of the Holy Spirit. They remind us to do good to all people when we have an opportunity. We pray you are blessed by today's message:
The video refers to the New Living Translation (NLT), but it is actually the New Revised Standard Version (NRSV).
Also, here is a link to the article mentioned in the video: "Sowing to the Spirit: Finding Power from on High!"
May God empower us through his Spirit to be salt and light in this time of deep need! May we be vessels of grace. Let's join Hillsong Worship in the song, "Broken Vessels (Amazing Grace)":
---
---
Invitation to Live for Jesus:
Let's remember John's incredible glimpse of what heaven is like with "a great multitude that no one could count, from every nation, tribe, people and language" (Revelation 7:9) gathered to worship Jesus, the Lamb of God who has taken away the sin of all who draw near to him. Join Lisa Ware as she reminds us of this glorious glimpse of heaven that John gave us in the book of Revelation:
We close with Hillsong Worship's incredible song, "So Will I (100 Billion X)." Please pay special attention to the last verse and the reminder that since God loves every single one of the eight billion-plus people on our planet, then we commit, "So will I!"
God uses broken things, and broken people, to bring healing to our broken world.
---
---
We encourage you to read through Jesus' parable of the Good Samaritan again later this week. Let the Lord's compelling story remind you of our message today about using every opportunity to do good to all people:
On one occasion an expert in the law stood up to test Jesus. "Teacher," he asked, "what must I do to inherit eternal life?"

"What is written in the Law?" he replied. "How do you read it?"

He answered," 'Love the Lord your God with all your heart and with all your soul and with all your strength and with all your mind'; and, 'Love your neighbor as yourself.'"

"You have answered correctly," Jesus replied. "Do this and you will live."

But he wanted to justify himself, so he asked Jesus, "And who is my neighbor?"

In reply Jesus said: "A man was going down from Jerusalem to Jericho, when he was attacked by robbers. They stripped him of his clothes, beat him and went away, leaving him half dead. A priest happened to be going down the same road, and when he saw the man, he passed by on the other side. So too, a Levite, when he came to the place and saw him, passed by on the other side. But a Samaritan, as he traveled, came where the man was; and when he saw him, he took pity on him. He went to him and bandaged his wounds, pouring on oil and wine. Then he put the man on his own donkey, brought him to an inn and took care of him. The next day he took out two denarii and gave them to the innkeeper. 'Look after him,' he said, 'and when I return, I will reimburse you for any extra expense you may have.'

"Which of these three do you think was a neighbor to the man who fell into the hands of robbers?"

The expert in the law replied, "The one who had mercy on him."

Jesus told him, "Go and do likewise" (Luke 10:25-37).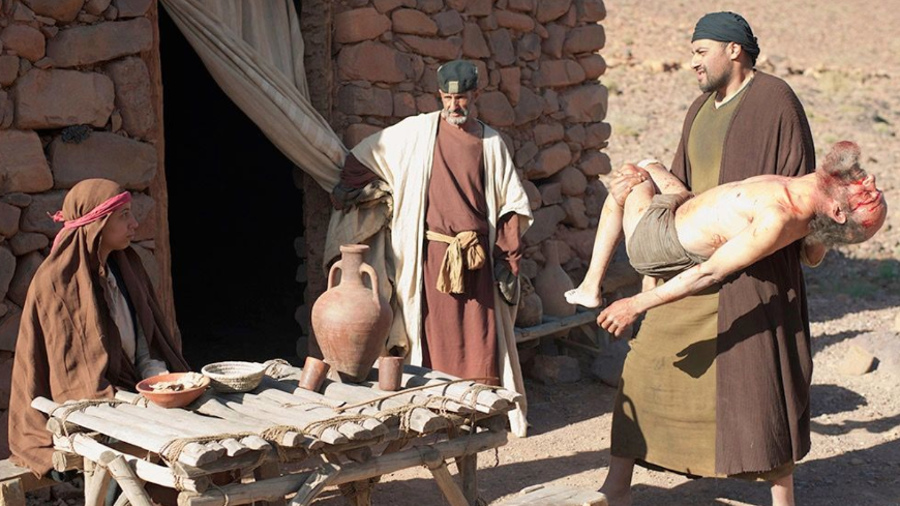 ---
---