Our bus shook and rattled and shimmied and clattered down the old dirt road as we made our way out of Kampala to the countryside. Old, dried clay from the road collected in layers on the homemade brick houses with their rusting tin roofs. Toddlers wandered around playing, tops on and diaperless, in the clouds of dust left by the traffic. We didn't choose a lane, we just dodged the oncoming trucks, scooters, and bicyclers on the road. We laughed and joked and shook and tried to stay in our seats on our journey to a place we had never been.
Not all hard journeys over pot-holed roads lead to glorious places. Ours led to a window into heaven: a place where the Kingdom of God made a brief visit in all its fullness. As we pulled to a stop, the dust hadn't settled before the toddlers came tottering in their waddled run to greet us. Our hearts were full of anticipation as we jostled our way off the bus to be welcomed by people whose lives are far different than our own, in a place far away. But, we share in our differences a common faith in Jesus and an abiding hope that grace will ultimately right all wrongs and break down any walls that separate us and the life God wants to share.
Earlier in the morning, Shaun Groves had given a short devo
on the true nature of God's Kingdom and humility. He shared how the poor are blessed to know they are dependent upon God and the rich are blessed to be able to help the poor find daily bread. Somewhere in the middle of our sharing of grace, our prayer, "Your Kingdom come, your will be done, on earth as it is in heaven," gets answered. Our day was a sliver of Kingdom experience. Although filled with visits in homes that were smaller than most of our closets to mothers who had AIDS, but who were trying to raise their small children with love and care, it was also a day of great joy, friendship, hugs, play, food, song, and celebration.
For several hours, the barriers of color, culture, distance, language, life-style, and social convention all melted away. Our pace of life slowed down. We
drank in the beauty of this far away place, the smiles of the children, the generosity of those who have far less than we who treated us like kings and queens, yet also like fellow school children on the playground. None of us wanted it to end. Trying to get us back on the bus, each of us surrounded by circles of kids, was a glorious chore. One more hug. One more high five. Two more waves. Once again, a toddler running up to hug your leg, offer a shy smile, and a reluctant good bye. The moms, whose circle of weaving mats and potholders was full of smiles and waves and thank you's. Poverty and AIDS could not win in a place so full of grace, even though we all knew it would leave its mark upon each of these people.
As we clattered our way back down the dusty, pock-marked road, our hearts were full of love and heads were full of the sounds of song — the songs of children to the beat of an African drum pure and sweet, and at full crescendo ... the songs of a group of women in African harmonies singing and swaying to the beat of joy ... and to the songs lead by one of America's best known worship leaders who had come to Africa to lead us in this moment of shared grace.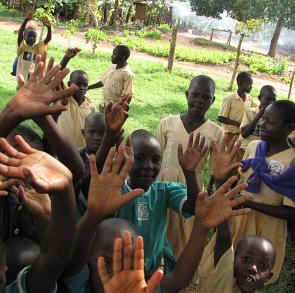 Yes, for a long precious moment, we experienced Kingdom come. O how much sweeter will be its full realization. I know now, because I have had a taste, caught a glimpse, and can't wait for such a glory. But until then, I choose to help make such moments happen in my life, and the lives of children and their families, because God has blessed me so that I can.
If you haven't chosen to sponsor a child and be part of such a celebration, please know it costs about one cup of coffee a day — just a little over a dollar a day — to sponsor a child. As children told me the names of their sponsors from the Netherlands, England, and the U.S., the spoke of love, letters, and of joy. Yes, I'm shamelessly asking you to join the team, choose a child, change forever ... and know that somewhere, down a dusty road, a taste of heaven is happening because of your love and God's grace.
Yes, for a long precious moment, we experienced Kingdom come.
To sponsor, please go to the following page:
http://www.compassion.com/sponsor_a_child/default.htm
After this I looked, and there before me was a great multitude that no one could count, from every nation, tribe, people and language, standing before the throne and in front of the Lamb. They were wearing white robes and were holding palm branches in their hands. And they cried out in a loud voice: "Salvation belongs to our God, who sits on the throne, and to the Lamb."All the angels were standing around the throne and around the elders and the four living creatures. They fell down on their faces before the throne and worshiped God, saying: "Amen! Praise and glory and wisdom and thanks and honor and power and strength be to our God for ever and ever. Amen!" (Revelation 7:9-12 TNIV).