Articles Tagged 'Non-jews'
Phil Ware continues his series called 8GHT -- Eight Truths that Turned the World Upside Down! from Acts 1:1-11, this week focusing on Jesus as the Message, Motive, Model, and Mover in the early days of the church.
01/16/2019 by Phil Ware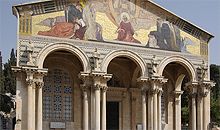 Tim Woodroof continues his series on the ways we need to freshen our approach to church if we are going to connect with people in today's world and how we react to our own church issues.
06/22/2014 by Tim Woodroof