Charm can be deceptive and physical beauty will not last, but a woman who reveres the Eternal should be praised above all others. Celebrate all she has achieved. Let all her accomplishments publicly praise her (Proverbs 31:30-31 The Voice).
Real beauty has depth.
When I looked into the face of Lucy, a long-term caregiver, I saw true loveliness — carved by sacrifice and choice. In a cozy tearoom with my sister, Lucy told me her story.
For forty-three years, she and her husband, Daniel, have taken care of their son, who has severe disabilities. Even though Lucy (77) and Daniel (81) have less stamina than in their younger years, their resolve to care for this adoptive son Chance remains strong.
Lucy and Daniel had four children and fostered five other children besides Chance. While in their thirties, Daniel's sister lived with them when she gave birth to Chance, diagnosed with microcephaly, a small skull. At the age of five weeks, he stopped breathing long enough that more damage occurred. Chance will never walk or speak. He remains a five-week-old infant trapped in a man's body.
Lucy has a wonderful sense of humor — her face wreathed in minimal soft wrinkles indicates she smiles often. Her warmth and compassion became evident within a few minutes of meeting her as she patted my arm or reached to clasp my hand. Taught by God, she lives as a vessel of love, a witness expressing God's kindness toward all of us.
When Chance was about a year old, Daniel and Lucy longed to adopt him, and his mother and the courts gave their permissions. Lucy said she had a moment of clarity when she realized how much strength they would need to carry out this lifetime commitment to care for Chance. Not only did they vow to care for Chance that day, in a sense, they renewed their wedding vows as they sat in the courtroom awaiting the adoption finality. Lucy turned to Daniel, "We have to decide we will never leave each other. This is a two man job." They agreed. They took the plunge.
For over twelve years, Lucy and Daniel were able to give Chance normal feedings through his mouth, but later, he required a tracheotomy and feeding tube.
Lucy wanted to introduce me to Daniel and Chance, and I said, "It's not necessary that I meet Chance. I don't want to intrude. I don't have to see him to recognize your love for him." However, like any mother, Lucy was eager for me to meet her precious son.
When we arrived at her home, we first met Daniel, her husband-a strapping man, with better muscle tone than some men fifty years younger. Since Lucy's two bouts with different cancers, Daniel lifts and turns Chance every few hours. Chance weighs about 100 pounds, and receives excellent care from his parents and visiting nurses. Because of his remarkable care, he has rarely been in the hospital.
We washed our hands thoroughly before we entered Chance's room, even though Lucy would be the only one touching him. Chance's television was on, cartoons only, and Lucy walked into his line of sight and spoke gently to him: "Momma's here. Do you love your Momma?" Chance immediately reacted positively to her presence. She had earlier told me, "I've never told him he's a man now. I don't want to worry him. Why... he might think he needs to get a job."
To the world you may be one person. But to one person you may be the world.
Forty-two-year old Chance's countenance is beautiful, and without worries or sun damage, he has no wrinkles. Daniel takes the early morning shift starting at 5:30 a.m. Lucy takes over in the evening, from about 4:00 p.m., until midnight or a bit later. Unless she has a cold, she lies down beside Chance at bedtime, and holds him in her arms, as any mother of an infant would.
Besides the heartbreak of Chance's limitations, Daniel and Lucy have suffered in other ways. Their first infant son died of SIDS at six months. Daniel pulled double duty caring for Chance and Lucy after her breast cancer surgery and treatments and a later diagnosis of lymphoma, requiring even more chemo. An adult daughter has died and their remaining daughter battles breast cancer.
They don't know what the future holds for them or Chance. They truly live one day at a time, grateful for trips to the grocery store, and for their church Life Group that meets in their home each Sunday evening. Their continual support and friendship brightens Sundays for this couple.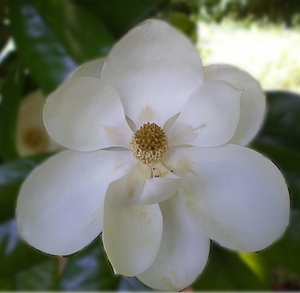 The tearoom where I interviewed Lucy had floral painted tables, dainty napkins, and bone china. The walls contained whimsical sayings, paintings of lush pastures and flower gardens. The setting was about all things lovely and delicate. The obvious intent of the owners was to provide a backdrop where guests could relax... calm their spirits.
As Lucy told her story, she interrupted herself to tell of humorous times, of family traditions, of ways humor helped her and Daniel cope with year-in and year-out sameness. Lucy cannot make regular tearoom visits to refresh her spirit, but then Lucy isn't about make-believe. Lucy isn't a see-through doily. Lucy is the real thing.
I glanced at the wall behind Lucy and read a plaque that summed up Lucy's call to mother a helpless child:
To the world you may be one person. But to one person you may be the world.
The day we had lunch, I sat next to strength, dignity, resolve, and selflessness.
I had met a steel magnolia.
Love is patient; love is kind. Love isn't envious, doesn't boast, brag, or strut about. There's no arrogance in love; it's never rude, crude, or indecent—it's not self- absorbed. Love isn't easily upset. Love doesn't tally wrongs or celebrate injustice; but truth— yes, truth— is love's delight! Love puts up with anything and everything that comes along; it trusts, hopes, and endures no matter what. Love will never become obsolete (1 Corinthians 13:4-8 The Voice).