Donna and I slowly climbed out of our Saturday morning sleep to find several sweet pictures posted on Facebook® from our recent trip to Chiang Mai, Thailand. Melody and Karen, two of our precious daughters-in-the-faith, had posted them. A comment on one of the pictures showing Donna hugging Karen good-bye at the airport said this:
LOVE will travel, the Great Commission. First memory verse I learned at Westover. Last memory verse I taught last week with our small group.
This comment is from Paula, someone I was blessed years ago to baptize into Christ.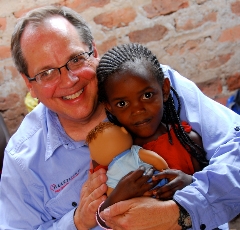 Phil & Doreen on Compassion
Visit to Uganda
She is right, you know: "LOVE will..." and we can complete the sentence in all sorts of ways. But today, especially, I want us to focus on Jesus' last words that we call the Great Commission:
Jesus came and told his disciples, "I have been given all authority in heaven and on earth. Therefore, go and make disciples of all the nations, baptizing them in the name of the Father and the Son and the Holy Spirit. Teach these new disciples to obey all the commands I have given you. And be sure of this: I am with you always, even to the end of the age" (Matthew 28:18-20 NLT).
I agree 100% and with all my heart with Paula: Because of Jesus, "LOVE will travel!"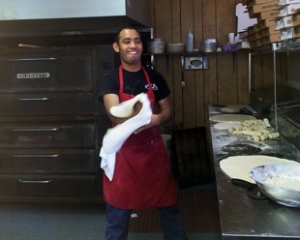 Deepak a Bhutanese Refugee
Baptized Three Years Ago
Five years ago, growing frustrated with church politics and souring on our move toward consumer Christianity in the U.S., I heard the call of God beckoning me into a deeper commitment to make a difference in the lives of young internationals — those who are in The States as refugees and those interested in Jesus all over the world.
However, I knew that commitment to God's call had to be more than a set of "drive by" mission trips. If I was going to go travel to make a difference in the lives of others, I had to make repeated trips to the same places and with the same people. That's the only real way I could walk beside children, teens, and young adults over time to help them develop a love and hunger to know Jesus; see them confess Christ Jesus as their Lord; help them join in Jesus' death, burial and resurrection through baptism; and walk beside them until Jesus — his words and his example — became imprinted on their heart.
As I tried to answer this call, several amazing things began to happen:
Young people from ages 2 to 36 began responding.
I saw the power of Jesus' simple story, and the living of that story by his disciples, grab the hearts and change lives in Africa, South America, Asia, and yes, even in the America!
I experienced the presence and power of Jesus working powerfully in my meager efforts.
I saw people who felt they were "only sitting on the bench and waiting on the sidelines" decide to "get in the game" and begin to make an eternal difference in the lives of others as their own faith was revitalized in a real and present Jesus.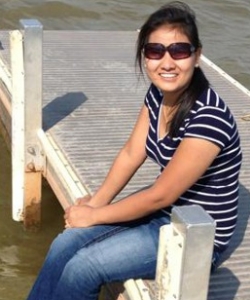 Deepak's Wife Bhudi
Baptized Recently
We are not talking just about evangelism — although I love evangelism and have several friends who are gifted evangelists.
We are talking about disciple-making as Jesus defined it in his final words.
We are talking about disciple-making that calls us to "go" by stepping out of the comfort of our culture to live alongside someone to help them meet Jesus (Romans 10:9-15).
We are talking disciple-making that involves "baptizing" those who come to faith so that they can experience the saving work of Jesus' death, burial and resurrection (Romans 6:3-7).
We are talking about disciple-making that means walking with and mentoring these new disciples till the words and example of Jesus come alive in them (Colossians 1:28-29; Galatians 4:19). This is what Jesus' Great Commission calls us to do!
In this disciple-making journey, I have experienced event after event "ACTSidentally" happening as the Holy Spirit opens up place after place, heart after earth, and situation, all over the world, as Jesus' presence and power becomes undeniably just as powerful as we read about in the book of Acts.
As I fly this weekend to speak to believers in search of reclaiming their "First Love" and their original consuming passion, I have tears in my eyes as half a world away God is working to deliver another precious soul from the bondage of the past and present injustices to women and to bring her into the freedom of Jesus and his family. My friend and partner in this journey WeChatted to me with all the hope he could muster: "Deliverance. Prayers answered. Your words through Karen through Melody to Amy." Of course he is leaving out his own and his family's sweat, travel, tears, prayers, time, hospitality, and money, all generously and freely given to bless, love, and share Jesus.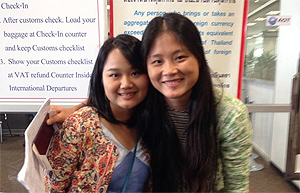 Karen and Melody on Recent Travels
The tracks and presence of
Immanuel
have filled our comings and goings, making our words and influences better than they are and better than we deserve. Such is the grace of
Immanuel
and his manifest presence in our lives as we obey his Great Commission and experience the fulfillment of Jesus' fourth
Immanuel
promise.
Are there heartbreaks, disappointments, mistakes, dangers, and high costs?
Absolutely there are all sorts of challenges, problems, and difficulties! But let me ask you one simple question:
What would you not pay to experience the real, undeniable, presence of the One who fed the 5,000+, calmed the raging winds and waves, raised the dead, and gave sight to the blind?
Please don't settle for a theoretical Jesus that is long ago and far away — a Jesus that you only know through your Sunday words. For those willing to start on the journey of disciple-making, there is an exciting grace waiting for you: the lives of countless people changed forever and with a side blessing of Jesus' always fulfilled promise:
And be sure of this: I am with you always, even to the end of the age (Matthew 28:20 NLT).
Matthew gives us four powerful ways to experience Immanuel. The first comes from a God-sent angel. The other three come from Jesus himself. How important are these promises? Well, Matthew's gospel and Jesus' earthly ministry ends with the last one!
---
Comments, Reactions, and Questions from the Partners:
What would you not pay to experience Jesus?
From Partner
Mark Frost

I write this on a Sunday afternoon after attending a new congregation while on vacation. The church was composed mostly of older adults with long histories in our movement. The discussion during the Bible class on parenting ran along predictable paths: lengthy laments from those who had long-since raised their children about the sure ruination of the current crop of kids due to video games, cell phones and lack of parental discipline in a permissive society. The singing was hearty and the sermon well-received. But it wasn't until afterward that I sensed a spark of something well beyond the routine. It seems that a group from the church had spent the previous day at a local park handing out water bottles to beachgoers and joggers. One of the recipients had actually shown up for church and was seated across the table from me at the after-services pot luck dinner! As the church members did their best to practice hospitality toward her, I felt that Jesus was actually in the room. There was excitement in the air as the church members realized that Jesus really meant what he said about giving a cup of cold water in his name. Later, a brother told me of how he handed her the water bottle, then walked alongside her for over a mile, engaging in animated dialogue the whole time. It was clear that Jesus was present in that local body in a distinct and palpable way. By reaching out with a message of good news, they had encountered Immanuel!

Phil's
Response

Sometimes the simplest things can make a difference. More than passing out water, some of these people obviously passed on a little of themselves, too. That's the point: being Jesus helps us experience Jesus!
---
From Partner
Greg Anderson

I am amazed that "disciple" or some form of it is mentioned well over 250 times in the New Testament, while "Christian" is mentioned less than 10. I may be wrong, but, "Christian" seems somewhat more indicative of belonging to a movement while "disciple" indicates journeying with Jesus. When we share the love of Christ, we are inviting people to "walk with Christ," to experience Immanuel. I never cease to be amazed that such simple invitation and incarnational witness can yield such profoundly powerful results.

Phil's
Response

I'm with you Greg: "disciple" suggests movement, growth, and not having arrived. This opens us to other travelers who looking for Jesus and for those who are farther down the path that point us in the direction of Jesus. Most importantly, it reminds us that we are looking to find, follow, and live with Jesus — we are expectantly looking forward to meet Immanuel!
---
* Here are the four Immanuel sayings in Matthew and their focus. This is part three of a five part series that also appears on the Interim Ministry Partners blog.
Matthew 1:23 — Know the real Jesus through His Story.
Matthew 18:20 — Live as Genuine Spiritual Family.
Matthew 25:40 — Invest in Others through Acts of Compassion.
Matthew 28:20 — Reach and Mentor others to live like Jesus.