After this I saw a vast crowd, too great to count, from every nation and tribe and people and language, standing in front of the throne and before the Lamb. They were clothed in white robes and held palm branches in their hands. And they were shouting with a mighty shout, "Salvation comes from our God who sits on the throne and from the Lamb!" (Revelation 7:9-10 NLT).
"Uncle Phil, that is so cool. These people are so great. I am so glad to know them!"
These words came from Karen, one of my precious children in the faith. Karen is from China, living in Thailand, while working on her MBA and interning at The Christian Zone. She came to Christ a little over 18 months ago. She was talking about the group of interns she was getting to know. Many of them I have known all their lives. A few I have met in my travels. They are from all over the world — and several of them are also from my previous home church for 22 years in Austin, Texas.
The world is as divided as ever. Political parties can't get along in the same countries. Other countries are in bloody civil wars. Riots have rocked the world landscape. Terrorists push their own agendas and have ripped countless lives from the people who loved them all over the world. Ethnic violence erupts in awful bloodshed, leaving hundreds of thousands as homeless refugees. Angry employees kill to express their frustration, and then end their own lives. Yes, the world is as divided and violent as ever.
No wonder Jesus taught us to pray, "Your kingdom come, your will be done, on earth as it is in heaven" (Matthew 6:10 NIV). Our world seems more fractured and less whole every headline.
But not on this day. Not for me. Not for Karen. Our last several Skype visits have brought familiar faces back to me. On this day, for this summer, at least for this special group, for this one shining transit through time, we get to taste heaven's grace and catch a glimpse of our forever family's glory.
Race and language really don't matter much here. These young men and young women love being God's children. They love being brothers and sisters with each other. They are not worried about where they are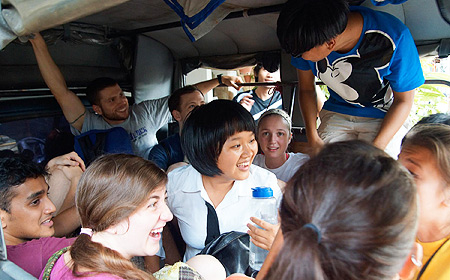 from, because they all know where they are going... together! And the taste of it, this glimpse of glory, is a delight to us all!
Here is part of this crew of grace that Karen helped me meet on Skype recently. God has put this great group together in The Christian Zone in Chiang Mai, Thailand, this summer:
Lisa is from Austin, Texas... kinda. Her parents are originally from Iran. They are highly involved in the Iranian Christian movement. They were led to Christ in Germany by my good friend, Bill Wilson, who translates verseoftheday.com into German for us. Lisa has recently been to help in an orphanage in Uganda — a place that Karen's friend, Chris from Harvard, has helped serve and support.
Julia and Rene are from Texas, and I got to meet them both when they were a couple of days old, twenty or so years ago in Austin. They are interning this summer in Thailand.
Mit is from Maylaysia. We met several years ago in Thailand — he is Mr. Personality and a great young leader for Jesus. His mom, Mosha, is a legend among Asian Christians and his family are great servants for Jesus. Mosha went to be with Jesus several months ago.
Merideth is the daughter of a good friend whom I have known since we were little boys in Conroe, Texas. She is from Robinson in central Texas. I have known her since she was a baby, and I love to see her today as a grown up and godly young Christian woman.
Erika is back home in Thailand from college in Texas — a long sweet story. Erika's mom, Pi Jan, just received her U.S. Citizenship. Jan is from Bangkok originally. Their family — dad Robert and brother Branson along with Erika and Jan) has served for two decades in Chiang Mai as missionaries and mentors for young Christians from all over Asia.
Aryn is the son of a friend and former fellow minister from Austin, who has grown up loving Jesus and is now spreading his wings and making a difference internationally.
Mahya is from Japan and loves Jesus — and I think she is more than a little interested in one of the guys in the group from another part of the world. She is just one of over a hundred young Asian adults who have interned in Chiang Mai.
Melody is Karen's sister. She is from southwestern China. Melody is the precious one who got my heart re-connected with international ministry and sharing Jesus with those from around the world several years ago when I was in Thailand with Let's Start Talking.
John's vision of heaven isn't just Jesus' dream, it can be experienced right now!
I met Tyler in Chiang Mai, Thailand, twenty years ago. He was a little boy and his parents served as missionaries on the team in Chiang Mai. I love that he has come back to serve in a place where his family made such a huge difference when he was a little boy.
Included in the recent mix at The Zone are twelve Burmese refugees, students from China, Thai university students, friends from Singapore, and an occasional visit from a friend whose mother is Chinese, father is German, who speaks with a strong Aussie accent and is married to a Thai. Thrown into the mix are folks who work with International Justice Mission and with the I.T. department for several international relief agencies and organizations helping people facing persecution for their faith in Jesus.
So do you want to know what difference Jesus really makes?
Stick all these bright, energetic, passionate, and godly kids together, even though they come from all over the world, and what do you have? Two things: fun and family. Why? Because of Jesus and their desire to serve him and to love others in Jesus' name.
And when you see them, or hear them, or hug them, or Skype with them, you realize one thing for sure: John's vision of heaven's worship (Revelation 7:9-10) isn't just Jesus' dream, it is experienced in Jesus' family right now, among young adults, who love each other, and want others to experience the love of Jesus.
It's more than a dream: it's Jesus family and I am thankful to be a part of it!