"Give to every person that asks you. When a person takes something that is yours, don't ask for it back."
— Luke 6:30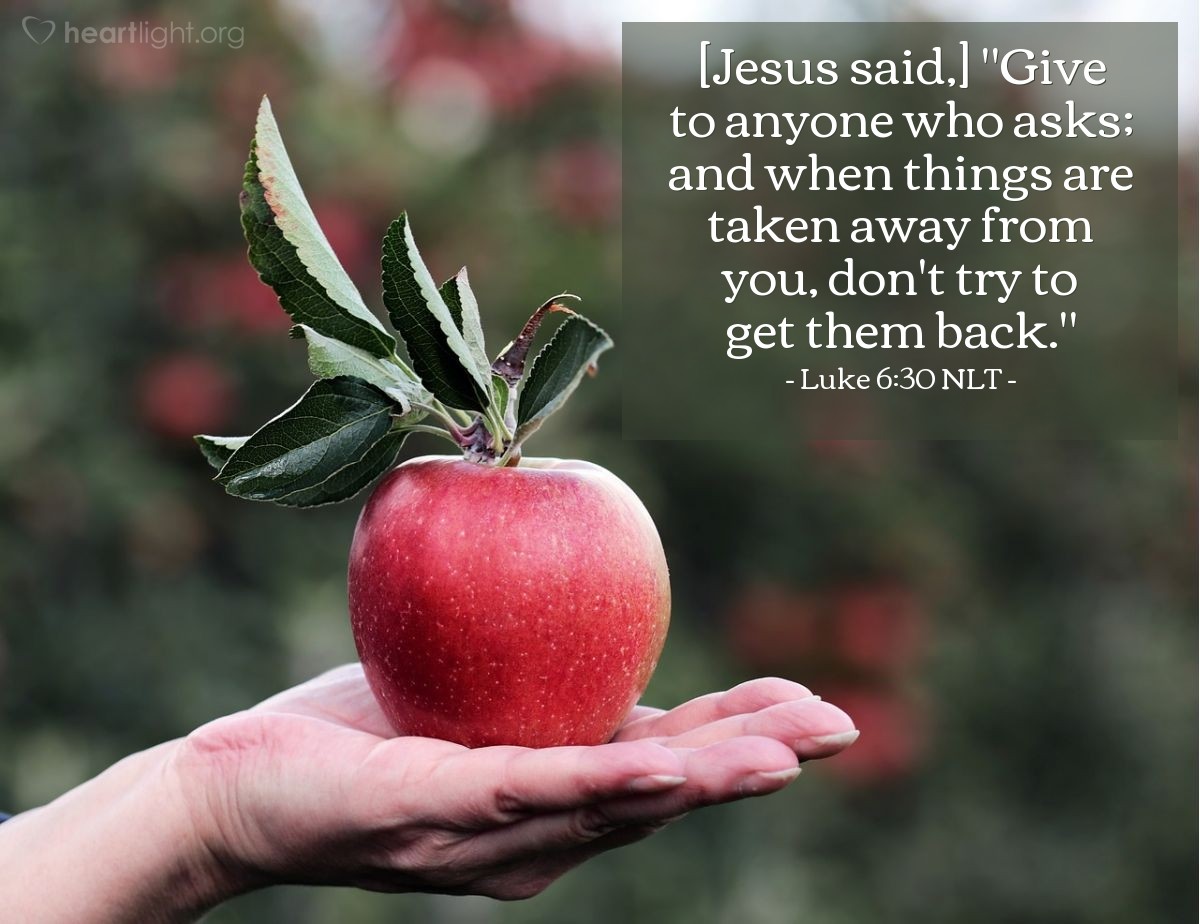 Key Thought
Our stuff often owns us. We can even get more attached to our stuff than to the people in our lives. When our things are taken from us, we can be more concerned about the things than we are about the heart of the person who took those things. God wants us to be generous with others, just as he is generous with us. God poured out his grace so lavishly. Do some people abuse that grace? Absolutely! Is God sorry he offered us his grace? Absolutely not! Some people will abuse us financially or take advantage of us in a "deal." Rather than destroying the reputation of the church and bringing ruin on ourselves through bitterness, we need to forgive and let go of what anchors us to the world.
Today's Prayer
O Father, give me open hands and an open heart to deal with those around me generously. Please help me from becoming bitter toward those who take advantage of me. Help me control my desire for "my justice" and seek after your grace, mercy, and generosity. In Jesus' name. Amen.
Today's Verses in Context
"I say to you people that are listening to me, love your enemies. Do good to those people that hate you. Ask God to bless those people that say bad things to you. Pray for those people that are mean to you. If a person hits you on the side of your face, let him hit the other side too. If a person takes your coat, don't stop him from taking your shirt too. Give to every person that asks you. When a person takes something that is yours, don't ask for it back. Do for other people what you want them to do for you. "If you love only those people that love you, should you get some special praise for doing that? No! Even sinners love the people that love them! If you do good only to those people that do good to you, should you get some special praise for doing that? No! Even sinners do that! If you loan things to people, always expecting to get something back, should you get some special praise for that? No! Even sinners lend to other sinners so that they can get back the same amount! "I'm telling you to love your enemies and do good to them. Lend to people without expecting to get anything back. If you do these things, you will have a great reward. You will be children of the Most High (God). Yes, because God is good even to the people that are full of sin and not thankful. Give love and mercy the same as your Father gives love and mercy.
Luke Luke 6:27-36
Related Scripture Readings
I pray that the faith you share will make you understand every good thing that we have in Christ.
Philemon 1:6
Remember this: The person who plants little will harvest only a little. But the person who plants much will harvest much. Each person should give what he has decided in his heart to give. A person should not give if it makes him sad. And a person should not give if he thinks he is forced to give. God loves the person who gives happily. And God can give you more blessings than you need. Then you will always have plenty of everything. You will have enough to give to every good work.
2 Corinthians 9:6-8
If a person is stealing, he must stop stealing. That person must start working. He must use his hands for doing something good. Then he will have something to share with those people who are poor.
Ephesians 4:28
About This Devotional
What Jesus Did is a one-year devotional guide through the gospels, using one short passage each day and following the Gospel in consecutive order. Each devotional consists of a passage, reflection and a prayer which opens up the day's scripture and shows how it challenges you to live for Jesus.
What Jesus Did! is written by Phil Ware.
Easy-to-Read Version copyright © 2001 by World Bible Translation Center. All rights reserved.