Friday, October 24, 2014
Above All, Through All, In All
Dear Father,
Thank you, Father, for the unity you have provided for us: the one body, the one Spirit, the one hope that belongs to our calling, the one Lord, the one faith, the one immersion - and the one God!
For you, our God, are the one and only God and Father of us all. You are above all and through all and in all!
Thank you, holy God, for the measure of grace that you have given to me that I should be part of your universal fellowship.
How gracious and good you are!
By Jesus' authority and in his name I boldly come to you, asking all this. Amen.
Comments on "Above All, Through All, In All":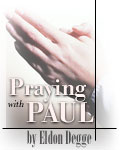 MORE Praying with Paul

Praying With Paul Feed
Enter your email address above to subscribe to the email edition of Praying with Paul. Receive a new prayer inspired by the life-transforming writings of the apostle Paul each morning.
Heartlight wants to thank Eldon Degge and Meridian Publishing for permission to make this available on our website.
Praying with Paul is available in a very attractive book that may be ordered directly from Eldon Degge.