Tuesday, October 6, 2015
Dear Father,
Help me to obey my leaders and submit to them, as those who keep watch for my soul.
Fill my mouth and my heart with earnest prayer for all your servants who serve you in your kingdom!
Now may you, the great God of peace who brought again from the dead our Lord Jesus, the great shepherd of the sheep, by the blood of the eternal covenant, equip me with everything good that I may do your will, working in me what is pleasing in your sight, through Jesus Christ, to whom be glory for ever and ever. Amen.
In the name of Jesus the Christ. Amen.
Comments on "Christ Working in Me":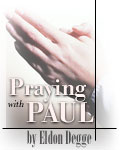 MORE Praying with Paul

Praying With Paul Feed
Enter your email address above to subscribe to the email edition of Praying with Paul. Receive a new prayer inspired by the life-transforming writings of the apostle Paul each morning.
Heartlight wants to thank Eldon Degge and Meridian Publishing for permission to make this available on our website.
Praying with Paul is available in a very attractive book that may be ordered directly from Eldon Degge.