Friday, August 1, 2014
Dear Father, righteous one,
Keep us from being led astray by misapplications of prophecy. Help us to understand the things you teach in your word about the consummation of Christ's victory against lawlessness.
Keep us from believing in pretended signs and wonders and wicked deception. Guard our minds that we should believe your truth and our hearts that we should take pleasure only in righteousness.
Thanks be to you, our God, that you chose us from the beginning to be saved, through sanctification by the Spirit and belief of the truth.
In the name of Jesus I ask. Amen.
Comments on "Christ Is Coming":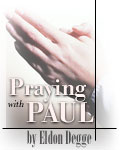 MORE Praying with Paul

Praying With Paul Feed
Enter your email address above to subscribe to the email edition of Praying with Paul. Receive a new prayer inspired by the life-transforming writings of the apostle Paul each morning.
Heartlight wants to thank Eldon Degge and Meridian Publishing for permission to make this available on our website.
Praying with Paul is available in a very attractive book that may be ordered directly from Eldon Degge.