Friday, February 27, 2015
Dear Father, victorious deliverer,
May I be found in Christ, not trusting any righteousness of my own. Let me know him and the power of his resurrection. May I share his sufferings, becoming like him in his death, so I might attain the resurrection of the dead.
O God, let me obtain it! Let me be awake! Let me put on the armor of light! Let me put on the Lord Jesus and his righteousness, and be found in him! Let me trust, obey, even suffer, in order to have the victory!
In the name of Jesus Christ. Amen.
Comments on "Staying Awake":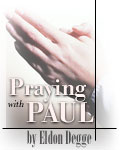 MORE Praying with Paul

Praying With Paul Feed
Enter your email address above to subscribe to the email edition of Praying with Paul. Receive a new prayer inspired by the life-transforming writings of the apostle Paul each morning.
Heartlight wants to thank Eldon Degge and Meridian Publishing for permission to make this available on our website.
Praying with Paul is available in a very attractive book that may be ordered directly from Eldon Degge.