Tuesday, August 4, 2015
Dear Father, God who worked to create all things,
Guide us and empower us to do our work in quietness, to avoid idleness, and to earn our own living. Help us not to grow weary in well-doing.
Help us to follow the example of your emissaries, of Paul and the others, who did not seize some economic advantage from their positions, but worked to provide for their own needs. Help us to encourage and enforce a good work ethic among Christians so that we may be highly regarded among all people.
Help us to be disciplined among ourselves, to exhort and warn each other, but also to be kind and loving and to treat each other as beloved brothers and sisters in Christ.
In the name of Jesus. Amen.
Comments on "Work and Discipline":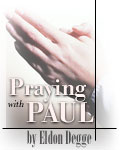 MORE Praying with Paul

Praying With Paul Feed
Enter your email address above to subscribe to the email edition of Praying with Paul. Receive a new prayer inspired by the life-transforming writings of the apostle Paul each morning.
Heartlight wants to thank Eldon Degge and Meridian Publishing for permission to make this available on our website.
Praying with Paul is available in a very attractive book that may be ordered directly from Eldon Degge.