Wednesday, October 22, 2014
Dear Father, transcendent in knowledge and wisdom,
Grant that I may know the love of Christ, a love which surpasses knowledge, that I may be filled with the fullness which is yours.
Now to you, my God, who by the power at work within your people are able to do far more abundantly than all I can ask or even imagine - to you be glory in the congregation of your holy people and in Christ Jesus to all generations, for ever and ever. Amen.
In the name of Jesus Christ I honor you and ask these blessings from your hand. Amen.
Comments on "Love Surpasses Knowledge":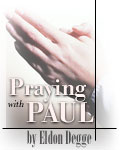 MORE Praying with Paul

Praying With Paul Feed
Enter your email address above to subscribe to the email edition of Praying with Paul. Receive a new prayer inspired by the life-transforming writings of the apostle Paul each morning.
Heartlight wants to thank Eldon Degge and Meridian Publishing for permission to make this available on our website.
Praying with Paul is available in a very attractive book that may be ordered directly from Eldon Degge.