So Joseph left Nazareth, a town in Galilee. He went to the town of Bethlehem in Judea. This town was known as the town of David. Joseph went there because he was from the family of David. Joseph registered with Mary because she was engaged to marry him. (Mary was now pregnant.)
— Luke 2:4-5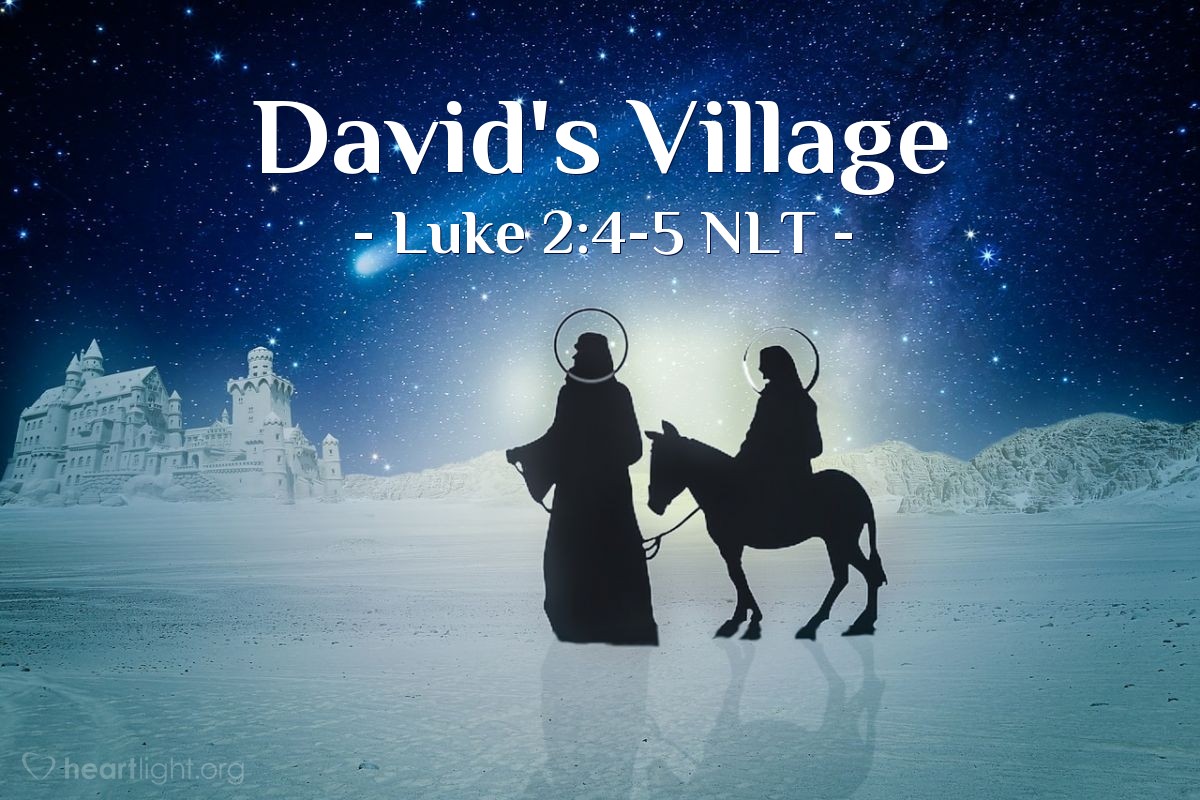 Key Thought
Bethlehem may not have been much of a town in Jesus' day, but it was King David's town. More importantly, Luke helps us establish a link in Jesus' heritage to King David. Jesus, however, is not just any descendant of David; he is THE successor; Jesus is the one who will reign on David's throne forever! Before Jesus arrives on the scene, we know a little something of his identity and his role: he will be King! The issue for you and me is whether we allow him to be King of our lives.
Today's Prayer
Almighty God and loving Father, I want Jesus to rule over my heart. I want him to be Lord of my passions. I want him to redeem the weak, broken, and unholy parts of my character. I want him to be Master of my future. Father, I don't want this because I am worthless and have no value, but because I know that my true value as a person will never be unlocked until I truly let Jesus rule my life. Please shape me and mold me, Lord Jesus, so that just as you obeyed your Father's will, I can learn to do the same. Amen.
Today's Verses in Context
At that time, Augustus Caesar sent out an order to all people in the countries that were under Roman rule. The order said that all people must write their name in a book (register). This was the first registration. It happened while Quirinius was governor of Syria. All people traveled to their own towns to be registered. So Joseph left Nazareth, a town in Galilee. He went to the town of Bethlehem in Judea. This town was known as the town of David. Joseph went there because he was from the family of David. Joseph registered with Mary because she was engaged to marry him. (Mary was now pregnant.) While Joseph and Mary were in Bethlehem, the time came for Mary to have the baby. She gave birth to her first son (Jesus). There was not enough room for them in the house. So Mary wrapped the baby with pieces of cloth and laid the baby in a box where cattle are fed.
Luke 2:1-7
Related Scripture Readings
"You must say this to my servant David: 'This is what the Lord All-Powerful says: I chose you while you were out in the pasture following the sheep. I took you from that job and made you the leader of my people, the Israelites. I have been with you every place you went. I have defeated your enemies for you. I will make you one of the most famous people on earth. And I chose a place for my people, the Israelites. I planted the Israelites—I gave them their own place to live. I did that so they will not have to move from place to place any more. In the past, I sent judges to lead my people of Israel. But evil people gave them many troubles. That will not happen now. I am giving you peace from all of your enemies. I promise that I will make your family a family of kings. "When your life is finished, you will die and be buried with your ancestors. But then I will make one of your own children become the king. He will build a house (temple) for my name. And I will make his kingdom strong forever.
2 Samuel 7:8-13
"If you do all these things, then I will make sure that the king of Israel is always someone from your family. This is the promise I made to your father David. I told him that Israel would always be ruled by one of his descendants.
1 Kings 9:5
You should know that the Lord God of Israel gave David and his sons the right to be king over Israel forever. God gave this right to David with an agreement of salt.
2 Chronicles 13:5