Articles Tagged 'Tractor'
Ann Voskamp talks about this year's wheat harvest and how it reminds her of God's grace and message of love when she was once in France and how communion is about love and love is about sacrifice.
10/25/2013 by Ann Voskamp
Patrick Odum reminds us of the importance of church and how it may not be efficient, but is sure necessary.
04/06/2008 by Patrick D. Odum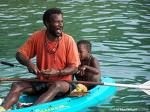 Rubel Shelly tells about Matt Lovo who saved his dad's truck and prevented a major accident in a tractor trailer rig when he took over driving for his dad even though he was a kid.
08/28/2007 by Rubel Shelly