Articles Tagged 'Set Apart'
Max Lucado talks about his experiences as a baseball catcher and how the dimensions of homeplate were immutable, sacred, and in a sense holy and compares that to certain things in life that God has called sacred and holy.
08/09/2022 by Max Lucado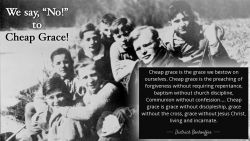 Demetrius Collins and Phil Ware lead us in a virtual, DIY, worship through words and music using YouTube videos to remind us of all that we have received from God through grace and how we must say no to sin because we have been so blessed!
09/12/2021 by Demetrius Collins & Phil Ware
Rubel Shelly reminds us that holiness is not just what we avoid, but what we do to bless and redeem.
09/21/2012 by Rubel Shelly