Articles Tagged 'Making Disciples'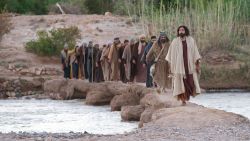 Dr. Lois Tverberg shares great insights on the meaning of discipleship and a disciple based on their meaning in Jesus' Jewish culture.
07/18/2023 by Lois Tverberg
Phil Ware continues his series on Resurrection 2.0 and the vital importance of Jesus' resurrection for our life as his disciples today.
05/08/2019 by Phil Ware
Rick Brown talks about discipleship being more than sitting and learning, it involves going and doing.
10/24/2011 by Rick Brown