Articles Tagged 'Hanging On'
Max Lucado reminds us that the God of hope gives us fresh starts just as he did to Noah with the olive leaf and the dove.
12/30/2021 by Max Lucado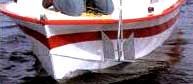 Light a stuck anchor prevents a boat from advancing or moving, so we often get stuck in our pasts and can't go forward until we get rid of the dead weight that weighs us down and holds us back.
12/31/2006 by Rubel Shelly
While starting well is important, finishing is the most important thing of all!
11/18/2005 by Jamie Shell & Brent Nidiffer