Articles Tagged 'Completion'
Demetrius Collins and Phil Ware lead us in a virtual, DIY, worship through words and music using YouTube videos to remind us of God's grace to be at work within us for our ultimate Good.
03/12/2022 by Demetrius Collins & Phil Ware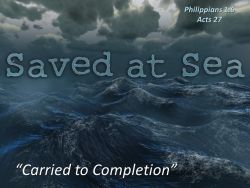 Phil Ware continues his series on Saved at Sea focusing on Paul's promise in Philippians 1:6 and Paul's shipwreck and travel to Rome to fulfill his calling from God.
09/07/2015 by Phil Ware
Max Lucado reminds us that we can all find something to complain about even in the best of circumstances, but we can focus on the good and see the work God is doing in us!
07/17/2012 by Max Lucado