Articles Tagged 'Child Abuse'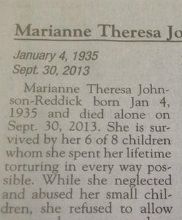 Phillip Morrison writes about a serious situation that was brought to light by an obituary -- child abuse -- and Phil Ware offers some helpful suggestions on ways to bring redemption out of the hurt of this world.
07/28/2014 by Phillip Morrison

A mother's lame explanation for child abuse makes us realize how easy and horrible it is to explain away our own responsibility.
09/23/2006 by Rubel Shelly
We must learn to intervene to help children in our world.
08/31/2005 by Teresa Bell Kindred