Articles Tagged 'Calvary'
James Nored in video, and Phil Ware using the Scriptures, remind us of the beauty and the cost to God of saving us and forgiving us, and giving us a new life.
03/16/2021 by James Nored & Phil Ware
Bill Sherrill writes about God's clearest message through Jesus on the Cross and through the Gospel of John.
01/15/2013 by Bill Sherrill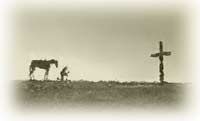 Will we draw near to the cross and have our lives changed?
08/11/2005 by Tom Norvell