---
Houses for Healing (H4H) is a local Abilene, Texas, mission to care for the sick and their families as they are away from their hometowns.
Our H4H mission is to care for the sick by providing free temporary housing to those who are receiving medical treatment away from home in Abilene, TX.
Lodging Provided: 5,325 Nights to date.
Their example of bringing together a coalition of people, organizations, churches, and businesses to bless others in the name of Jesus is a powerful example of what Kingdom life could be all over the country and worldwide. We present this as an example, idea-starter, and inspiration to you and your peeps to make a difference where you live. Jesus said our mission was to be his witnesses where we live, near where we live, and to those far off (Acts 1:8). He also said he was giving us Holy Spirit power to accomplish this mission. H4H is an example of the so often neglected here and near aspects of our Lord's commission. By God's grace and through the power of loving friendship and the Holy Spirit, let's all find ways to begin or join such efforts in our communities.
---
---
Ministry in Action
A picture of a time gone by with a touch of modern grace!
Lou is one of the most interesting and enjoyable transports we have provided to someone from the hospital. She had fallen and injured her head. Upon discharge, we gave her a ride back to some friend's house near Albany, where her wagon and team were located. Lou lives near the Oklahoma/Kansas state line along the once famous Western Trail. Lou travels approximately 18 miles per day along the old trail and stays with families along the way. When I asked Lou why a lady in her seventies would take on such a difficult journey alone, she said she wanted to see what was at the end of the trail.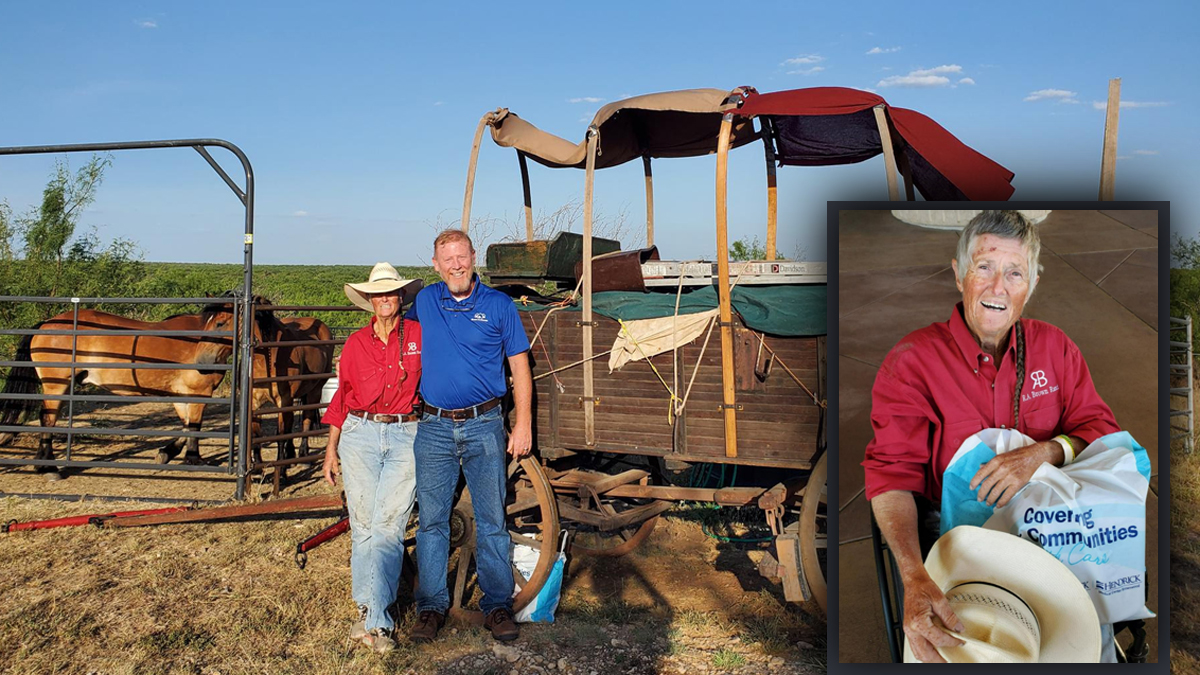 Nexstar Media Group "Founder's Workday"
Each annual Founder's Day, Nexstar employees nationwide join local organizations for a day of volunteer work. KTAB, KRBC, Telemundo Abilene, and The Big Country Homepage came to Houses for Healing and had their 2022 workday. All four groups came to help build tiny houses for the Big Country. They worked together because they wanted to provide free temporary housing to people receiving medical treatment away from home in Abilene.
MANY volunteers including Men of Nehemiah, Habitat for Humanity, churches from Abilene, and the Big Country all participated in working alongside Nexstar Media employees to stain fences, caulk, paint, do landscaping, build concrete forms, frame, install siding, wire houses, insulate houses, along with a myriad of other tasks. Bahama Bucks provided snow cones! United Supermarkets provided meals.
We had more than 150 volunteers work with us throughout the day!! All for the LORD and to love our neighbors!!

Chick-fil-A (South Clack in Abilene, Texas) jumps into community service in the name of Jesus
Chick-fil-A has joined Houses for Healing and is building the Fisher County House! They connected with Believers in Fisher County to sign 2x4s and also placed 2x4s in their store for customers to sign with scriptures and prayers.
Chick-fil-A also raised additional funding for Houses for Healing by asking customers if they would donate to Houses for Healing.... 2,000 customers donated during the 2-week campaign!! Many thanks to the Chick-fil-A family! They are working hard to be a blessing! By the way, the volunteer ministry teams for the Fisher County House will be the employees and their families of Chick-fil-A South. What a message to the community!!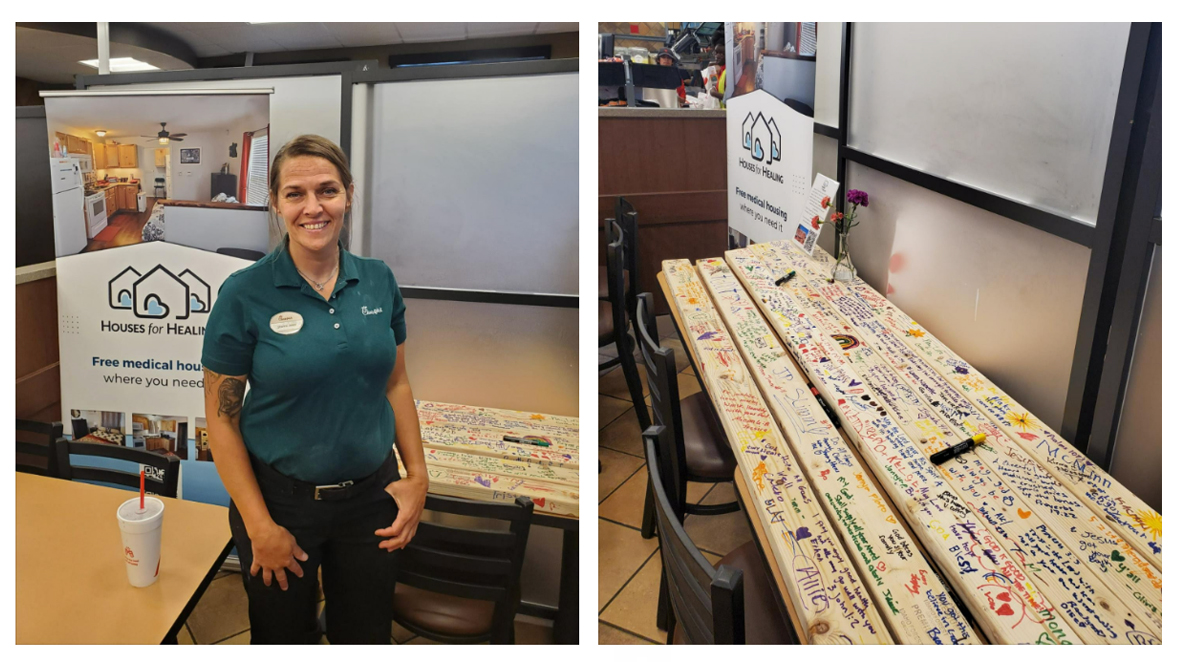 Saying "Thank You!" to the Men of Nehemiah
The Men of Nehemiah have been so very faithful to help us at Houses for Healing. They work almost every Friday, doing things such as painting, caulking, mowing, landscaping, and many other construction-related tasks, far too many to name. So, we wanted to say "THANK YOU!" with a meal, some games, and a few small prizes.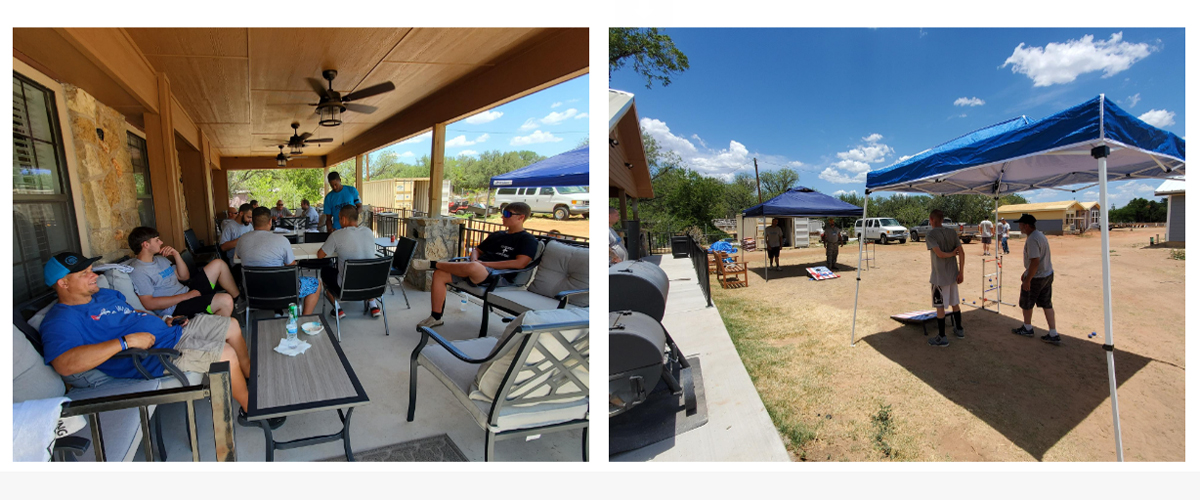 A Lunch for the H4H Guests
They will never forget how someone they didn't know loved them in Jesus' Name!
New Hope Church had a workday on a Sunday with the theme: "Saved People Serve" There was a great turnout to work on the Throckmorton House which they are building and adopting. Using the H4H Community Center, New Hope decided to also bless the guests at Houses for Healing with a meal and as an extension of the ministry that day. Two of the H4H guests were in the hospital, but their families came. This is the far-reaching impact of caring for the sick. You reach not only the patient but also their families and communities. They will never forget how someone they didn't know loved them in Jesus' Name!

Last load of trusses from Austin
Last load of trusses
Textruss (Mike Shelton) of Austin, Texas, donated 15 tiny house prefabbed trusses to help us out! Mike and his wife lost their daughter in an automobile accident in Abilene a few years ago. The Shelton Family is also paying to build the Comanche County House. We will honor their daughter inside that house. Joe is Mike's right-hand man. Thanks, Mike and Textruss!
---
---
Jesus said it!
"You will receive power when the Holy Spirit comes on you; and you will be my witnesses in Jerusalem, and in all Judea and Samaria, and to the ends of the earth" (Acts 1:8).
As this coalition of Kingdom-hearted believers has done in West Texas, you can do with people in your church, neighborhood, businesses, organizations, and non-profits. Let's embrace the here, near, and far mission of Jesus!
For more on the here, near, and far mission of Jesus, please visit the related links below.
---
---