---
This is what the LORD says:

"Stand at the crossroads and look;
ask for the ancient paths,
ask where the good way is, and walk in it,
and you will find rest for your souls."
(Jeremiah6:16)
Did you know it's okay to start over?
To realize that we've missed the boat, you don't need to keep trying to correct a wobbly course, but you can go alllllll the way right back to the beginning?
To go back to the crossroads and look.
To get a fresh start.
Again!
---
---
A couple of years ago, I spent a few days with five other mothers away at a cabin. The purpose of the trip was entirely unrelated to what God pressed on my heart those few rich days, but He knew what I needed most.
Motherhood and life with a husband in a demanding school schedule had wearied me to the bone. I was still smiling, outside, but inside I always felt tired. Insufficient. Like I just couldn't reach around.
In my mind, I'd whisper "So why try?"
But the days with those other mothers were an IV drip of courage — moment-by-moment reminders that we all live a REAL life, not a perfect Instagram® one.
Each mother at my getaway had real muscle and wisdom gained by raising her unique children. They each had a powerful perspective of hope to offer me. It was a moment to embrace that our children bring us to our knees, and consequently face to face with our own neediness before the Lord.
We AREN'T enough, but He is.
It is the goodness of the Lord that brings us nose-to-nose with our desperate need for Him.
---
---

It is the lavish kindness of God that He gives us fresh mornings, with new mercies to try again. A clean slate every day.
It is the gentleness of God that helps us start over, turn around and head back to the starting line, to start fresh.
Each lap around the track, we learn.
We build muscle.
We find practice isn't a punishment, and that beginning again makes us stronger.
We gain experience.
We remember what we learned last time.
We find practice isn't a punishment, and that beginning again makes us stronger.
---
---
We had a fresh fall of snow during the night, and the sunshine is flooding our kitchen window. My breakfast dishwasher is starting over again, with fresh instructions on how to get the dishes completely clean.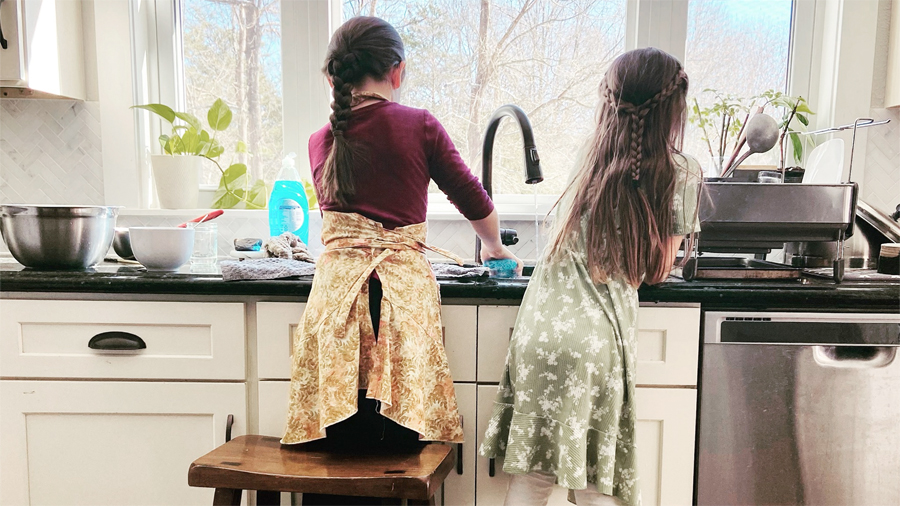 You see, the lessons the Lord is teaching us are also for our children. So we can reach out and hold their hand, and say, "Me too. I learning, just like you!"
This is child training at its core, holding hands and reaching for the Lord together. "This is the way. Walk in it."
And if we are listening, God gently whispers, "and you will find rest for your souls."
---
---