---
This week's ToGather.church for Sunday, December 27, is ready for you to use as a home worship guide for yourself or for you family, small group, or house church gathering. (Find out more about ToGather.church.)
This weekend's ToGather.church can be found here:
We have spent several days this month in Romans 12 and 1 Corinthians 12 in our Verse of the Day daily devotionals and on several Sundays in ToGather.church. Paul has repeatedly reminded early believers that they are the body of Christ. He emphasized that each one of them was an important member of Christ's body that needed to work together with the other parts of the body for it to function like Christ.

This week, we close the year with a focus on what it means to be the body of Christ. Our Communion reflection reminds us that as we share in the one bread, we are Christ's one body (1 Corinthians 10:16-17). Phil also looks at our Verse of the Day, 1 Corinthians 12:27, and gives us seven key principles about using our spiritual gifts from all four key chapters in the New Testament on spiritual gifts — Romans 12, 1 Corinthians 12, Ephesians 4, and 1 Peter 4. We conclude with our closing blessing, Romans 12:5-6, reminding us of the importance of working together so we can be Jesus' presence in the world.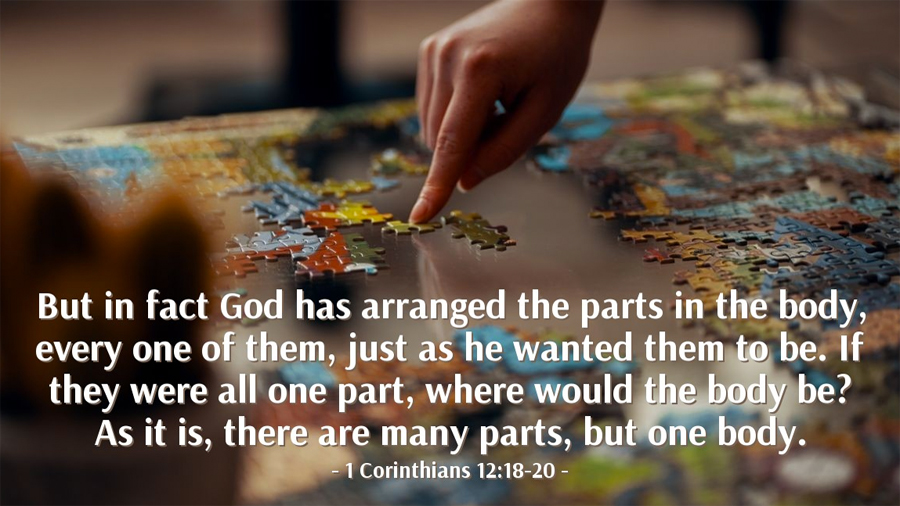 Now you are the body of Christ, and each one of you is a part of it (1 Co 12:27).
How important is it for Jesus' followers to be unified and work together to do his work in the world? Listen as the Lord Jesus prayed for us right before his Passion:
[Jesus prayed:]"My prayer is not for [my apostles] alone. I also pray for those who will believe in me through their message, that all of them may be one, Father, just as you are in me and I am in you. May they also be in us so that the world may believe that you have sent me. I have given them the glory that you gave me, that they may be one as we are one — I in them and you in me — so that they may be brought to complete unity. Then the world will know that you sent me and have loved them even as you have loved me.

"Father, I want those you have given me to be with me where I am, and to see my glory, the glory you have given me because you loved me before the creation of the world.

"Righteous Father, though the world does not know you, I know you, and they know that you have sent me. I have made you known to them, and will continue to make you known in order that the love you have for me may be in them and that I myself may be in them" (John 17:20-26 — Bold added for emphasis.).
What a blessing! We can join together and function as Jesus' presence in the world, today!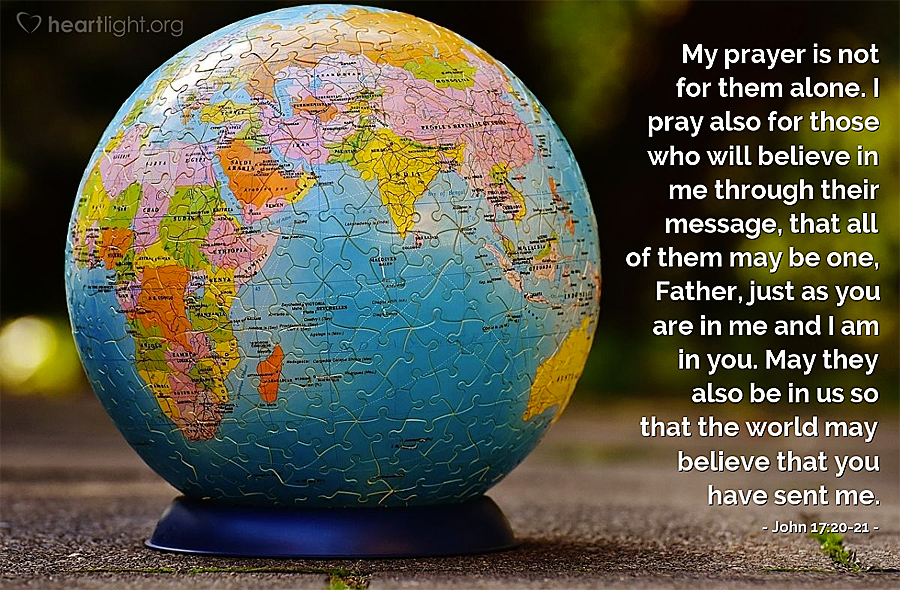 We invite all who worship Christ Jesus as Lord and Savior to join us in our worship with believers from all around the world in this week's ToGather.church.
---
---
Special thanks for the use of images related to Jesus' ministry from The Lumo Project and Free Bible Images.
---
---