---
Drawing Near:
Welcome!
We are delighted that you joined us for ToGather.church. (Find out more.) What follows is our home worship guide for you to use on your own or to share with your friends, family, home group, or house church.
Today we want to focus on Jesus, the one who pioneered the way to live victoriously and who lives to be with us and to intercede for us through every step of our lives. Let's proclaim our faith in our Savior as the Zoe Group leads us in Matt Redman's powerful song of faith, "Never Once":
You are encouraged to read Paul's words of assurance out loud as we proclaim that nothing can separate us from God's love for us in Christ Jesus, our Lord:
Who shall separate us from the love of Christ? Shall trouble or hardship or persecution or famine or nakedness or danger or sword?

...

No, in all these things we are more than conquerors through him who loved us. For I am convinced that neither death nor life, neither angels nor demons, neither the present nor the future, nor any powers, neither height nor depth, nor anything else in all creation, will be able to separate us from the love of God that is in Christ Jesus our Lord (Romans 8:35-39).
---
---
Welcome to the Table of the Lord:
To prepare our hearts for this week's time in Communion, let's sing Phil Wickham's anthem of faith, "Living Hope":
We are blessed to have Ratan and Neelam Babu Baipa join us from India to lead us in the Lord's Supper.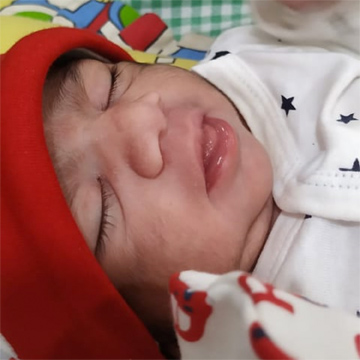 Neelam was just hours before delivering their second child, a precious little girl. While she was in discomfort awaiting delivery, she graciously shared her time to remind us just how important Communion is for us as God's family as we remember what Jesus did to make us all part of his forever family!
For us, the bread and the cup are far more than just a routine bite of bread and a sip of wine or graph juice. Rather, the bread is the body of Christ given for us, and the cup is the blood of the new covenant God has made with us as his people and as his children. Nothing could be more important. Let's open our hearts to this holy moment and then hear the call of God to share the story of Jesus with others all over the world!
---
---
More Than I Can Handle?!
As we remember the Lord's death on the day of his resurrection, let's celebrate Jesus' victory over sin, death, and hell by joining The 2nd Chapter of Acts in singing the "The Easter Song":
Paul prayed for the Ephesian believers to know the power of God at work within them — the same power that raised Jesus from the dead (Ephesians 1:18-20). Since that power is also at work within us, we can give what we cannot handle into the hands of the one who has handled situations far worse than anything most of us will ever encounter and who can definitely handle anything we face!
Let's have our Bibles open as Phil leads us into a deeper understanding of Luke 9:13, our Verse of the Day. Life, and the challenges the evil one throws in our way, often give us tough and painful trials. Are some of these challenges more than we can handle? A trite, throwaway phrase often used to try to comfort people is, "God will not give you more than you can handle!" But, does the Bible say that? Don't we face times when Jesus leads us into situations that are more than we can handle so we can learn to trust him? Let's dig deeper and find an inspiring message from Jesus' feeding of the 5,000:
The statement that "God will not give you more than you can handle" may come from a misunderstanding of something Paul said:
No temptation has overtaken you except what is common to mankind. And God is faithful; he will not let you be tempted beyond what you can bear. But when you are tempted, he will also provide a way out so that you can endure it (1 Corinthians 10:13).
Paul's assurance to the Corinthian Christians was based on the confidence he expressed to the Ephesian Christians that, as we lean in and lean on Jesus, God's Spirit will strengthen us, even when we are tempted:
I pray that out of [God's] glorious riches he may strengthen you with power through his Spirit in your inner being, so that Christ may dwell in your hearts through faith. And I pray that you, being rooted and established in love, may have power, together with all the Lord's holy people, to grasp how wide and long and high and deep is the love of Christ, and to know this love that surpasses knowledge — that you may be filled to the measure of all the fullness of God (Ephesians 3:16-19).
The next two verses continue Paul's assurance and are in our closing blessing.
Let's join Bethel Music in proclaiming that our destiny is in the hands of the one who is "Faithful to the End":
---
---
Our Closing Blessing:
Our closing blessing is from Ephesians 3:20-21, a perfect passage of praise to end our time of focus on Jesus' power to help us:
In a world where life is often more than we can handle, let's finish our time today proclaim our need for the Lord with the Westover Hills singers as they confess, "Lord, I Need You":
May God bless us as we release what we can't handle into the hands of the one who is forever faithful to us and can do more than we can ask or imagine!
---
---
Postscript:
Shortly after ToGather is posted each weekend, the videos are professionally captioned and posted on YouTube. See all of our ToGather.church videos on our YouTube® Channel.
Special thanks for Multi Transcription Services of America (MTSOA.com) for their fine work. See them for all your questions about marketing YouTube® videos and expanding your online reach. Email Lee for more info.
---
---
Special thanks for the image at the beginning and the clip that is included in Phil's lesson, both from "Joe Versus The Volcano," which can be purchased on DVD. All rights reserved.
Special thanks for the use of images related to Jesus' ministry from The Lumo Project and Free Bible Images.
---
---