The newspaper framed this story as a tragedy. Doctors diagnosed a pregnant mom with a malignant tumor in her brain. Her only hope was to have it removed. She did, but it grew back quickly. The only option after the recurrence was for her to have another surgery to remove more of the tumor and then go through aggressive cancer treatments after she aborted her baby. She chose to have the surgery and then give the last days of her life to give her baby a chance at one. When cancer destroyed her body's ability to function, doctors put her on life support, and her body and the medical team fought to give the baby time to develop. They hoped to give a chance at life to her unborn child, whom they named Life Lynn. Unfortunately, however, the baby Life Lynn ended up dying, too.
This gut-wrenching story planted the proverbial splinter in my brain. I couldn't quite shake the heartbreak for the family and friends of that mother and child. I couldn't rid my heart of the burden at the unfairness of such a sacrifice. Something visceral, some incurable wound deep in my being, cried in agony at the apparent loss of two lives. Until…
I read the following verses from Mark's story of Jesus. This story often frustrates and angers me at the disciples. There was little blessing it in for me until I let the Holy Spirit speak to my heart last night as I slept. Here is how Mark tells the end of this story:
After Jesus had gone indoors, his disciples asked him privately, "Why couldn't we drive [the impure spirit] out [of the boy]?"

He replied, "This kind can come out only by prayer."

They left that place and passed through Galilee. Jesus did not want anyone to know where they were because he was teaching his disciples. He said to them, "The Son of Man is going to be delivered into the hands of men. They will kill him, and after three days he will rise." But they did not understand what he meant and were afraid to ask him about it.

They came to Capernaum. When he was in the house, he asked them, "What were you arguing about on the road?" But they kept quiet because on the way they had argued about who was the greatest.

Sitting down, Jesus called the Twelve and said, "Anyone who wants to be first must be the very last, and the servant of all" (Mark 9:28-35).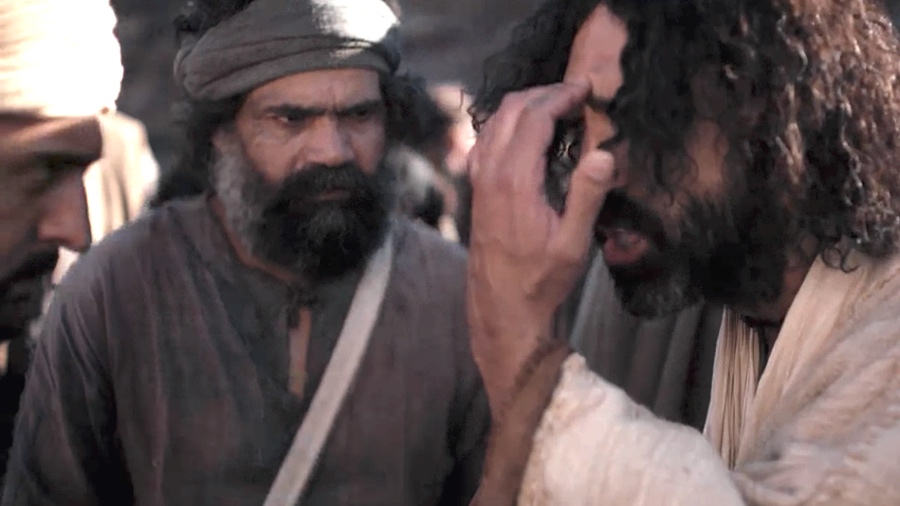 Power!
Most of us would like to have some. Some of us, if we are honest, would like to have a lot! Not the kind power that comes out of an electrical socket, but the power to influence the outcomes in the lives of those we love. We want to have the power to make a difference in the world around us. We'd like to have the power to mitigate the damage of disasters ripping apart the lives of countless thousands. We'd like to have the power to heal the wounds of those broken and battered by life. We'd like to have the power to have fairytale endings in stories like the mother and baby.
Our world is too big, our institutions too entrenched, and our natural disasters too overwhelming. Our voices are mostly ignored. Our ability to alter our world is limited. Our power to help those with horrible burdens is inadequate. Dear God in heaven, we'd sure like to have a little bit of power to alter our irrelevance, lighten the burdens of others, and heal the wounds of the broken and despairing.
So the Holy Spirit used the gospel of Mark to remind me that Jesus' apostles wanted seats of honor and power but were clueless about how to use that power. They argued over which one of them was greatest. They repeatedly stumbled over using the power available to them to make a difference in the lives of others, or even in their own lives — these are major themes in Mark chapters 8-10. These apostles had seen Jesus do amazing things. He had even sent them out to do amazing things. They had held the results of Jesus' power in their hands, the same hands that had fed thousands, healed the broken, and raised the dead.
Jesus' disciples wanted to be important. They wanted to make a difference. They wanted to have the power to do amazing things like their teacher. Yes, some of that lust for power was selfish. On the other hand, they also desired power to heal, to help, and to make a difference. They were frustrated and confused when they couldn't heal, help, or make a difference, just as we are today.
What is the problem?
The apostles didn't know how to use this power because they didn't know why that power was available to them. So as Jesus began his last trip to Jerusalem, he repeatedly told them about his coming death. He called them to follow him in the way of the cross. They consistently misunderstood their Lord. And today, we also misunderstand. Even in our desire to use power to help others, we still wrestle with misunderstanding and confusion.
When a mother gives up her life to give her child a chance at one, there is no ultimate tragedy; not even if both die. Yes, there is the awful pain of death. Yes, there is the grief-invoking loss of two precious lives. Yes, there is the unfairness that persistently stains our world broken because of the fall. Yes, there are loved ones left with empty places at the dinner table, the bedroom, and the nursery. Those are deep, agonizing, and grievous wounds. But, there is also greatness on display, the kind of greatness that demonstrates true power.
We sometimes read Jesus' words about the greatest in the kingdom wrongly. We understand his words to mean that servants will be considered, one day, as great. But, that day won't come until Jesus' kingdom finally comes in its full glory. This delayed recognition is not what Jesus promised.
When we see people give of themselves and sacrifice their lives for others, we see greatness, NOW. We see the values of God's kingdom breaking through into our broken and selfish world. We see sacrificial power holding back the distorted values of our self-seeking world. We see greatness in a culture that prostitutes itself for fifteen seconds of fame. We see a holy character in a world of people trying to be unique characters. We see greatness in the camouflaged lives of struggle hidden by Instagram® pics; Twitter® feeds; Pinterest® pins; and Facebook® posts of life's highlights.
Life in our world can be rich with wonder and full of beauty. Life can also be brutal, gruesome, unfair, and violent. May our longing for power create more of the first of these and prevent the latter.
But until…
Until we lose our lives for Jesus and the sake of the kingdom of God dawning in our world…
Until we see sacrifice our wants to enable others to have their needs met…
We are startled by the fragrance of Jesus in this one woman's sacrifice.
Until we realize that losing our lives to give others grace as true power…
Until then, we don't see with the eyes of Jesus, love with the heart of Jesus, or use power with the grace of Jesus.
In the Bible verses today from Mark, Jesus showed his power over the demonic forces that the apostles seemed powerless to change. No one, no power, could take his life unless he gave it up willingly, sacrificially. So, two things emerge about the apostles' powerlessness in this situation:
Their lack of faith in prayer as power.
Their wrong-headed notions of power, greatness, and being important.
Jesus came to show us a new way of life with power. That new way, God's kingdom way, means we use our lives as the power to sacrifice, so others find grace, healing, and hope. Anytime we see this way of living demonstrated we catch a glimpse of real life, eternal life, life as the Father intended it. This kind of life cannot be stopped because hearts quit beating. This power doesn't end when the dust of our bodies returns to the dust from which they came.
When we see a woman choose to sacrifice her life to give life to her unborn child, this is no ultimate tragedy. It is not an ultimate tragedy even when her efforts don't bring what she wants. In her actions, her sacrifice, we catch a glimpse of heaven. We are startled by the fragrance of Jesus in this one woman's sacrifice. Her sacrifice reminds us of Jesus' life-giving surrender to the cross. This kind of sacrifice gives life beyond hearts no longer beating, bodies returning to dust, and broken hearts grieving crushing losses. In this kind of self-emptying sacrifice, one woman incarnates the power of Jesus' sacrifice in our time. If we allow, this grace transforms a tragic chain of events into a reminder of Jesus' self-emptying and life-giving love. Jesus uses this grace to call us to follow him in the way of the cross, to offer our lives in the life-restoring power of self-sacrifice.
Jesus called them together and said, "You know that those who are regarded as rulers of the Gentiles lord it over them, and their high officials exercise authority over them. Not so with you. Instead, whoever wants to become great among you must be your servant, and whoever wants to be first must be slave of all. For even the Son of Man did not come to be served, but to serve, and to give his life as a ransom for many" (Mark 10:42-45).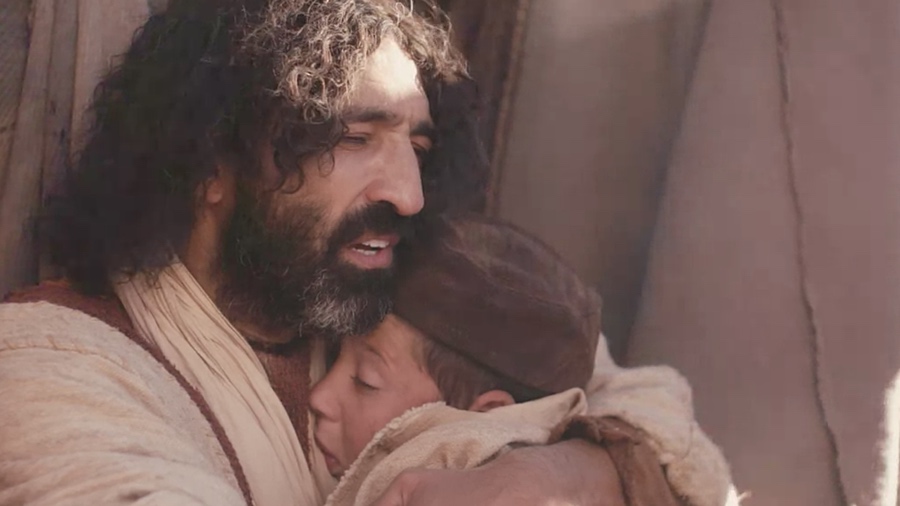 ---
Special thanks for the use of the Jesus images in Phil's blog, "The Jesus Window," to Free Bible Images and the The Lumo Project.