There was a "then"!
God had worked history to bring about the right time for Jesus to come as the answer to his promise to Abraham, David, and his people, Israel.
But when the right time came, God sent his Son, born of a woman, subject to the law (Galatians 4:4 NLT).
There was a "then"!
We've heard the story so many times that it gets caught up in the busyness and stress, gift-giving and child-like wonder, of Christmas. We sometimes forget that this is no fairy tale or children's story. Jesus' birth involved a series of events that happened in human history, our history.
In those days Caesar Augustus issued a decree that a census should be taken of the entire Roman world. (This was the first census that took place while Quirinius was governor of Syria.) And everyone went to their own town to register.

So Joseph also went up from the town of Nazareth in Galilee to Judea, to Bethlehem the town of David, because he belonged to the house and line of David (Luke 2:1-4).
There was a "then"!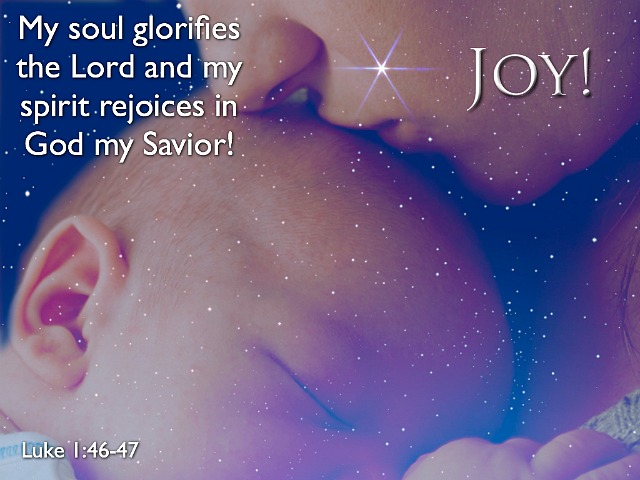 We don't know the exact day or even the exact month that Jesus was born. But we do know where he was born, and we do know that Mary did the things with her new baby that other mothers in her time did with theirs.
While [Joseph and Mary] were there [in Bethlehem], the time came for the baby to be born, and she gave birth to her firstborn, a son. She wrapped him in cloths and placed him in a manger, because there was no guest room available for them (Luke 2:6-7).
There was a then.
This "then" was the exact moment in human time when eternity paused, history held its breath, shepherds were amazed, and angels flooded the sky to rejoice and as the Creator entered the world he had made as baby Jesus.
And there were shepherds living out in the fields nearby, keeping watch over their flocks at night.

An angel of the Lord appeared to them, and the glory of the Lord shone around them, and they were terrified.

But the angel said to them,

"Do not be afraid. I bring you good news that will cause great joy for all the people.
Today in the town of David a Savior has been born to you;
he is the Messiah, the Lord.
This will be a sign to you:
You will find a baby wrapped in cloths and lying in a manger."

Suddenly a great company of the heavenly host appeared with the angel, praising God and saying,

"Glory to God in the highest heaven,
and on earth peace to those on whom his favor rests"

(Luke 2:6-14).
There was a "then"!
God had signaled the birth of his Son, Jesus, into the world through a celestial event that star-watchers from far away could see. Even though their religion was false, God used it to invite them to come in search of his truth and his salvation. In anticipation of Jesus' last words to take his good news to all nations, those from far away saw God's sign and came to worship him.
After Jesus was born in Bethlehem in Judea, during the time of King Herod, Magi from the east came to Jerusalem and asked, "Where is the one who has been born king of the Jews? We saw his star when it rose and have come to worship him" (Matthew 2:1-2).
There was a "then"!
Being born into human time so bent by sin and evil ensured that some would not celebrate Jesus' birth as a glorious moment. Some grabbed hold of the time of Jesus' birth to use that date for their own evil intent. Those in power were determined to use the time of Jesus' birth against him for their own gain. The road that eventually led the Son of God to go to the cross and triumph over death through his resurrection was made clear at the time of his birth.
When King Herod heard this he was disturbed, and all Jerusalem with him. When he had called together all the people's chief priests and teachers of the law, he asked them where the Messiah was to be born.

"In Bethlehem in Judea," they replied, "for this is what the prophet has written:

'But you, Bethlehem, in the land of Judah,
are by no means least among the rulers of Judah;
for out of you will come a ruler
who will shepherd my people Israel.'"

Then Herod called the Magi secretly and found out from them the exact time the star had appeared. ...[A]nd he gave orders to kill all the boys in Bethlehem and its vicinity who were two years old and under, in accordance with the time he had learned from the Magi (Matthew 2:3-7, 16).
There was a "then"!
And because of this specific time in history, we know the love that God has for us. This great love meant that the immortal and almighty God would become, for us, a tiny baby in a manger. Like any baby, Jesus was a tiny bundle of mortal flesh totally dependent upon human parents to raise and protect him.
When [the Magi] had gone, an angel of the Lord appeared to Joseph in a dream. "Get up," he said, "take the child and his mother and escape to Egypt. Stay there until I tell you, for Herod is going to search for the child to kill him."

So he got up, took the child and his mother during the night and left for Egypt, where he stayed until the death of Herod. And so was fulfilled what the Lord had said through the prophet: "Out of Egypt I called my son" (Matthew 2:13-15).
This great love meant that the immortal and almighty God would become, for us, a tiny baby in a manger.
There was a "then"!
And because there was a "then," our now and our forever can be filled with the joyous and certain future in the presence of the one who came at just the right time to redeem us and make us God's precious children, too!
But when the right time came, God sent his Son, born of a woman, subject to the law.

God sent him to buy freedom for us who were slaves to the law, so that he could adopt us as his very own children (Galatians 4:4-5 NLT).
There was a "then"!
---
This is part of a four-part Christmas series entitled: "Give Me Jesus":
Each has a YouTube video attached to add to their impact and blessing.