When the woman told me she'd heard round that there were rumblings — she said she was just going to do it.
She was just going to step out onto those fault lines, right where there were murmurings of things shifting and moving, right into whatever was being said.
She told me she was afraid.
Because who knew what they were talking about behind closed doors?
Who knew what they were saying about her, about things, about choices, about what was right and what was wrong and what should come next?
There was light all across the floors as she talked, falling in quiet lines, laying down shadows. I nodded slow. I could hear her. Feel it. The way a heart can quake before an earthquake of words. The way you don't know if you feel any brave left in your veins.
The light moved to the south. Now my feet found themselves standing in the shadow lines.
I turned to her and handed her a handful of words, a light I'm growing to know in the dark:
"Just — Never be afraid to listen."
* * * *
So I drop the kid off at counseling.
Drop the kid off at counseling at the church. Yeah, I guess that's how you say it — but there's no dropping. There's a setting.
I mean, I set it up — set things up with the counselor, get ready, drive into town. Yeah — there's no dropping off, there's this gentle setting off. There's this praying, this trying to remember to breathe, this letting go. There's kissing a forehead and smiling brave.
And I'm fool enough to talk to myself out loud, while I turn out of the church parking lot, talk myself down out of this surging wave of anxiety:
"The kid could tell the counselor that we're a mess."
Yeah? So? We are.
"But — the kid could say we're the worst, that we're wrong, that we're wrecked."
And c'mon, who isn't, sweetheart?
You never have to be afraid of the Truth — because the Truth will set you free.
You only need fear the Truth of anything — if you think Christ isn't capable of redeeming everything.
And if Christ is the Truth — then where there isn't Truth, there isn't Christ Why ever be afraid of the Truth?
"Uh — why exactly did I set this whole kid/parent/counselor thing up again?"
And I catch my reflection in the rearview mirror and smile gentle —
Because yeah, remember that thing that you're slowly coming to hold on to? You never have to be afraid of just listening.
Because yeah, too many people treat listening like it's only a pause before their own shock and awe.
Because real listening is really a radical act of humility.
Because when you let yourself humbly listen, you let yourself be... holy remade.
Because listening is how you plant resurrection — Lazarus's ear had to first hear before he could rise up and walk out of the grave.
When the kid comes out of counseling, I take the Brave Truth Teller for ice cream. We take the long way home, the long way around the world, and we take it real slow, right up that lonely gravel road, and park under the trees by the edge of the woods. We spoon at our strawberry sundaes.
I ask how it was, ask how I can change. I listen. Smile gratitude and nod — yes. Yes.
When a gust of October blows up over the hill and through the woods, one of the last of the flaming leaves sways down in front of us —
and we both listen for the glory of it.
The world's wide — both the real one and the reality of the World Wide Web.
There are words all over the map. I tell myself that sometimes:
We don't have to be afraid. Listening to other people's words need not undermine the Word.
There are a million beaten paths. And no matter what words people use — everyone is just asking to be loved.
Some speak with a match, words on fire, blazing their path; some speak in circles, words unraveling as they find their way. There are some who lose their voice, too many arrows through the throat, through their words. There are some who take a deep breath of courage and speak their world and get vilified.
There's a guy who writes things and I agree. And then sometimes I don't. Nothing bad happens — maybe only something rare and beautiful. His words settle somewhere inside of me and shape a bit of me to be more like Christ. This can happen —
When we listen to words, not to shoot them down, but to open us up — Grace can walk in.
When we listen to words not to indict them but to inform us, they can form us into a cup of understanding. This quenches the world's parched places.
Once, when I saw this guy pick up his phone, I thought it looked like he was holding a brick in his hand. I started to see that everywhere — everywhere people with these bricks in their hands.
And maybe that's a bit of how it turns out to be? Social media is a brick. Not a brick to throw. But a brick to build a bridge.
Maybe that's it? Social media is not about competition, ammunition, or opposition.? Social Media is about a conversation. A way to listen and hear and not be afraid.
Maybe, yeah — Social media isn't ammunition, but an invitation.
It's an invitation to hear people, help people, heal people.
Social media is how we build a bridge to people. Not how we bully people.
I don't know, so much I don't know — but sometimes I wonder if… wonder if —
Though sometimes listening to words beautifully changes our minds, when we humbly see the Truth of the Word in the words!
Sometimes words don't need to change our minds — as much they just need to change our hearts. Change not the way we think — but the way we love.
When grace walks in — that doesn't mean that Truth needs to walk out. It can mean that they both sit down and listen and learn and linger long enough to love no matter what.
There are times, in the early morning rising, if I sit close enough to the window, I can hear bird songs from up in the pines, songs that I have never heard before.
And there's time to still long enough to just listen.
Is that what angels say when they make a visitation —
Listen — and do not be afraid?
---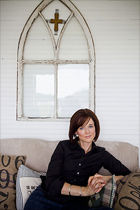 All pictures from Ann Voskamp.
This article from Ann's incredible blog, A Holy Experience. Ann Voskamp is a beloved author, blogger, Compassion advocate, wife, and mother.
Ann's teaching, writing, speaking, and photography have blessed tens of thousands in many languages and her books are available in multiple languages...
For more on Ann, check out her blog called A Holy Experience and check out her books and other resources.