Jonah may be the most classic "Saved at Sea" story in the Bible! You have a storm, a boat, sailors in panic mode, a man thrown overboard, the lives of tens of thousands of people at stake, and you have a runaway prophet with a suspect pedigree. You don't get a much better story line anywhere. Only this "Saved at Sea" story has an important point that often gets lost — lost in the Jonah story and lost in modern evangelicalism. God saves us FROM sin, death, and hell FOR his purpose of redeeming a lost world. This was true when God called Abraham and gave him the great promises (Genesis 12:1-3). It is true for us today. We aren't saved to go to church, to be nice, or to control politics. We're saved for the same reason Jonah was: God graciously loves us and wants to give us the privilege of living out his divine purpose for us:
For by grace you have been saved through faith. And this is not your own doing; it is the gift of God, not a result of works, so that no one may boast. For we are his workmanship, created in Christ Jesus for good works, which God prepared beforehand, that we should walk in them (Ephesians 2:8-10).
So there's today's message tucked into one nice long paragraph with a Bible verse. But if you quit reading now, you will miss a whale of a story!
A little over a week ago, I was on a bus traveling through the slums of northern Lima, Peru. I was praying and trying not to hold my breath because I was so excited. Nelvis wanted to be baptized. Nelvis is an incredible young man I have known for several years from la Communidad de los Niños — Sagrada Familia. Nearly always in such situations, the devil throws a curveball or two. He did that morning as well, but Jesus helped us hit those curveballs out of the park! I was privileged to baptize Nelvis in the Pacific before our church service. Later, Donna and I sat by Nelvis as he took Communion for the first time with a small congregation that has been planted at this special place for 950+ kids ranging in age from 9 months to 19 years. (You see Nelvis and I arm in arm headed to a cave in that rock formation under the yellow sign in the picture below. The cave was our changing room after the baptism.)
Nobody wants to swim in what Jonah did when the fish vomited him up on the beach.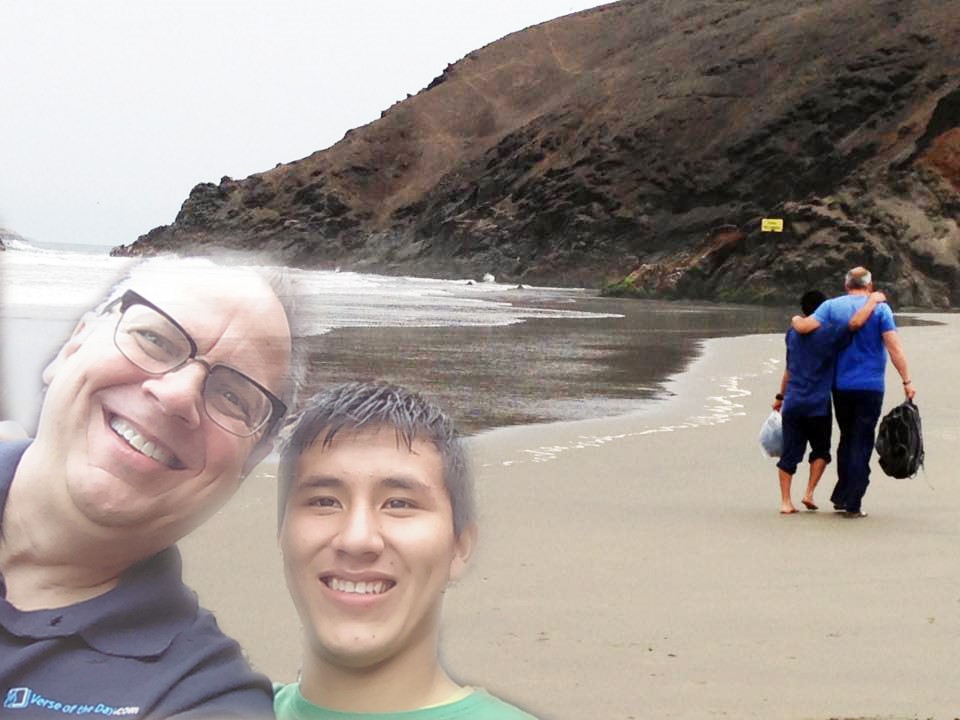 Every night for weeks to come, Donna and I will think of Nelvis going out to live alone in the shantytown near Sagrada Familia. He will go into a 10 ft. x 10 ft. one-room, thin-walled wood structure with a tin roof. His mother is dead. His dad works far away. His older siblings are at the university paying their own way. And Nelvis is my son in the faith thousands of miles away in a dangerous place alone.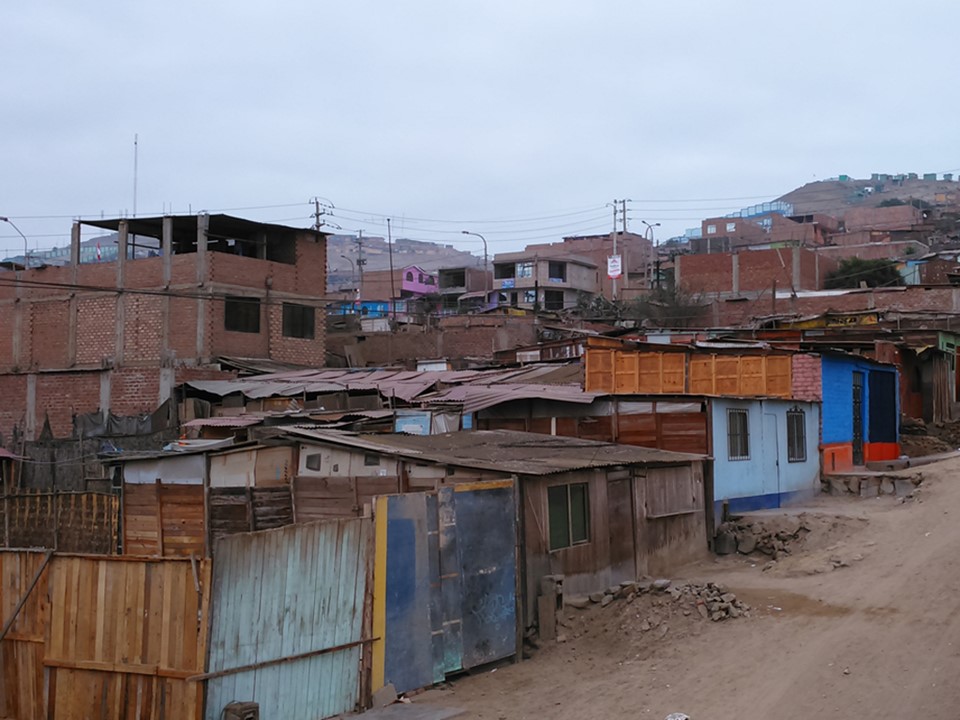 He is part of a community of children that Donna and I have served over six years. You can see over 1000 of us crammed into a space the size of the gym getting ready to rock the place with songs of praise. God has called us to be part of the team that brings Jesus to these kids. Of course, my dream was to help plant a church among the children and families nearby. When we first came to Peru, we began working with 3 to 6-year-olds who are now older. While we spend about 90 minutes among the little ones in the morning, most of the day is with teenagers who are serious about Jesus and about studying the Bible in English.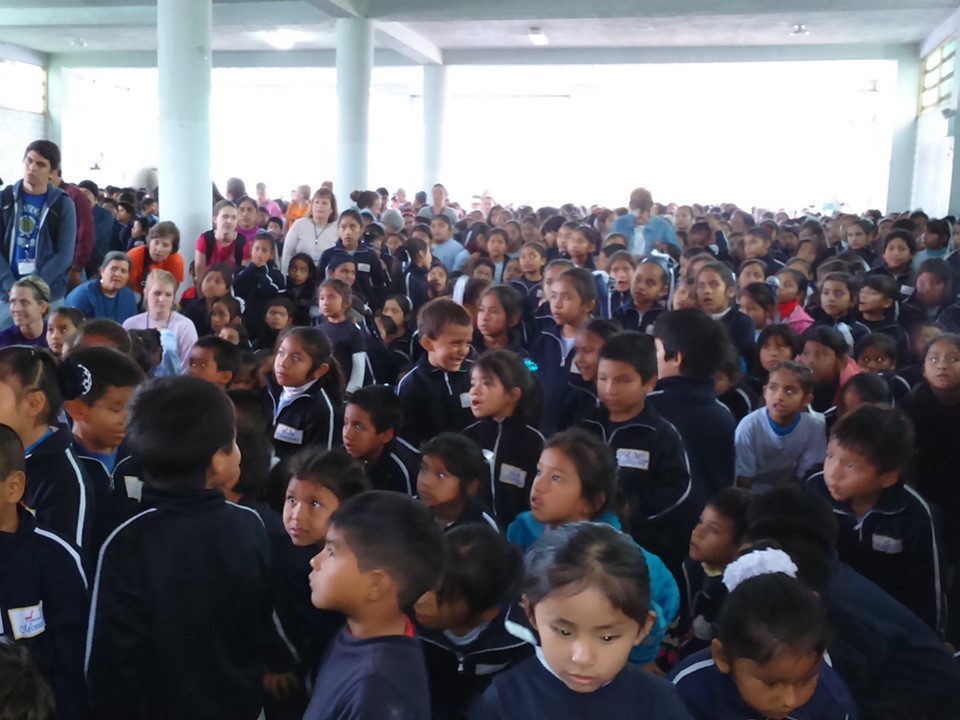 The community of children and the surrounding poor neighborhoods are part of metropolitan Lima — approximately 10 million people. What you see here is the beautiful area of Miraflores near where we stay. Like several other cities in South America, I feel a special love and responsibility for Lima. But Lima is extra-special. Our 24-year-old Spanish translator for VerseoftheDay.com also lives here, and he is like a son to us. I'm coaching several on the team there who are not yet Christians, but who help us in our week on the ground. I love that God called me to Lima to be a part of this special week and stay in contact throughout the year!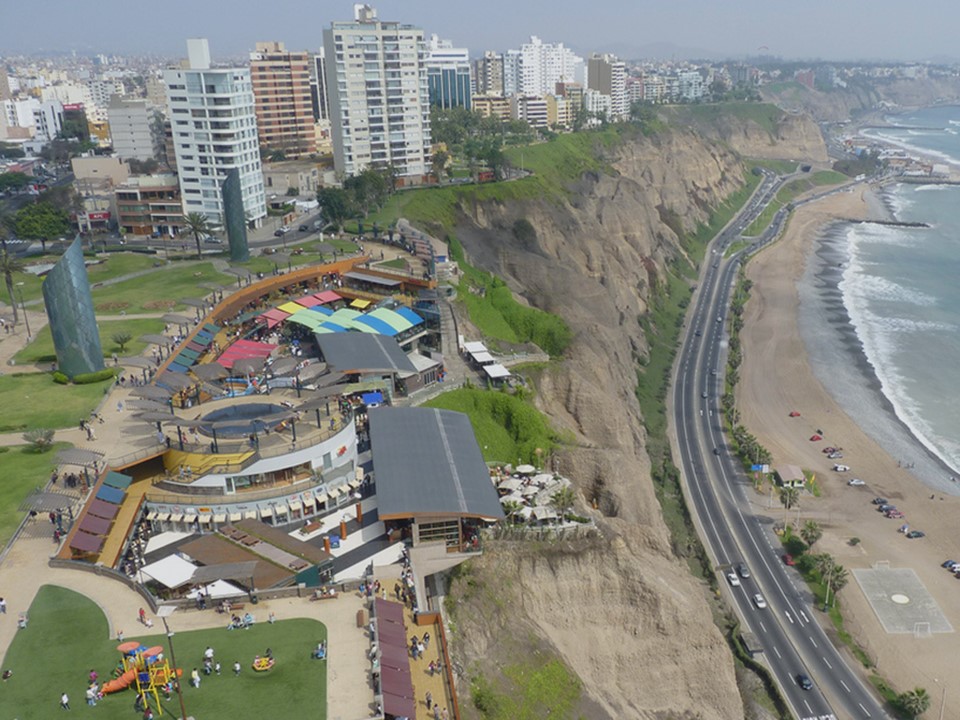 Jonah was called to go speak for God to one of the great ancient cities of the world. This great city had a large population with incredible buildings and structures. That city was Nineveh. You are looking at a painting of the Assyrian palaces of ancient Nineveh. This is where God called Jonah to go preach. There was, however, one problem... a huge problem... a major problem... Nineveh was the most dangerous enemy of the Israelites in Jonah's day. They were terrifying warriors known for their brutality and the obliteration of people groups and their identities.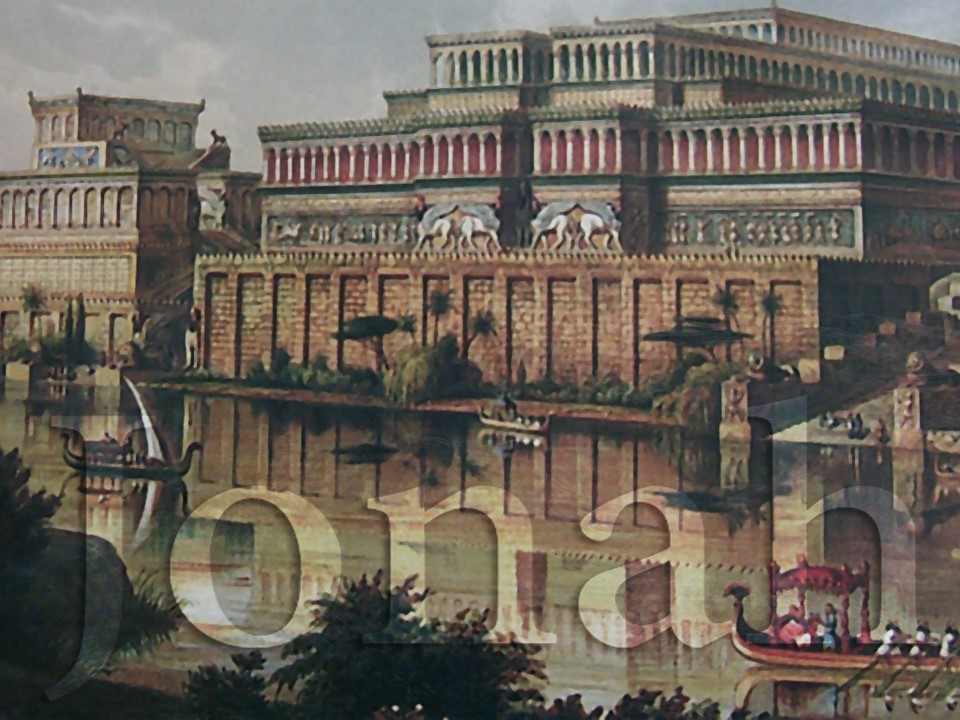 Assyria's domination and destruction of Israel may be one of the reasons why ISIS targeted Mosul, Iraq, as their first major city to capture. Mosul is the modern city built upon the ancient city of Nineveh. Jonah was called by God to preach to Israel's most feared, most hated, most violent, and most threatening enemy.
Is anybody volunteering to do the modern going to Nineveh equivalent today? Yeah, now you get a glimpse of how Jonah felt. This why the story of Jonah should resonate so powerfully for us today. This isn't just a story from long ago and far away, but it's from yesterday's newspaper and this morning's CNN report.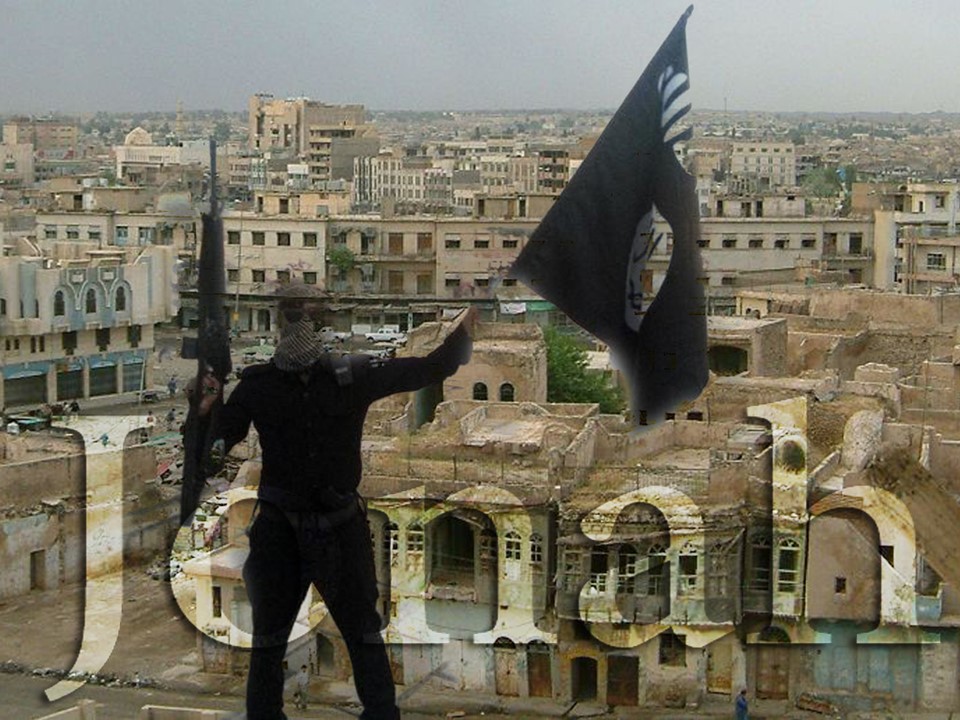 So let's do a 30,000-foot flyover of the story of Jonah:
God called Jonah to go to Nineveh. Instead, Jonah went in the opposite direction on a ship for Tarshish (Jonah 1:3).
God tried to get Jonah's attention through a great storm on the sea. But Jonah slept as the men he put in danger did everything they could to save him (Jonah 1:4-5).
When they had done everything, they finally relented to throw him overboard to appease the LORD God, asking for his forgiveness (Jonah 1:11-16).
God sent a big fish to save Jonah from drowning (Jonah 1:17).
The fish spit — vomited — Jonah back up on the shore and God once again reminded Jonah of his call to preach to Nineveh (Jonah 2:10).
And just as Jonah was in the belly of the whale for 3 days, he preached to Nineveh for 3 days (Jonah 3:1-6).
The people responded to Jonah's message and repented of their sinful and violent ways and God spared them from destruction. (Jonah 3:10).
Jonah had a pity party and told God that he didn't want to preach to Nineveh because he knew God was gracious and compassionate and would not destroy Nineveh if the people repented (Jonah 4:1-3).
Jonah went out east of the city and God grew this plant to shade him from the scorching heat and blazing sun. Then he sent a worm to destroy the plant (Jonah 4:5-8).
Jonah went into pity party # 2, and God confronted him about being upset about a stupid plant withering he had done nothing to make grow. Yet here he was mad at God because he had concern for this great city full of people (Jonah 4:10-11).
While God wanted Nineveh saved, we need to realize that the person God worked hardest to save in this story is Jonah himself! The LORD worked to save Jonah from...
His rebellion against God.
His hatred of his enemies.
His rejection of his calling by God.
His drowning at sea.
His pouting over the wrong things.
The bottom line is that Jonah was like the bratty pouty kid you always hoped would get what was coming to him, except you realize that feeling this way about Jonah makes you as petty and lowlife as he was!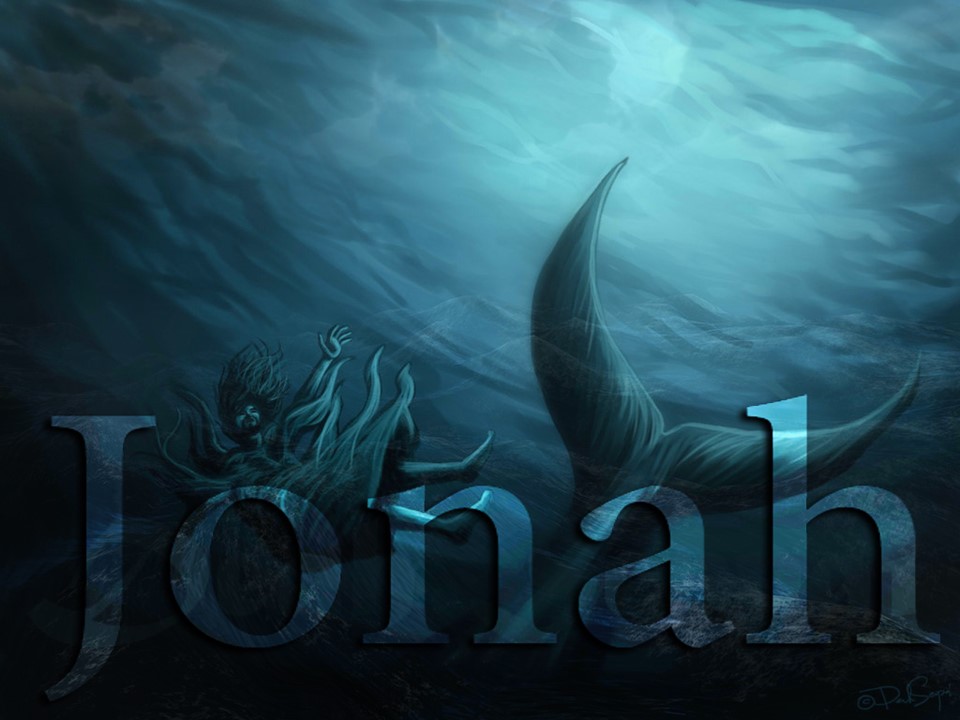 But God did more than save Jonah from something bad, he saved Jonah for something great! He saved Jonah for...
Obedience to God.
Courage as a prophet.
Strength to preach repentance and grace to preach deliverance.
God was truly gracious with Jonah and gave him multiple opportunities to get his life back on track!
Christianity in our culture, ESPECIALLY our church culture, has forgotten that God didn't just save us FROM our sin, but that he also saved us FOR His purposes.
God saved us FROM the corruption of the world FOR us to be salt and light to a world of darkness and decay. He saved us FROM a world headed to hell in a hand basket to bring the Kingdom of God to life in the world and FOR us to give folks a glimpse of what God's life of righteous character and gracious compassion looks like.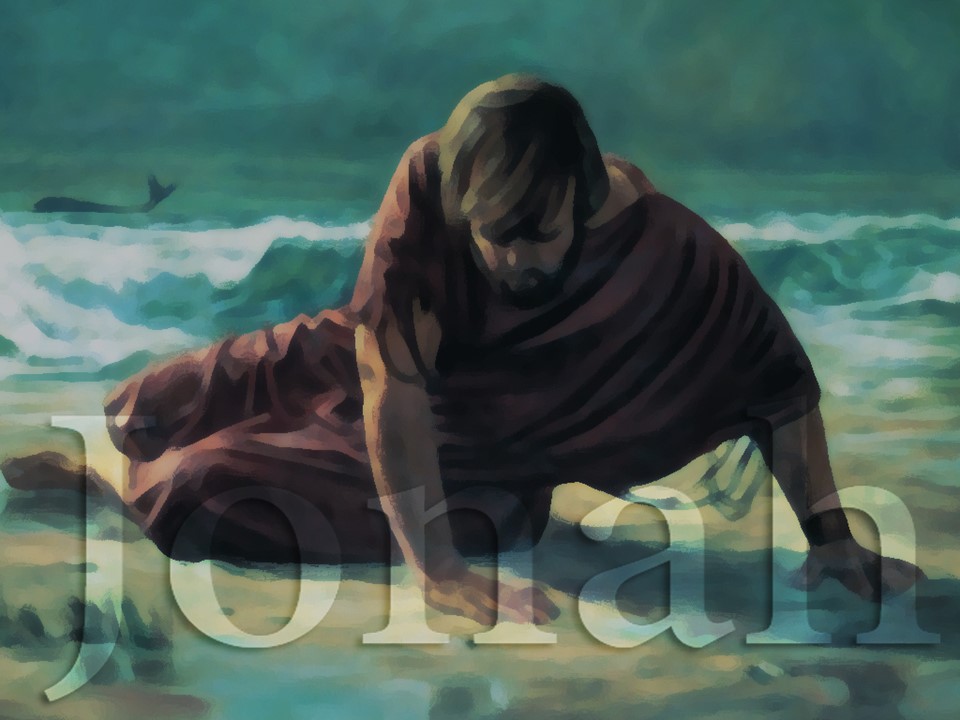 Unfortunately, we've turned grace and faith into elevator music. Basically, we say we get saved. Then it's like we've been stuck in the lobby waiting for the big elevator from heaven to come down and take us back to our reward. Church becomes our weekly pep rally trying to keep people interested until Jesus comes down to take us up to heaven. Let's be honest: church can be a little boring at times even in the light, laser, and special effects show we've made it today!
Somewhere along the way, we forgot that the goal of being saved from sin and death and hell isn't to sit on our backside on Sunday, but that Sunday's the pep rally to go out to worship and display the Kingdom of God to the world around us. It's where we're reminded that we are called to change our little section of the world to be enough like heaven that we quit worrying about when Jesus is coming down the elevator to take us up. Instead, we focus on how to get more people around us to experience Jesus' joy, love, life, and salvation now.
So yes, we have been saved FROM sin and death and hell. The story of Jonah should also reminded us to shake the sea water out of our clothes, the sand off our feet, and get the dirty smell of dead fish out of our noses. We've been saved FOR something good, maybe even something great. Each of us can influence others to move toward Jesus. Rather than run away from this call from God, we need to make a commitment to do it... then go out and do it with God's help.
Part of the reason we love ministry involvement and mission trips is because we get out of the lobby for the elevator. We begin to be Jesus to those around us. To help remember and do it, here's a simple prayer for each day:
Lord Jesus, help me to see people today the way you see them. And, dear Lord, help me find that thing you've saved for and then do it. Amen.
Many ministries need your help. If you don't know of one right for you, then start trying different ministries till you find one that fits. If you're interested in going on a mission trip, start saving money and start planning your vacation around it. And if you think you're too old to do anything like that, then pray. Being in prayer daily for missionaries, missions, ministries, and ministers is powerful. Prayer shakes God's people awake (Acts 4:31). Prayer releases the power of the Holy Spirit to do even more than we can imagine (Ephesians 3:14-21).
No matter where or what your area of involvement and influence, pray our simple prayer. Sooner or later you're going to see more opportunities to do Jesus' ministry at your work or with your family or at your school or on your team or with your friends than you ever imagined.
God made you for this! He has plans for you. Don't believe it? Read it again:
For by grace you have been saved through faith. And this is not your own doing; it is the gift of God, not a result of works, so that no one may boast. For we are his workmanship, created in Christ Jesus for good works, which God prepared beforehand, that we should walk in them (Ephesians 2:8-10).
So isn't it time to quit spending your life waiting for Jesus to come down the elevator to take you back to the top? Yeah, I thought so. Don't wait until you smell like dead fish to answer the call of God.
Nobody wants to swim in what Jonah did when the fish vomited him up on the beach. Jonah finally did what God called him to do and we can, too!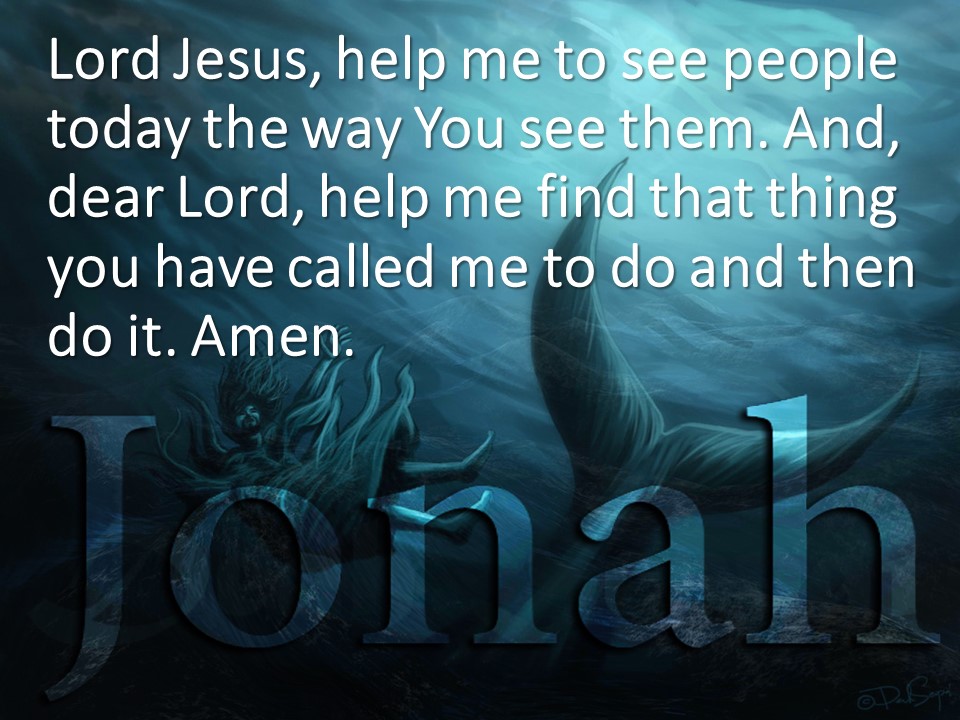 ---
Special thanks to Deah Senapi for the primary image of Jonah and the Fish.