Today and for the next six days, there will be no Heartlight article. We are asking that you please take this post seriously. It is simple and clear. It is not exaggeration or hyperbole. This is a human crisis. Even more, this is a crisis demanding our Christian solidarity and compassion.
There is an ongoing and determined effort to eradicate Christians through genocide in a growing number of places. This is not new, but suddenly has gained brazened momentum. Finally, after two years of growing atrocities, this problem has finally gained some attention in the U.S. media and among some leaders in Washington. (Of course, an abiding question is truly gut wrenching: Why have American political leaders and press been silent about this for so long? Nearly all the information I have found on incident after incident I've had to get from the BBC or some other non-American sources of news!)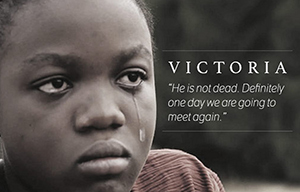 We have hinted about this growing persecution and martyrdom. We have talked about those we know in harm's way and even about those known to us who were kidnapped in Nigeria. We have worried about the safety and lives of some of our Verse of the Day translators — this daily devotional is available in 10 languages.
Today, we are not being subtle. This is a plea to you and to your church, Bible class, small group, and missional community. We are begging you to take time to pray and find out, "What can I and what can we do to help?" At the end of this post, you will find a video and a link to help you begin to help. Please act!
Remember your brothers and sisters in Christ who are suffering and who are being martyred for their faith in Jesus. These are our family members. Don't forget them! Don't let the silence of American politicians and American media make you blind to the fact that thousands have lost their lives simply because they, or a family member, believed in Jesus Christ.
The apostle Peter wrote the following to a group of believers about to see persecution become more violent and more personal. I believe this is the appropriate message we must hear:
Stay alert! Watch out for your great enemy, the devil. He prowls around like a roaring lion, looking for someone to devour. Stand firm against him, and be strong in your faith. Remember that your Christian brothers and sisters all over the world are going through the same kind of suffering you are.

In his kindness God called you to share in his eternal glory by means of Christ Jesus. So after you have suffered a little while, he will restore, support, and strengthen you, and he will place you on a firm foundation. All power to him forever! Amen.

(1 Peter 5:8—11 NLT)
Today, and over the last several years, our brothers and sisters in Iraq and many other places in the Middle East, Africa, and India are having to make the ultimate sacrifice for their faith. They have been servants to the end.
Some have been crucified. Some have seen their children beheaded before they themselves were martyred. Husbands have had their wives sold into sexual slavery before being killed themselves. Many others have had their earthly lives destroyed and property confiscated. Tens of thousands have been driven from their homes.
I have a short online chat transcript of a 23 year old Iraqi university student who found out more about Isa (Jesus in the Quran) through our online devotional Verse of the Day — she could read it in both English and Arabic. She used chat to confess her faith in Jesus as Lord. Her first question was simple: "Must I tell my parents? I will if I must, but if I do, my uncle will kill me in an 'honor killing.'"
In the total collapse of Iraq, I wonder where she is and how she is and if she is still alive? I am thankful, however, that her study of the Quran and her fascination with Isa led her to confess that Jesus Christ is Lord and to follow Jesus with all her heart. So you see, this crisis isn't far away for us at Heartlight. We have people in the middle of these ongoing crises about whom we know a little, love and appreciate, and whom we trust we will see in the presence of Jesus. (See the video of a similar thing that happened in the Persian country of Iran that follows.)
Don't let our national leaders' and our national media's overwhelming silence over the last two years make you blind!
For more on hundreds of thousands of Muslims around the world moving toward faith in Jesus, please read Miraculous Movements: How Hundreds of Thousands of Muslims are Falling in Love with Jesus. I have seen the principles talked about in the book in my experiences online. I have friends who have experienced it in heavily Muslim populated parts of Africa.
These messengers of Jesus begin with these seeking Muslims a study about Jesus first in the Quran, then in the Gospels in the New Testament, and then they sometimes get to hear these precious people confess the following words with faith, and often at great risk:
I believe Jesus Christ is the Son of the Living God who died for my sins and was raised from the dead to give me life. I want Jesus to be the Lord of my life and My Savior.
Then, in the dark of the night, in an interior room, a group of believers gather together to celebrate as these new believers are baptized into Christ in a barrel or bathtub. Some of these new Christians are smuggled out of harm's way. Others commit to lead as many others to Christ as they can before they are martyred. The least we can do is pray for our new brothers and sisters and pray for those taking the good news of Jesus to people trapped in darkness and oppression.
Please take a minute and go to Voice of the Martyrs and learn more about the plight of your fellow Christians suffering around the world and pray about ways you can help. Thank you!
By God's grace we pray and pursue the peace that can only be found in Jesus,
Phil Ware & Heartlight.org, VerseoftheDay.com, & aYearwithJesus.com Team
---
Top Image courtesy of BBC — Rescued Christian family in Helicopter. Tens of thousands more trapped or fleeing for their lives.
Other image and video from Voice of the Martyrs.