Our family loves dogs. We live on a large farm, so we have several. Some of them were adopted from the animal shelter while others are pure-bred. They each have their own unique personality and character traits. If you put all of our dogs in one room, besides having chaos, you would have an assortment of pedigrees and mutts. It occurred to me that there are a lot of Biblical lessons to be learned from our "herd" of dogs.
We are all equal in God's eyes.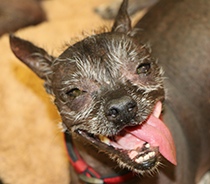 We love the dogs we adopted from the shelter just as much as we do the ones that have a piece of paper from the American Kennel Club stating that they are registered. While society might consider the registered dogs more valuable, we don't. It simply doesn't matter to us where they came from.
The Israelites were God's chosen people, they had the pedigree, but once Jesus died on the cross, we all were given the opportunity to be His children. He loves us all the same, Jew or Gentile, registered or not.
So in Christ Jesus you are all children of God through faith, for all of you who were baptized into Christ have clothed yourselves with Christ. There is neither Jew nor Gentile, neither slave nor free, nor is there male and female, for you are all one in Christ Jesus. If you belong to Christ, then you are Abraham's seed, and heirs according to the promise (Galatians 3:26-29).
We shouldn't assume something about someone or something just because of their appearance.
My grandmother was fond of saying, "You can't judge a book by its cover." True, but marketing researchers will tell you that consumers DO judge a book by its cover. It's human nature to judge by outer appearances.
Our dogs vary in size. The largest is a German Shepherd (Roxy). The smallest is a Cocker Spaniel (Murphy). When the UPS man comes to our house he is afraid of Roxy, but it's Murphy he should fear.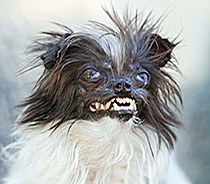 It never ceases to amaze me how quickly some people are to judge other people by their appearance. Just because someone looks vicious (like Roxy) doesn't mean they are. And just because they have huge puppy dog eyes and long, floppy ears doesn't mean they want you to pet them or scratch them behind their ears. Roxy is so gentle our tiny granddaughter could snuggle with her and I wouldn't worry. Murphy is so grouchy I wouldn't leave my granddaughter alone in a room with him. What we "think" about someone may be as far from the truth as night is from day.
Who are you to judge someone else's servant? To their own master, servants stand or fall. And they will stand, for the Lord is able to make them stand (Romans 14:4).
Sharing is a good thing.
Dogs are but one of God's creatures from whom we can learn valuable lessons.
Anyone who has been around animals will tell you that there is a pecking order involved, especially when it's time to eat. When we feed the dogs the first one at the food bowl is Roxy and the other dogs know not to mess with her. She's the boss when it comes to the food bowl.
Sometimes people are as protective of their "stuff" as Roxy is of her food bowl. She doesn't need near as much as she eats, but she doesn't care. She eats until she's full and doesn't believe in sharing. If we could convince Roxy to cut back just a tad and share with the other dogs she would be healthier and the other dogs would be happier. As it is, we have to feed them all in separate bowls and make sure Roxy leaves them alone.
Human beings are the same way. If we focus solely on our own food bowl (our possessions) and don't share with others we are not pleasing God.
And do not forget to do good and to share with others, for with such sacrifices God is pleased (Hebrews 13:16).

[Jesus said,] "Give, and it will be given to you. A good measure, pressed down, shaken together and running over, will be poured into your lap. For with the measure you use, it will be measured to you" (Luke 6:38).
Love is the greatest motivator.
There are multiple reasons why dogs are considered man's best friend. If you have ever owned a dog, I don't have to explain to you the love and devotion a dog can have for it's owner.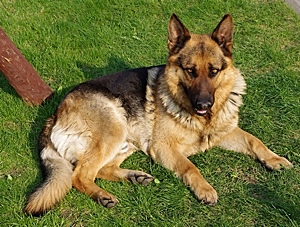 I could tell you numerous stories about dogs that rescued people from homes on fire. Or dogs that are cancer detectors. Dogs that lead the blind and hear for the deaf. And on and on I could go. Like people, all dogs are different. The way they act can be very dependent upon how they have been treated and their life experiences. However, if you give a dog love, you are going to get it in return. A dog who is loved and cherished by its owner will show love and devotion above and beyond what many human beings do.
For those who aren't dog lovers, who think dogs are just animals and incapable of love, perhaps they haven't read about Hawkeye, a Labrador retriever, who belonged to Jon Tumilson. Tumilson was a soldier killed in Afghanistan. His dog, Hawkeye, led the mourners into the funeral. He walked up to the casket at the beginning of the service and then dropped down with a heaving sigh. He stayed there, next to his master's casket, until the very end.
And now these three remain: faith, hope and love. But the greatest of these is love (1 Corinthians 13:13).
Dogs are but one of God's creatures from whom we can learn valuable lessons. My cousin's husband is a dairy farmer and a minister. He frequently writes about the lessons God teaches him through his dairy cattle.
What lessons have you learned from nature and God's creatures?
What lessons have they learned from you?
The righteous care for the needs of their animals... (Proverbs 12:10)