We loved you so much that we shared with you not only God's Good News but our own lives, too (2 Thessalonians 2:8 NLT).
We doubt. Sure, sometimes we doubt things about God, that's part of being a thinking believer for many of us who are trying to understand an infinite, glorious, and eternal God with finite, earth bound, and mortal minds. Most of the time, however, our doubt isn't really a doubt about God. It's really doubt in ourselves, our abilities, and in whether the Lord's power will be demonstrated through us — our worthiness to be used by the Almighty and Sovereign God with all of our flaws.
This doubt is especially pervasive when it comes to sharing the story of Jesus. We live in a culture that is over-saturated with religiousness and underexposed to Jesus' story. People are skeptical of the Bible and reading the Bible because they think they know what it says and why it was given to us. It doesn't matter that they may be mistaken and misguided. In fact, some of their suspicion is warranted because of the mess we as believers have made in sharing that message and the even bigger mess we have often made in not living the message. With the growing hostility to Christian faith in the West, we doubt.
We doubt…
We doubt our ability to communicate in this skeptical culture.
We doubt our ability to answer hard questions about faith.
We doubt our ability to explain Scripture and the message of Jesus.
We doubt our ability to overcome the doubt of others!
Nearly two thousand years ago, Paul reminded his son in the faith, Timothy, about the power in the inspired story of God and the loving example of a godly influence:
But you must remain faithful to the things you have been taught. You know they are true, for you know you can trust those who taught you. You have been taught the holy Scriptures from childhood, and they have given you the wisdom to receive the salvation that comes by trusting in Christ Jesus. All Scripture is inspired by God and is useful to teach us what is true and to make us realize what is wrong in our lives. It corrects us when we are wrong and teaches us to do what is right. God uses it to prepare and equip his people to do every good work (2 Timothy 3:14-17 NLT).
The problem today is not a loss of power or an increase in skepticism, but doubt that Jesus' story, partnered with a loving example of that story, still has power to change hearts.
Over the last two-plus years, however, God has rocked my world with the power of the simple story of Jesus. My joyous reawakening to this power of God's began in Thailand, reading the story of Jesus with Thai and Chinese students. They were fascinated with Jesus. Some of their fascination, at least initially, was having conversations in English with native English speakers. Most came skeptical of Christianity, the Bible and even Christians. Yet as time passed, and as we shared the simple story of Jesus, we also shared ourselves with these precious young people. As we did, amazing things began to happen… both to them and to those of us who shared this message of Jesus.
The simple and clear story of Jesus worked powerfully on the hearts of these bright, driven, and talented young adults. Over time, some have become true followers of Christ. Others are still in the seeking and searching stage. Still others are somewhere in between, learning to pray, finding bits of truth that make sense to them, finding themselves intrigued with Jesus, and trying to determine what is next for their lives as they begin to change who they are because of their fascination with the story of Jesus.
The power of this simple story, Jesus' story, was reinforced to me again the past few weeks as I have spent time in Peru, working with the children of La Communidad de los ninos Sagrada Familia — for more on this year's trip see my blog, thephilfiles.com: http://hlt.me/Ouveb9. In the morning, our team worked with three-year-old to six-year-old little girls. This is a blast — exhausting, but fun. These little girls are precious to us. They long to be loved and reminded that they are important. They love the busy activities. They live in noise and make even more noise! They celebrate life to its fullest. And as challenging as their lives have been, they are profoundly blessed to be in the place where they live, and they know it, even at their tender young ages.
In the afternoon, about twenty of us (out of our team of around 115) spent time reading the story of Jesus with high school students. They are native Spanish speakers, coming from very tough backgrounds, and are trying to learn English as a way up in the social strata. We've already read with a few of them and have built relationships with them on previous trips.
That's the power of Jesus' story...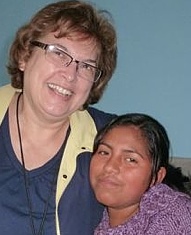 My wife, Donna, has been able to renew her friendship with Nelida, a young lady she simply adores. She has read with her. Loved on her. Laughed with her. I've been reading with five high school students, some of whom are proficient at English while others are just beginning. Others read with one or two or as many as five at a time. While the setting in which we try to do this is full of distractions and scheduling problems, each of us finds describing our intense joy as deeply and emotionally as we feel it.
The joy of hearing people read the story of Jesus for their first time in English, no matter how haltingly they speak.
The joy of seeing their faces light up when they understand what they are reading.
The joy of watching their hearts touched by what Jesus did or said.
The joy of experiencing their discovery as they realize that Jesus came to earth and lived in a world like they have experienced because the Lord loves them.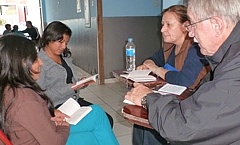 The influence of our relationships on them is also powerful, as the Holy Spirit uses our friendship and affection to bring them assurance, courage, and a sense of importance that reading alone could never accomplish. I've watched as our team members have read with these precious students. I have seen our team mates' hearts melt with love and admiration for these young men and young women trying so hard to flourish out of such difficult situations. These teens need someone to believe in them, and now our team members are sitting and reading the story of Jesus with them every day, loving these young people from the depths of their hearts. These teens are also looking for someone to be an example to them — someone to take time and show them how to live to be godly young men and young women. And so God used folks like us — normal, average, everyday followers of Jesus — to have life-changing impact on young men and young women — impact that will change their future families and their culture.
That's the power of Jesus' story when paired with the influence of someone who loves Jesus and loves the people with whom they share the story of Jesus. I've seen it. I've been a part of it. I know the power of it. And about this, I have no doubt!