Most of us have seen enough public investigations to be familiar with the question phrased as a statement: "I want to know what you knew and when you knew it!" I don't know about you, but I have often wondered when Jesus knew He would go to the Cross and be raised from the dead.
Did He know when He touched the leper?
Did He know when He cast out the demons?
Did He know when He turned the water to wine?
Did He know when He journeyed to Jerusalem as a twelve year old boy?
Did He know every time He heard  Psalm 22 or Isaiah 53 read in the synagogue?
While I can't be sure exactly what Jesus knew and when He chose to know it, I do know this: Jesus knew! The Lord knew death awaited Him in Jerusalem as He made His last journey there. He knew from the Scriptures — from the Law, the Prophets, and the Psalms. He knew it and had spoken about it from the earliest stages of His ministry:
[Jesus said] "But the time will come when the bridegroom will be taken from them; in those days they will fast" (Luke 5:35).

And he said, "The Son of Man must suffer many things and be rejected by the elders, the chief priests and the teachers of the law, and he must be killed and on the third day be raised to life" (Luke 9:22).

[He said] "Listen carefully to what I am about to tell you: The Son of Man is going to be delivered over to human hands" (Luke 9:44).

"But I have a baptism to undergo, and what constraint I am under until it is completed!" (Luke 12:50).

He replied, "Go tell that fox, 'I will keep on driving out demons and healing people today and tomorrow, and on the third day I will reach my goal.' In any case, I must press on today and tomorrow and the next day-for surely no prophet can die outside Jerusalem! (Luke 13:32-33).

For the Son of Man in his day will be like the lightning, which flashes and lights up the sky from one end to the other. But first he must suffer many things and be rejected by this generation" (Luke 17:24-25).

Jesus took the Twelve aside and told them, "We are going up to Jerusalem, and everything that is written by the prophets about the Son of Man will be fulfilled. He will be delivered over to the Gentiles. They will mock him, insult him and spit on him; they will flog him and kill him. On the third day he will rise again" (Luke 18:31-33).
While Jesus knew, His ragtag band of followers didn't get it. So after His resurrection, the Lord came to His closest followers and opened their minds so they could understand the Holy Scriptures (Luke 24:25-27; Luke 24:44-47).
This is what I told you while I was still with you: Everything must be fulfilled that is written about me in the Law of Moses, the Prophets and the Psalms (Luke 24:44).
The Cross was no accident! Jesus' death was not some unexpected tragedy. Jesus' rejection by His people was not a surprise. Jesus knew this was His destiny. So take comfort in these LifeWORDS of Jesus, "This is what I told you while I was still with you ..." He knew what lay ahead of Him and He trusted that God would triumph over death and the devil through it.
Jesus had warned them. Jesus was crucified. Jesus was raised. Now, Jesus was alive again and reminding them of the truth: "This is what I told you ..."
So what difference do these words mean to us? How do these words matter to us today? Why are these LifeWORDS of Jesus special?
Three simple and life-changing truths are ours if we will accept them:
Jesus fulfilled God's plan at great personal cost to honor God and save us.

Jesus demonstrated His love for us in unmistakable ways, so we can trust what He tells us.

Jesus showed that He knows and ensures our ultimate future, so we can be confident in our reunion with those who love the Lord and in our future with Him.
We may not know all that the future holds, but we do know the One who holds the future. He has demonstrated His love for us. We can trust His promises. He knew what would happen to Him from Scripture. He told us what would happen to Him from His own authority. He lived what God had asked Him to do with integrity. Now, Jesus ensures that the future holds great joy and ultimate reunion for us with Him!
Brothers and sisters, we do not want you to be uninformed about those who sleep in death, so that you do not grieve like the rest, who have no hope. We believe that Jesus died and rose again, and so we believe that God will bring with Jesus those who have fallen asleep in him. According to the Lord's word, we tell you that we who are still alive, who are left till the coming of the Lord, will certainly not precede those who have fallen asleep. For the Lord himself will come down from heaven, with a loud command, with the voice of the archangel and with the trumpet call of God, and the dead in Christ will rise first. After that, we who are still alive and are left will be caught up together with them in the clouds to meet the Lord in the air. And so we will be with the Lord forever. Therefore encourage one another with these words (1 Thessalonians 4:13-19 TNIV, emphasis added).
Do you find it hard to believe?
---
The following questions are for your personal reflection, for sharing in a small group of friends, or for use in a home gathering. I'd also love to hear from you on my blog and see what you think about this message and these questions: http://www.heartlight.org/thephilfiles
Why is it important that Jesus knew He would die to fulfill God's plan to redeem us?
Why can you trust Jesus' promises above someone else's promises?
Why didn't Jesus do something to stop His own suffering and death if He knew it was going to happen?
Why do you think the followers of Jesus had to have their minds opened to understand the Scriptures about Jesus' death and resurrection?
Do you find it hard to believe that you will be raised from the dead and united with Jesus and those who love Him?
How can you encourage others who have doubts about our resurrection to be with Jesus?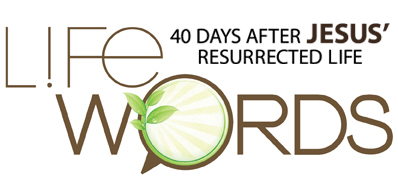 Our Summer Series on the Post Resurrection Sayings of Jesus