When Jesus heard what happened to John, Jesus left in a boat. Jesus went alone to a place where there were no people. But the people heard that Jesus left. So the people left their towns and followed Jesus. They went by land to the same place Jesus went. When Jesus came there, he saw many, many people there. Jesus felt sorry for them, and he healed the people that were sick.
— Matthew 14:13-14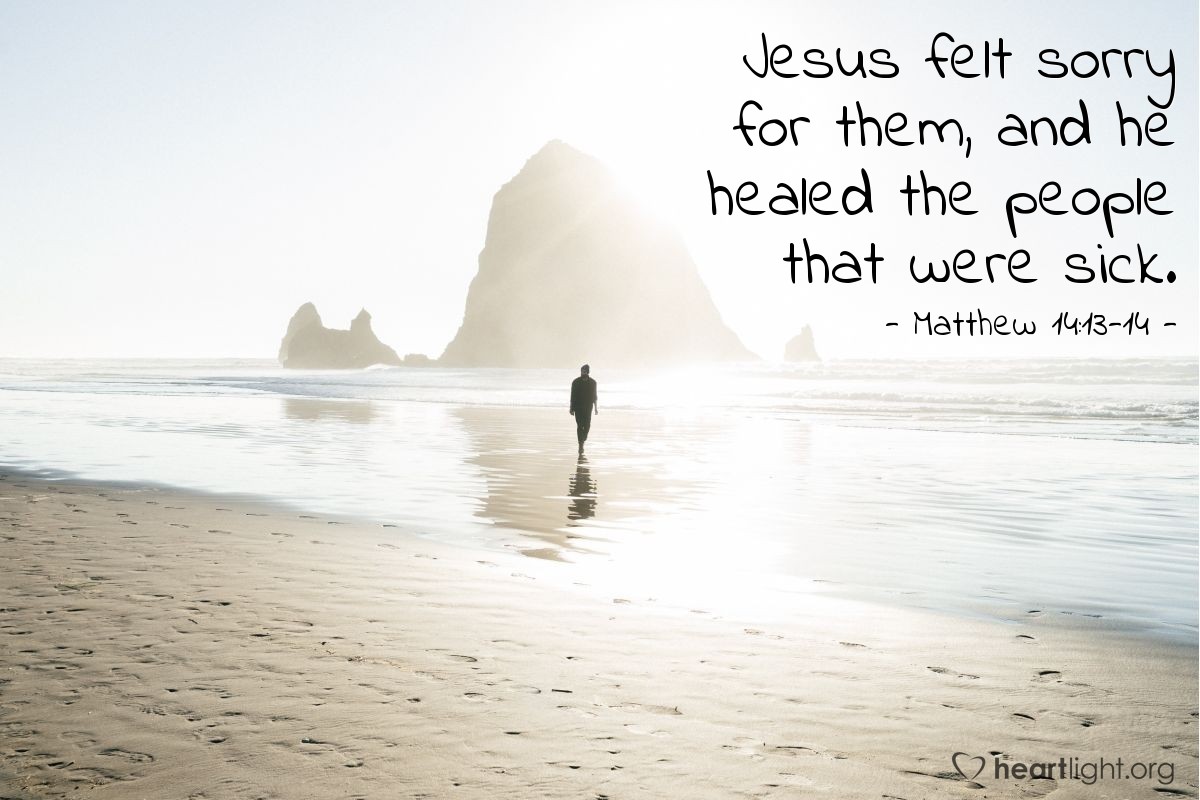 Key Thought
One of the most remarkable qualities of Jesus is his sense of compassion. He can see, feel, and identify with the desperation of people in need and then he is willing to act on that compassion in a way that personally involves himself. Not only do I admire that trait, but I also desire to make it part of my life. Unfortunately, I have to battle my selfishness on one hand and my indiscipline on the other to say no to my tendency to just ignore the needs around me.
In this powerful situation, Jesus is grieving the loss of his cousin John the Baptist and is also fully aware that John's death signals that he, too, will face death. Yet rather than leaving the crowd behind, he ministers to them and to his disciples as well. While we know that Jesus took time away from the crowd to be alone with his father and that Jesus will spend much of the rest of his ministry away from the crowd teaching his disciples, he will interface repeatedly with the crowd to offer compassion and share God's love. Sometimes under heavy stress, there is no greater comfort than to be used by God to minister to others—not for our good, but for theirs!
Today's Prayer
Almighty and sacrificial Father, teach me to not be so self-focused and self-absorbed. Thank you for Jesus' example of active compassion as he not only feels the pain of others, but also acts relieve it. Please use me to minister to those in pain around me in a way which brings glory to you and reflects the face of my Savior and your Son. In his name, Jesus my Lord, I pray. Amen.
Today's Verses in Context
When Jesus heard what had happened, he withdrew by boat privately to a solitary place. Hearing of this, the crowds followed him on foot from the towns. When Jesus landed and saw a large crowd, he had compassion on themf and healed their sick. As evening approached, the disciples came to him and said, "This is a remote place, and it's already getting late. Send the crowds away, so they can go to the villages and buy themselves some food." Jesus replied, "They do not need to go away. You give them something to eat." "We have here only five loavesh of bread and two fish," they answered. "Bring them here to me," he said. And he directed the people to sit down on the grass. Taking the five loaves and the two fish and looking up to heaven, he gave thanks and broke the loaves.i Then he gave them to the disciples, and the disciples gave them to the people. They all ate and were satisfied, and the disciples picked up twelve basketfuls of broken pieces that were left over. The number of those who ate was about five thousand men, besides women and children.
Matthew 14:13-21
Related Scripture Readings
Jesus traveled through all the towns and villages. Jesus taught in their synagogues and told people the Good News about the kingdom. And Jesus healed all kinds of diseases and sicknesses. Jesus saw the many people and felt sorry for them. Jesus felt sorry for the people because the people were worried and helpless. The people were like sheep without a shepherd to lead them. Jesus said to his followers, "There are many, many people to harvest (save). But there are only a few workers to help harvest them. God owns the harvest (people). Pray to him that he will send more workers to help gather his harvest."
Matthew 9:35-38
Jesus called his followers to him and said, "I feel sorry for these people. They have been with me three days, and now they have nothing to eat. I don't want to send them away hungry. They might faint while going home."
Matthew 15:32
Don't be interested only in your own life, but be interested in the lives of other people, too.
Philippians 2:4