Then Jesus said, "You came to get me with swords and clubs like I am a criminal.
— Mark 14:48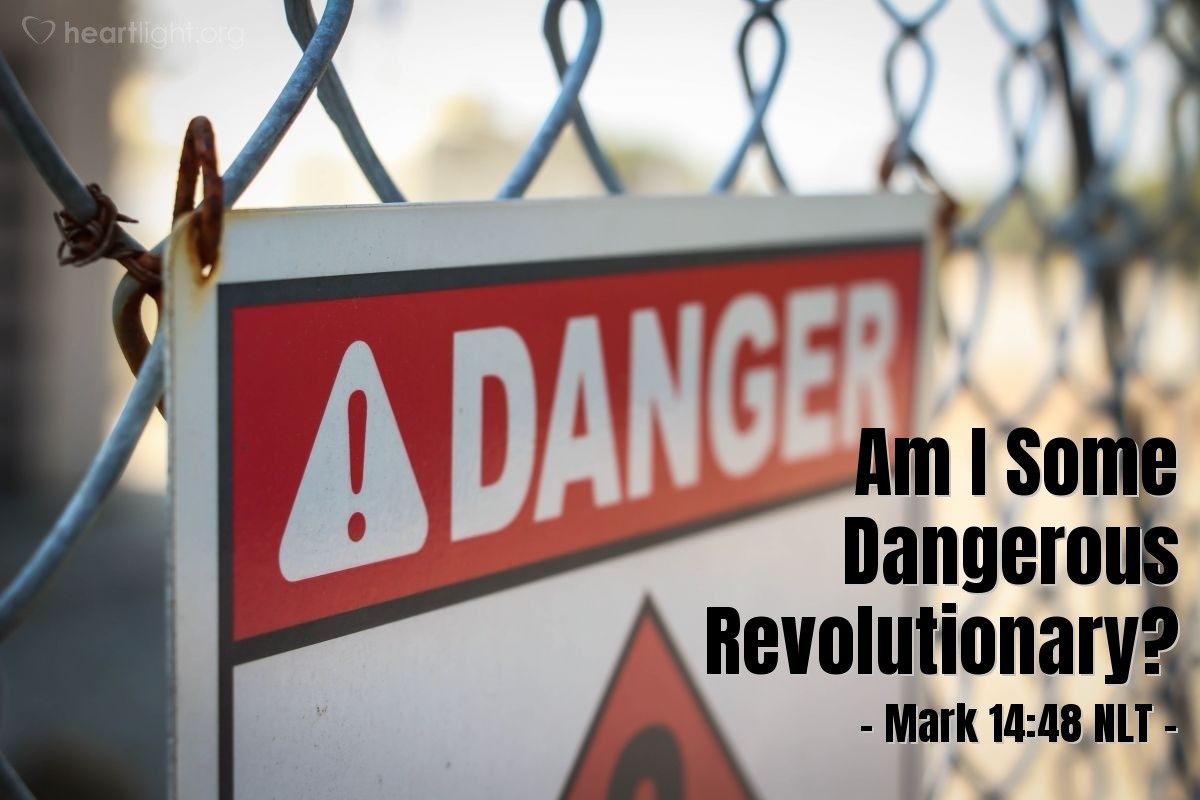 Key Thought
Jesus' questions—in this verse and those that follow—help underscore the crucial travesty of the whole Passion (arrest, trials, and crucifixion) story: Jesus didn't deserve what happened to him. He is holy, righteous, compassionate, and loving. Why should he be treated so unfairly? Why would the religious and political leaders treat him so unjustly? So in the middle of the unfairness that you may well someday face, remember that the Lord knows your feelings and cares about your struggle. He has been in your position—abandoned by friends, betrayed by those close to him, and treated unjustly and unfairly. You can go to him for his help and know you will be understood and heard.
Today's Prayer
O Lord God, thank you for knowing and caring about the unfairness of our world and promising to one day bring true and lasting justice to this world. In Jesus' name I pray. Amen.
Today's Verses in Context
While Jesus was still speaking, Judas came there. He was one of the twelve apostles. Judas had many people with him. These people were sent from the leading priests, the teachers of the law, and the older Jewish leaders. These people with Judas had swords and clubs. Judas planned to do something to show the people which man was Jesus. Judas said, "The man I kiss is Jesus. Arrest him and guard him while you lead him away." So Judas went to Jesus and said, "Teacher!" Then Judas kissed Jesus. Then the men grabbed Jesus and arrested him. One of the followers standing near Jesus grabbed his sword and pulled it out. This follower hit the servant of the high priest with the sword and cut off his ear. Then Jesus said, "You came to get me with swords and clubs like I am a criminal. Every day I was with you teaching in the temple area. You did not arrest me there. But all these things have happened so that it will be like the Scriptures said." Then all of Jesus' followers left him and ran away. There was a young man following Jesus. He was wearing only a linen cloth. The people also grabbed this man. The cloth he was wearing came off, and he ran away wearing nothing.
Mark 14:43-52
Related Scripture Readings
The earth causes plants to grow. People plant seeds in the garden, and the garden makes them grow. In the same way, the Lord will make goodness grow. The Lord will make praise grow in all the nations."
Isaiah 61:11
Christ had no sin. But God made him become sin. God did this for us, so that in Christ we could become right with God.
2 Corinthians 5:21
The Lord gives wisdom. Knowledge and understanding come from his mouth. He saves and protects good, honest people. He protects people who are fair to other people. He guards his holy people. So the Lord will give you his wisdom. Then you will understand the things that are good and fair and right.
Proverbs 2:6-9