One of the followers standing near Jesus grabbed his sword and pulled it out. This follower hit the servant of the high priest with the sword and cut off his ear.
— Mark 14:47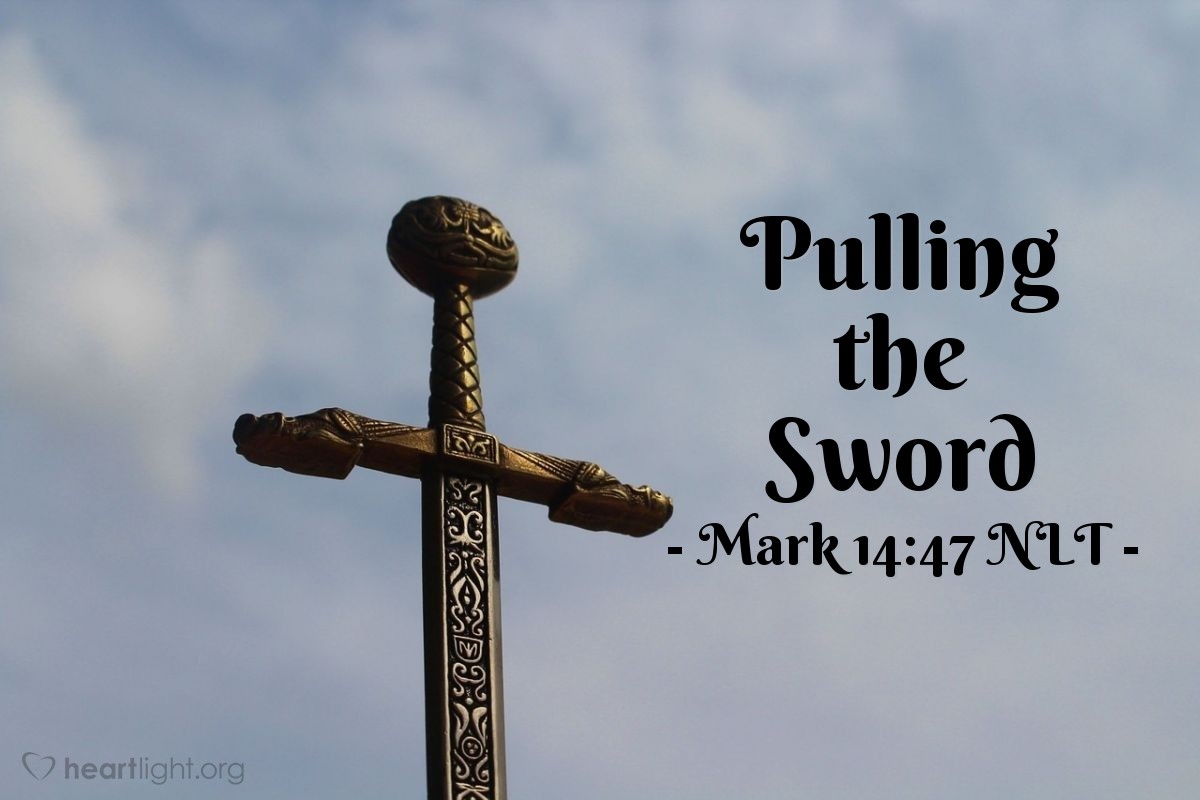 Key Thought
Peter and the apostles had all agreed that they would die with Jesus if necessary. Yet their thoughts seemed locked into a wrong way to view their Lord as Messiah. Apparently they thought he would be a military and political deliverer. So in what seems like an attempt to start the battle of deliverance, one of them draws a sword and begins the fight. He surely is thinking that this Jesus he has seen raise the dead, heal the sick, restore sight to the blind, mend the limbs of the lame, open the ears of the deaf, and give perfect skin to the leprous would also use his power for victory over a band of soldiers. So in an act of faith, defiance, and hope, the sword is drawn and the attack is begun. It is aimed at the house of those behind this whole evil scheme—the high priest and his gang of Sadducean thugs. While totally misguided, I can't help but admire the courage and the passion behind the action. Unfortunately, when Jesus refuses to be that kind of Messiah, all of Jesus' followers desert him. Ignorance of the Lord's will is not bliss, but disaster. Passion is good, but if it is misguided, it is also dangerous. Our hearts need to be tuned to the Savior or else we will miss his direction and find ourselves embarrassed and defeated.
Today's Prayer
O LORD God, Ruler of Heaven and Earth, teach me to know your ways and walk in your will. May I live with passion, but may that passion always be expressed in the direction of your will. May I live with courage; but may that courage be demonstrated in righteous actions. Search me, O God, and correct anything wrong in me. In Jesus' name I pray. Amen.
Today's Verses in Context
While Jesus was still speaking, Judas came there. He was one of the twelve apostles. Judas had many people with him. These people were sent from the leading priests, the teachers of the law, and the older Jewish leaders. These people with Judas had swords and clubs. Judas planned to do something to show the people which man was Jesus. Judas said, "The man I kiss is Jesus. Arrest him and guard him while you lead him away." So Judas went to Jesus and said, "Teacher!" Then Judas kissed Jesus. Then the men grabbed Jesus and arrested him. One of the followers standing near Jesus grabbed his sword and pulled it out. This follower hit the servant of the high priest with the sword and cut off his ear. Then Jesus said, "You came to get me with swords and clubs like I am a criminal. Every day I was with you teaching in the temple area. You did not arrest me there. But all these things have happened so that it will be like the Scriptures said." Then all of Jesus' followers left him and ran away. There was a young man following Jesus. He was wearing only a linen cloth. The people also grabbed this man. The cloth he was wearing came off, and he ran away wearing nothing.
Mark 14:43-52
Related Scripture Readings
I can say this about the Jews: They really try to follow God. But they don't know the right way. They did not know the way that God makes people right with him. And they tried to make themselves right in their own way. So they did not accept God's way of making people right. Christ ended the law so that every person that believes in him is made right with God.
Romans 10:2-4
Lord, your true love fills the earth. Teach me your laws. Lord, you did good things for me, your servant. You did exactly what you promised to do. Lord, give me the knowledge to make wise decisions. I trust your commands. Before I suffered, I did many wrong things. But now, I carefully obey your commands. God, you are good, and you do good things. Teach me your laws.
Psalm 119:64-68
I hate them completely! Your enemies are also my enemies. Lord, look at me and know my heart. Test me and know my thoughts.
Psalm 139:22-23