Jesus said, "Don't bother the woman. Why are you troubling her? She did a very good thing for me.
— Mark 14:6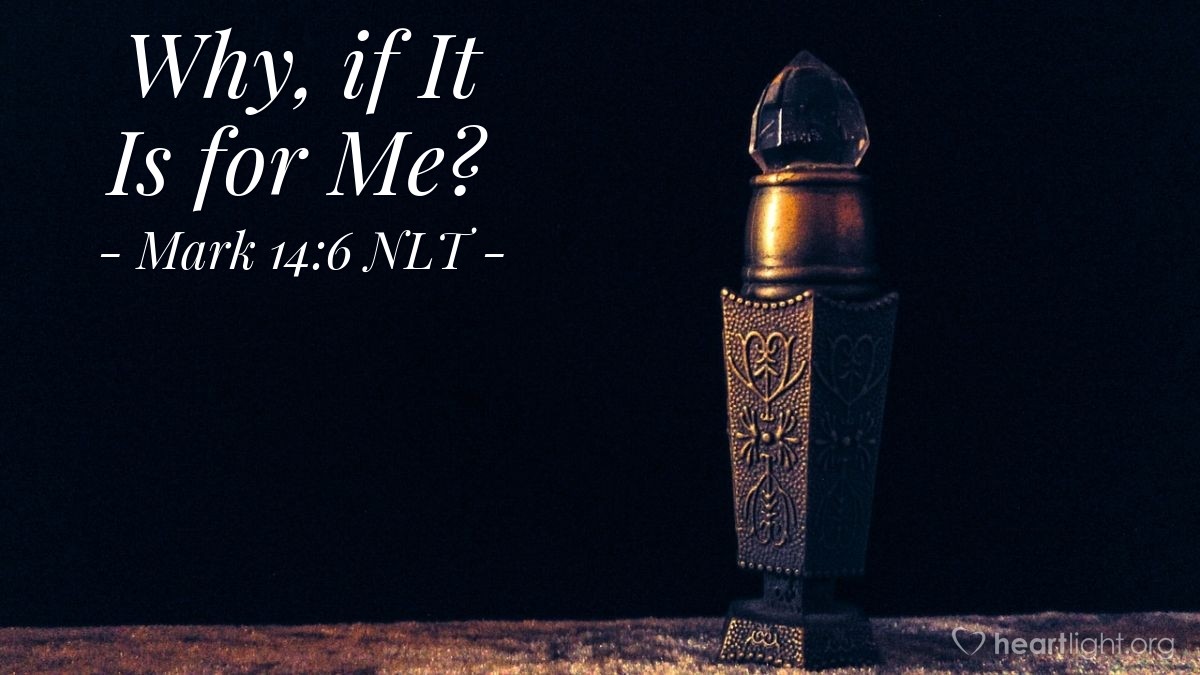 Key Thought
Like Jesus does so often in his earthly ministry, he protects a vulnerable person from criticism and attack and also finds a way to affirm and bless that person. He emphasizes the good this woman has done. May we be willing to do the same to others who are generous, kind, and loving to the Lord Jesus!
Today's Prayer
Gracious Father, open my eyes and help me see those who are doing good things in the name of Jesus. Use me to affirm their work and bring them a blessing. In Jesus' name I pray. Amen.
Today's Verses in Context
It was now only two days before the Passover and the Festival of Unleavened Bread. The leading priests and teachers of the law were trying to find a way to arrest Jesus without the people seeing it. Then they could kill him. They said, "But we cannot arrest Jesus during the festival. We don't want the people to become angry and cause a riot." Jesus was in Bethany. He was eating in the house of Simon the leper. While Jesus was there a woman came to him. The woman had an alabaster jar filled with very expensive perfume. This perfume was made of pure nard. The woman opened the jar and poured the perfume on Jesus' head. Some of the followers there saw this. They became upset and complained to each other. They said, "Why waste that perfume? That perfume was worth a full year's work. It could be sold and the money could be given to poor people." And they criticized the woman strongly. Jesus said, "Don't bother the woman. Why are you troubling her? She did a very good thing for me. You will always have poor people with you. You can help them any time you want. But you will not always have me. This woman did the only thing she could do for me. She poured perfume on my body. She did this before I die to prepare me for burial. I tell you the truth. The Good News will be told to people in all the world. And in every place where the Good News is told, the story of what this woman did will also be told. The thing she has done will be told and people will remember her." Then one of the twelve apostles went to talk to the leading priests. This was the follower named Judas Iscariot. Judas wanted to give Jesus to them. The leading priests were very happy about this. They promised to pay Judas for doing this. So Judas waited for the best time to give Jesus to them.
Mark 14:1-11
Related Scripture Readings
A woman was there among the people. This woman had been bleeding for the past twelve years. The woman suffered very much. Many doctors tried to help her. All the money she had was spent. But she was not improving. Her sickness was becoming worse. The woman heard about Jesus. So she followed Jesus with the people and touched his coat. The woman thought, "If I can touch his clothes, that will be enough to heal me." When the woman touched his coat, her bleeding stopped. The woman felt that her body was healed from the suffering. And Jesus felt power go out from him. So he stopped and turned around. Then he asked, "Who touched my clothes?" The followers said to Jesus, "There are many people pushing against you. But you ask, 'Who touched me?'" But Jesus continued looking for the person that touched him. The woman knew that she was healed. So she came and bowed at Jesus' feet. The woman was shaking with fear. She told Jesus the whole story. Jesus said to the woman, "Dear woman, you are made well because you believed. Go in peace. You will have no more suffering."
Mark 5:25-34
Jesus saw some rich people putting their gifts for God into the temple money box. Then Jesus saw a poor widow. She put two small copper coins into the box. Jesus said, "I tell you the truth. This poor widow gave only two small coins. But she really gave more than all those rich people. The rich people have plenty; they gave only what they did not need. This woman is very poor. But she gave all she had. And she needed that money to help her live."
Luke 21:1-4
Some people brought a paralyzed (crippled) man to Jesus. Four men were carrying the paralyzed man. But they could not bring the man to Jesus because the house was full of people. So the men went to the roof above Jesus and made a hole in the roof. Then they lowered the mat with the paralyzed man on it. Jesus saw that these men had much faith. So Jesus said to the paralyzed man, "Young man, your sins are forgiven."
Mark 2:3-5