When Jesus saw the men, he said, "Go and show yourselves to the priests." While the ten men were going to the priests, they were healed.
— Luke 17:14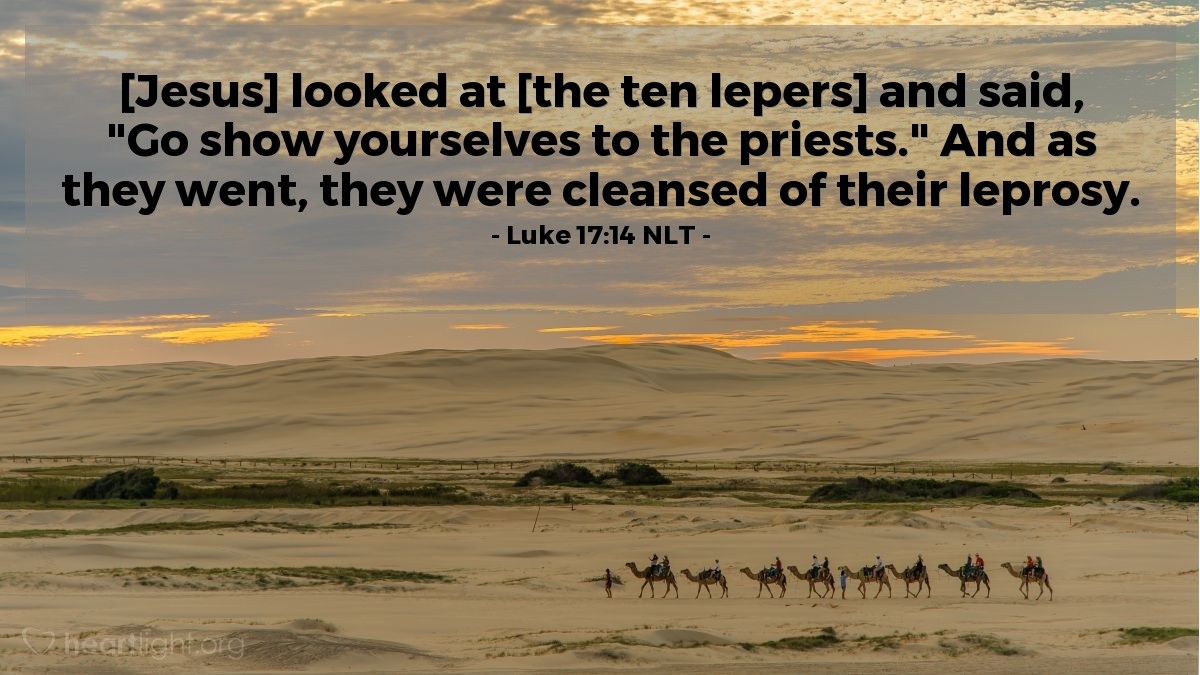 Key Thought
Jesus heals people in all sorts of ways. He told these ten with leprosy to go show themselves to the priests just as the Law commanded them to do if they were healed. Jesus didn't heal them before they left, but as they were on their way to the priests. Healing happened after they stepped out in faith and obeyed. So often, many of us will not follow until the Lord does for us what we want. Like those with leprosy, we call Jesus "Lord" or "Master," but we want him "to do for us" rather than for us to submit to him as Lord. Let's be reminded today, that if Jesus is our Lord, we will obey him whether or not we see the answers to our prayers before, during, or after our obedience. Let's do what he says and trust that he will dispense his mercy and grace in a way that most blesses us for an eternity with him.
Today's Prayer
Father God, please give me the patience that comes from your Spirit's presence. May the Spirit lead me to obey whether or not I see the answers that I want for the wishes of my heart and my prayer requests. I want Jesus to truly be my Lord and Master. Open my eyes so that I can see where I need to obey him and follow his will. In Jesus' name I pray. Amen.
Today's Verses in Context
Jesus was traveling to Jerusalem. He went from Galilee to Samaria. He came into a small town. Ten men met him there. These men did not come close to Jesus, because they all had leprosy. But the men yelled to Jesus, "Jesus! Master! Please help us!" When Jesus saw the men, he said, "Go and show yourselves to the priests. " While the ten men were going to the priests, they were healed. When one of the men saw that he was healed, he went back to Jesus. He praised God loudly. He bowed down at Jesus' feet. The man thanked Jesus. (This man was a Samaritan. ) Jesus said, "Ten men were healed; where are the other nine? This man is not even a Jew! Is he the only one that came back to give praise to God?" Then Jesus said to the man, "Stand up! You can go. You were healed because you believed."
Luke 17:11-19
Related Scripture Readings
"Not every person that says that I am his Lord will enter the kingdom of heaven. The only people that will enter the kingdom of heaven are those people that do the things that my Father in heaven wants. On the last day many people will say to me, 'You are our Lord! We spoke for you. And for you we forced out demons and did many miracles. ' Then I will tell those people clearly, 'Go away from me, you people that do wrong. I never knew you.'
Matthew 7:21-23
"Every person that hears these things I say and obeys is like a wise man. The wise man built his house on rock. It rained hard and the water rose. The winds blew and hit that house. But the house did not fall, because the house was built on rock. But the person that hears the things I teach and does not obey those things is like a foolish man. The foolish man built his house on sand. It rained hard, the water rose, and the winds blew and hit that house. And the house fell with a loud noise." When Jesus finished saying these things, the people were amazed at his teaching. Jesus did not teach like their teachers of the law. Jesus taught like a person that had authority (power).
Matthew 7:24-29
So put out of your life every evil thing and every kind of wrong thing you do. Be humble and accept God's teaching that is planted in your hearts. This teaching can save you. Do what God's teaching says; don't just listen and do nothing. Why? Because when you only sit and listen, you are fooling yourselves. If you hear God's teaching and do nothing, you are like this: You are like a man that looks at his face in the mirror. The man sees himself, but he does nothing. He goes away and quickly forgets how bad he looked. But you must not be like that. You must carefully study God's perfect law that makes people free. You must continue to study it. You must listen to God's teaching and not forget what you heard. Then you must obey what God's teaching says. When you do this, it will make you truely happy.
James 1:21-25