All the people were amazed at the great power of God. The people were still amazed about all the things Jesus did. Jesus said to his followers,
— Luke 9:43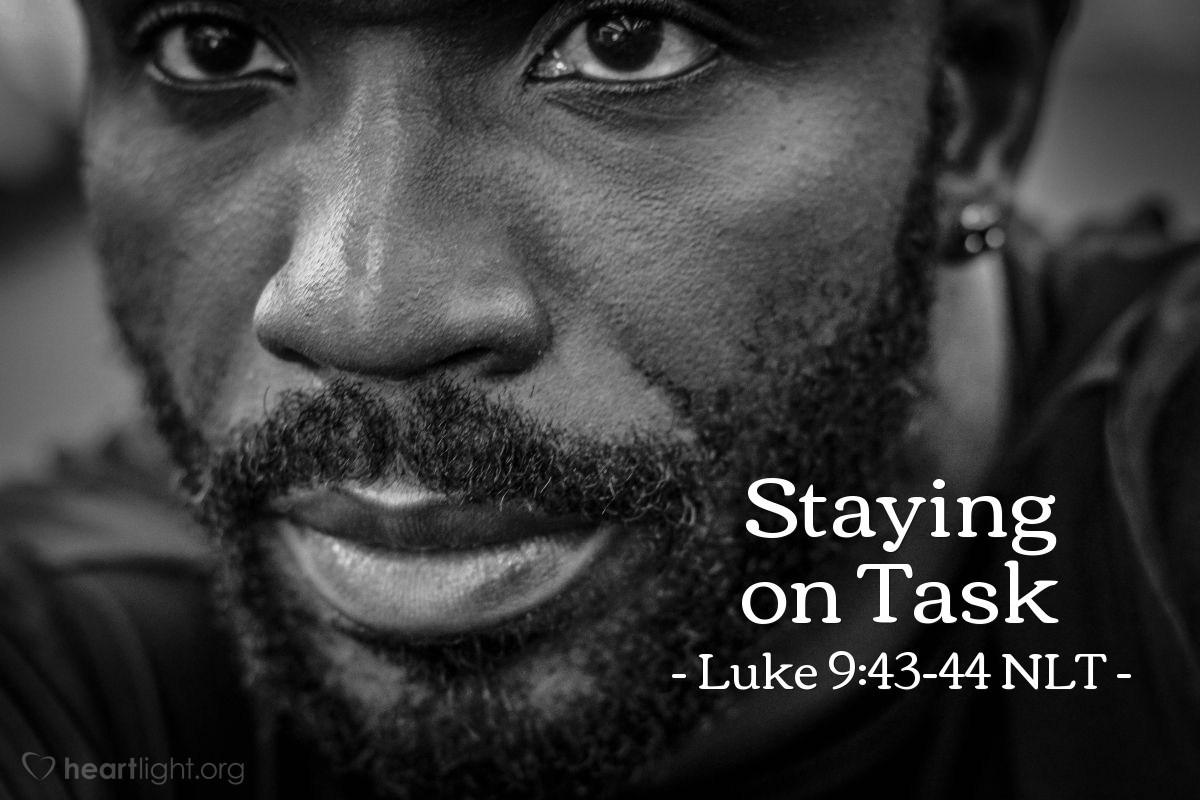 Key Thought
So often our gaze is diverted from what our primary task truly is. Jesus was preparing disciples to lead after his departure. Sometimes discouragement can derail us from our mission. Sometimes it is pride that comes from praise—we sometimes call it "resting on our laurels." Jesus, however, was not diverted. He stayed on task. He remembered his mission. Part of this was possible because of his daily walk with God in quiet prayer time. Part of it was based upon his desire to finish his Father's mission for him. Yesterday we focused on not letting difficulties and disappointments, especially those that center upon people, keep us from continuing in our mission for God. Today, we are reminded to not let success and praise derail us through pride. While others talked about all the wonderful things Jesus was doing, Jesus stayed focused on developing his disciples!
Today's Prayer
Father, please help me not be diverted from my mission because of the praise of others. While I genuinely appreciate the affirmation, I know my heart can sometimes swell with pride. Thank you for the encouragement and keep me on the path of honoring you. In Jesus' name. Amen.
Today's Verses in Context
All the people were amazed at the great power of God. The people were still amazed about all the things Jesus did. Jesus said to his followers, "Don't forget the things I will tell you now: The Son of Man will soon be given into the control of some men." But the followers did not understand what Jesus meant. The meaning was hidden from them so that they could not understand it. But the followers were afraid to ask Jesus about what he said. Jesus' followers began to have an argument about which one of them was the greatest (most important). Jesus knew what they were thinking. So Jesus took a little child and stood the child beside him. Then Jesus said to the followers, "If a person accepts a little child like this in my name, then that person accepts me. And when a person accepts me, that person accepts the One (God) that sent me. The person among you that is the most humble—that person is a great (important) person." John answered, "Master, we saw a person using your name to force demons out of people. We told him to stop because he does not belong to our group." Jesus said to John, "Don't stop him. If a person is not against you, then he is for you."
Luke 9:43-50
Related Scripture Readings
I don't care about my own life. The most important thing is that I finish my work. I want to finish the work that the Lord Jesus gave me to do—to tell people the Good News about God's grace (kindness).
Acts 20:24
Jesus said, "My food is to do what the One (God) who sent me wants me to do. My food is to finish the work that he gave me to do.
John 4:34
But many people believed in Jesus. Even many of the Jewish leaders believed in Jesus. But they were afraid of the Pharisees. So they did not say openly that they believed. They were afraid that they would be put out of the synagogue. These men loved praise from people more than praise from God.
John 12:42-43
About This Devotional
What Jesus Did is a one-year devotional guide through the gospels, using one short passage each day and following the Gospel in consecutive order. Each devotional consists of a passage, reflection and a prayer which opens up the day's scripture and shows how it challenges you to live for Jesus.
What Jesus Did! is written by Phil Ware.
Easy-to-Read Version copyright © 2001 by World Bible Translation Center. All rights reserved.