Jesus answered, "I tell you the truth. A person must be born again. If a person is not born again, then that person cannot be in God's kingdom."
— John 3:3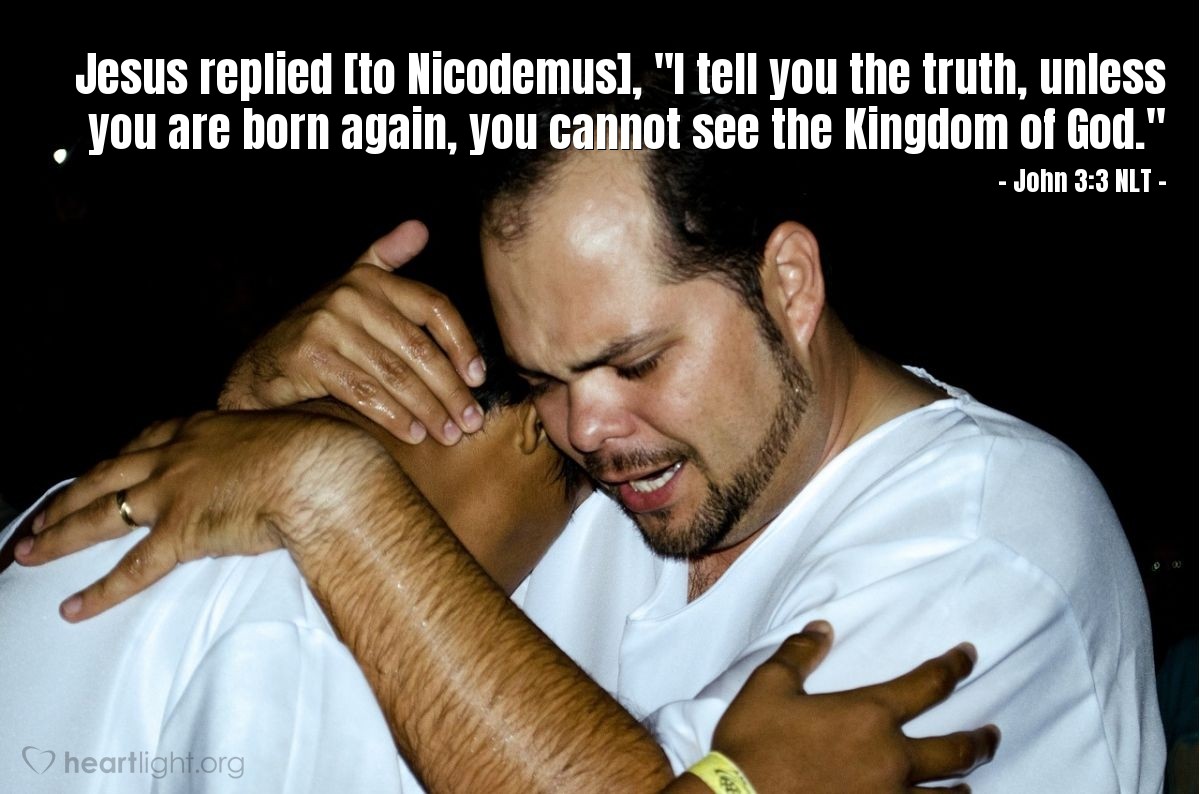 Key Thought
Jesus basically tells Nicodemus, a religious ruler and a righteous man, that he must start over. Not only that, he tells him he must have a fresh start that only God can bring about. He must be reborn. This is no longer a theological discussion, but a personal one: "... unless YOU are born again ...." But more than just being born "again," Jesus is telling Nicodemus that he must be born "from above" or "born of God." Another human birth, another birth by human efforts and origins, simply can't accomplish what is necessary for him to be a part of God's Kingdom. This is something that the best of the best can't accomplish for himself. Good won't cut it. Only God can make the grade and only God can make this birth happen. Can we hear that? Oh yes, because in our heart of hearts, we all know we don't measure up. Deep down, we know that only God's grace and the power of the Holy Spirit can make us God's holy children.
Today's Prayer
Father, thank you for not only providing the sacrifice for my sins in Jesus, but also for providing the birth that makes me your holy child. By grace and in the name of Jesus I pray. Amen.
Today's Verses in Context
There was a man named Nicodemus. Nicodemus was one of the Pharisees. He was an important Jewish leader. One night Nicodemus came to Jesus. Nicodemus said, "Teacher, we know that you are a teacher sent from God. No person can do these miracles that you do without God's help." Jesus answered, "I tell you the truth. A person must be born again. If a person is not born again, then that person cannot be in God's kingdom." Nicodemus said, "But if a person is already old, how can he be born again? A person cannot enter his mother's body again! So a person cannot be born a second time!" But Jesus answered, "I tell you the truth. A person must be born from water and the Spirit. If a person is not born from water and the Spirit, then he cannot enter God's kingdom. A person's body is born from his human parents. But a person's spiritual life is born from the Spirit. Don't be surprised that I told you, 'You must be born again.' The wind blows where it wants to go. You hear the wind blow. But you don't know where the wind comes from or where the wind is going. It is the same with every person that is born from the Spirit." Nicodemus asked, "How can all this be possible?" Jesus said, "You are an important teacher of Israel (the Jews). But you still don't understand these things? I tell you the truth. We talk about what we know. We tell about what we have seen. But you people don't accept what we tell you. I have told you about things here on earth. But you do not believe me. So surely you will not believe me if I tell you about the things of heaven! The only one that has ever gone up to heaven is the One that came down from heaven—the Son of Man. Moses lifted up the snake in the desert. It is the same with the Son of Man. The Son of Man must be lifted up too. Then every person that believes in the Son of Man can have life forever. Yes, God loved the world so much that he gave his only Son. God gave his Son so that every person that believes in him would not be lost, but have life forever. God sent his Son into the world. God did not send his Son to judge the world guilty. God sent his Son so that the world could be saved through his Son. The person that believes in God's Son is not judged (condemned). But the person that does not believe is already judged. Why? Because that person has not believed in God's only Son. People are judged by this fact: The Light (goodness) has come into the world. But people did not want light. They wanted darkness (sin). Why? Because they were doing evil things. Every person that does evil hates the light. That person will not come to the light. Why? Because then the light will show all the bad things he has done. But the person that follows the true way comes to the light. Then the light will show that the things that person has done were done through God."
John 3:1-21
Related Scripture Readings
The love of Christ controls us. Why? Because we know that One (Christ) has died for all people. So all have died. Christ died for all people so that the people who live would not continue to live for themselves. He died for them and was raised from death so that those people would live for him. From this time on we don't think of any person like the world thinks of people. It is true that in the past we thought of Christ like the world thinks. But we don't think that way now. If any person is in Christ, then that person is made new. The old things have gone; everything is made new! All this is from God. Through Christ, God made peace between us and himself. And God gave us the work of bringing people into peace with him.
2 Corinthians 5:14-18
You have begun to live the new life. In your new life you are being made new. You are becoming like the One who made you. This new life brings you the true knowledge of God. In the new life there is no difference between Greeks and Jews. There is no difference between people that are circumcised and people that are not circumcised, or people that are from some foreign country, or Scythians. There is no difference between slaves and free people. But Christ is in all those believers. And Christ is all that is important.
Colossians 3:10-11
He saved us because of his mercy (love), not because of any good things we did. He saved us through the washing that made us new people. He saved us by making us new through the Holy Spirit.
Titus 3:5