Articles Tagged 'Pre-schooler'
Melissa Troyer writes about the pressures of daily life for a mom whose husband is in P.A. school, money is tight, and children are calling, all the while Jesus is near.
06/14/2022 by Melissa Troyer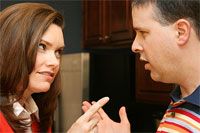 Sarah Stirman writes about a time her husband didn't quite follow through on getting their pre-school kids to Bible class and she gets angry, but the Lord challenges her to forgive!
07/31/2008 by Sarah Stirman