Articles Tagged 'God's Grace'
Leah Adams remembers a friend who had gone to be with God and a song sung at her funeral that reminds us all the God longs to walk with us and talk with us and tell us we are his very own.
07/12/2007 by Leah Adams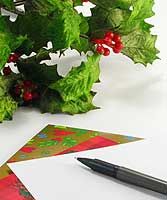 An older lady's mistake with Christmas envelopes reminds us that God never forgets to pay for our gifts!
12/19/2006 by Alan Smith

God's sacrifice of Jesus should amaze, humble, and change us.
02/26/2005 by Phil Ware