Articles Tagged 'Beliefs'
Ron Rose deals with a person who has had very difficult times and feels that prayer is not acted upon by God even if he hears them and that miracles are for times gone by.
07/20/2013 by Ron Rose
Rubel Shelly reminds us that life's purpose rather than externals or someone else trying to make us happy is the real key to peace and joy in life.
11/06/2007 by Rubel Shelly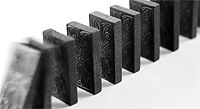 Phil Ware shares the values of his dad with his children and emphasizes to them how Jesus is everything.
10/01/2007 by Phil Ware