---
We're glad you joined us for ToGather.church. We pray you are blessed! (Find out more about ToGather.)
---
---
Opening with Praise in Word and Song:
We begin ToGather with the song "God of Wonders," led by Elijah Oyelade, to remind us that the Creator of everything is our Father in heaven and the one who sent Jesus to save us:
We adapt the words of John to the Seven Churches of Asia (Revelation 1:4-6) and use them as our prayer of praise:
Dear brothers and sisters in Jesus' church all over the world:
May our Lord — who is, who was, and who is to come, the eternal one — bless you with grace and peace.
We ask, dear Father, that you empower us with the perfect and powerful Holy Spirit, who is in your glorious presence, yet also is alive in us, your children.
We thank you, Lord Jesus Christ. You are the faithful witness, the first to conquer death. You now reign supreme over every earth-bound ruler and authority and power, both human and demonic.
We praise you, Lord Jesus. You love us and have freed us from our sins by the shedding of your blood. You have created us and made us holy so that we are now a holy kingdom and priests made holy to serve the LORD God and our Father. To you, dear Lord, be all glory and power forever and ever! Amen.
God revealed himself over and over again in Scripture, and in history, as the God who is both high and holy, as well as the LORD who longs to be near to us, his precious children:
For this is what the high and exalted One says —
he who lives forever, whose name is holy:
"I live in a high and holy place,
but also with the one who is contrite and lowly in spirit,
to revive the spirit of the lowly
and to revive the heart of the contrite."
(Isaiah 57:15)
As we sing the song "All Who Are Thirsty" with the Zoe Group, let's draw near to God and find our thirst slaked in his grace:
---
---
Sharing The Supper:
We often focus on the cruelty and agony of the cross where Jesus was crucified. We recognize the realities of Jesus' physical suffering and spiritual sacrifice. We also remember that Jesus endured his agony joyfully and willingly to bring us salvation (Hebrews 12:1-2). The Lord Jesus Christ changed the cross from a symbol of torture, pain, and suffering into God's tool of victory and the power of Jesus' willing self-sacrifice as the Lord triumphed over evil, sin, death, hell, and demons. Jesus won this victory through the cross and his resurrection, and we participated in that triumph in our baptism (Colossians 2:12-15). As we prepare to participate in the Lord's Supper, we sing "Victory" with Fred Jenkins to remind each other that Sunday is our day, and the Supper is our reminder, of Jesus' death, triumph, and promised return:
Robert Regan reminds us that our participation in the Lord's Supper is a time for us claim this victory:
---
---
Focusing on the Scriptures:
Our message for ToGather comes from the Verse of the Day found in Psalm 34:10: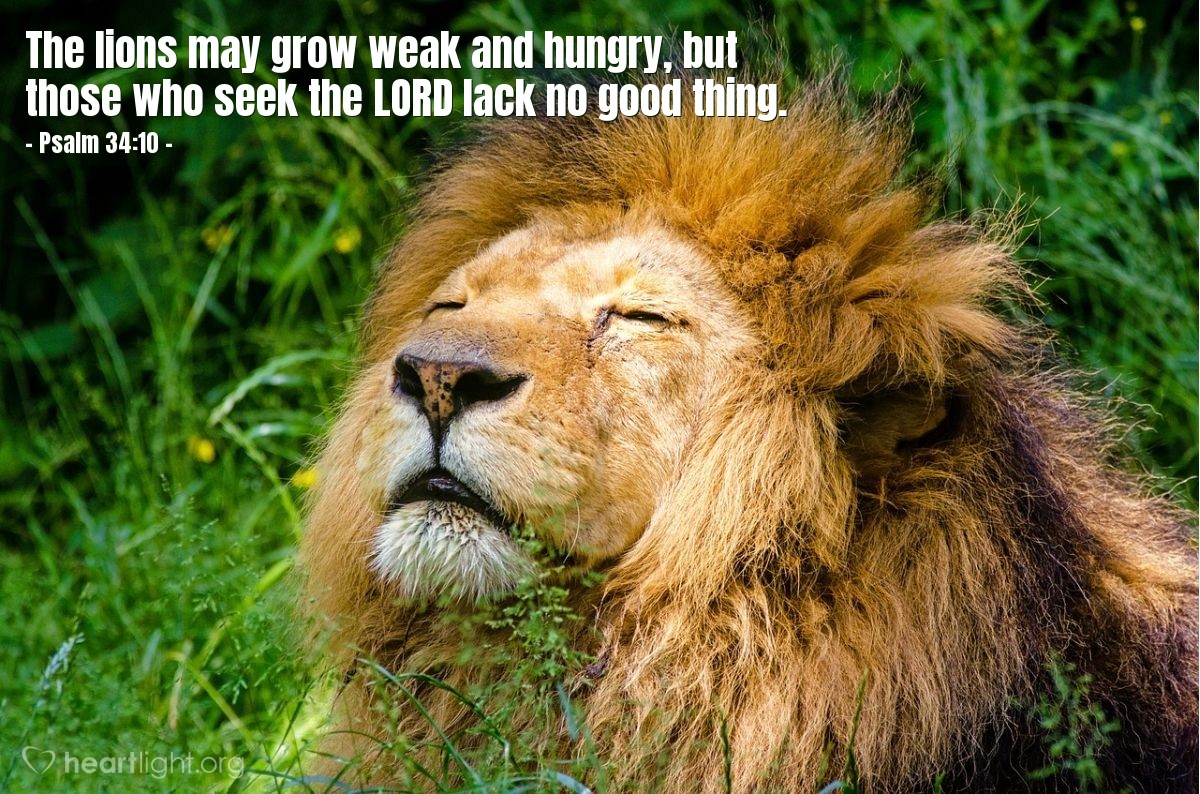 Phil's message focuses on this great promise as he challenges us to ask ourselves: What is the true source of our delight? As we look at the Scriptures, Phil encourages us to lean into God's promise that if we passionately pursue him, we will lack no good thing!
---
---
God is high and holy, yet is also the LORD who longs to be near us and bless us!
Closing with Scripture, Praise, and Prayer:
So often today, followers of Christ grow discouraged because of the sin that surrounds them, the culture that is against them, and the devil's constant attacks to deceive and entrap them. They feel surrounded. But, as believers in the resurrected Lord, we know that the Spirit in us is greater than the spirit in the world (1 John 4:4). We may be surrounded by evil, but as God's children, we are filled and surrounded by the presence of the Lord of hosts, the God of heaven's armies. Let's sing this truth in the song, "Surrounded (Fight My Battles)," led by Upperroom:
Paul challenges us to live for God passionately and purposely as we put on the full armor of our God:
Finally, be strong in the Lord and in his mighty power. Put on the full armor of God, so that you can take your stand against the devil's schemes. For our struggle is not against flesh and blood, but against the rulers, against the authorities, against the powers of this dark world, and against the spiritual forces of evil in the heavenly realms. Therefore put on the full armor of God, so that when the day of evil comes, you may be able to stand your ground, and after you have done everything, to stand (Ephesians 6:10-13).
We learned that, by the grace of God, Justin Bieber found Verse of the Day as he was beginning his move toward Jesus and he pointed his Instagram followers to visit our site. While some find it easy to be cynical of these kinds of celebrity conversions, if you follow Justin's posts about his journey and his desire to be a godly man, husband, and father, you know he desires our prayers. He seeks to live for Jesus as he navigates the difficult challenges of living in the spotlight as a celebrity as well as facing criticism for identifying himself as a follower of Jesus. Another celebrity trying to walk a similar path is Kanye West. So, no matter what you may think of their pasts, let's pray for their walk and their influence on others who may never be reached without their influence. Here's a powerful song about standing up to our enemies from the evil one's world and proclaiming the glory of Jesus. Let's join in and sing "Lord You're Holy Ballin" with Kanye West's Sunday Service from Paris. (You may need full-screen mode to read the lyrics.)
Jude, the half-brother of Jesus, calls us to an alert passion as we live for Jesus in a hostile world:
But you, dear friends, by building yourselves up in your most holy faith and praying in the Holy Spirit, keep yourselves in God's love as you wait for the mercy of our Lord Jesus Christ to bring you to eternal life (Jude 20-21).
In keeping with Jude's exhortation, let's close with this prayer for each other:
O, God, please bless us with the Spirit's power to defeat the enemy of our souls as we pursue you with all our heart, soul, mind, and strength. May we bring you glory in the way we live our lives before others. Amen.
---
---
Special thanks to The Lumo Project and Free Bible Images for images related to the ministry of Jesus.
---
---