Now when Jesus saw the crowds, he went up on a mountainside and sat down. His disciples came to him, and he began to teach them.

...

"Therefore, if you are offering your gift at the altar and there remember that your brother or sister has something against you, leave your gift there in front of the altar. First go and be reconciled to them; then come and offer your gift" (Matthew 5:1-2, 23-24)
As a young boy, I remember my dad not taking communion one Lord's Day. My dad skipping communion didn't make sense to my little boy's mind. He always took communion when we went to church. Being a kid, I just blurted out, "Why isn't daddy taking communion?"
"Shh!" my mom told me, "I will explain later."
I remembered mom's comment while eating chicken at lunch later that day. So, I asked again. This time, dad explained that Jesus had commanded us to be reconciled with our brothers and sisters in Christ before we came to God for our worship.
"What's reconciled?" I asked.
"To be friends with each other again after a fight or an argument," my dad said. "I am not in the right place with one of my friends, and I felt I needed to try to fix it before I took communion, again."
Yes, that made such an impact on a ten-year-old boy that he now remembers it over fifty years later. And, I believe, my dad's actions and his influence on me still make Jesus smile. The Lord was serious about us reconciling and being an authentic family. One of the Lord's prayers on the night he was betrayed (John 17:1-26) was for his followers to "be one" just as Jesus and the Father were one (John 17:11, 21).
Jesus didn't pray for unity just so Christians could sit in a happy circle, hold hands, and sing Kum Ba Yah around the campfire at church camp — although I'm sure that makes the Lord happy. The unity of his followers, their reconciliation and actively loving each other as brothers and sisters, was essential to Jesus for missional reasons. This unity was crucial for the world to believe that the Father had sent him (John 17:21, 23). In a world marred by ethnic, racial, cultural, language, religious, and family division, people need to know there is at least one place where God's children can get along, love each other, and reconcile with each other when they have wounded each other.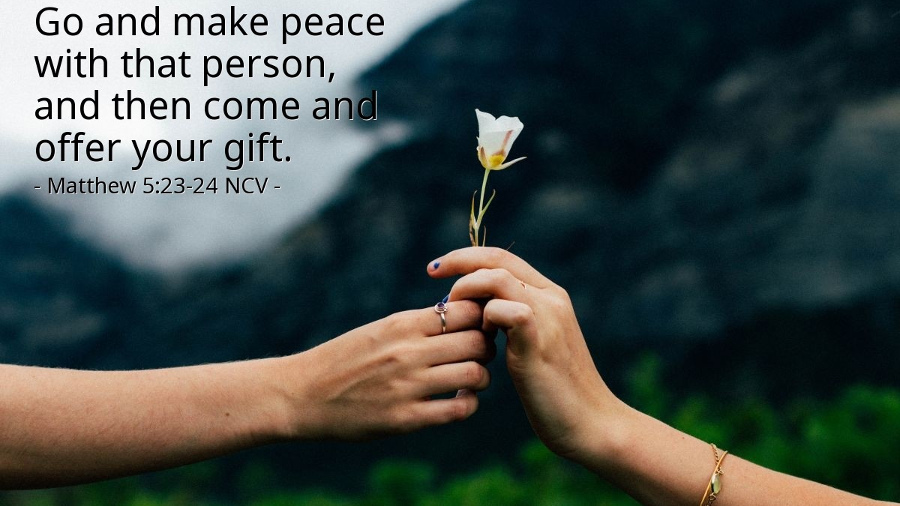 In graduate school, I was blessed to be Dr. Neil Lightfoot's graduate assistant. This scholar in Bible languages and member of the RSV Bible translating committee was often called to work with churches and their messy situations. He would say something like the following:
Well, Phil, another church called and told me, "Brother Lightfoot, we need you to come. We're having trouble getting along on some things. We believe that you could help us work these things out. But, Dr. Lightfoot, we want you to know that our disagreements are not about important doctrinal differences. We're just not getting along." Of course, you know what I told them: "If you're not getting along, then it is an important doctrinal problem to Jesus!"
I am thankful that those two men I admired, my dad and Dr. Lightfoot, taught me the importance of unity, forgiveness, and reconciliation. I am grateful that those men taught those lessons and also demonstrated them. I confess, however, that there have been times where I haven't practiced these truths as well as I should — as well as I was taught.
The Holy Spirit reminded me of those memories as I read what many treat as a throwaway passage at the end of Paul's letter to the Colossians:
Tychicus will tell you all the news about me. He is a dear brother, a faithful minister and fellow servant in the Lord. I am sending him to you for the express purpose that you may know about our circumstances and that he may encourage your hearts. He is coming with Onesimus, our faithful and dear brother, who is one of you. They will tell you everything that is happening here.

My fellow prisoner Aristarchus sends you his greetings, as does Mark, the cousin of Barnabas. (You have received instructions about him; if he comes to you, welcome him.) (Colossians 4:7-10).
The apostle Paul was sending the runaway slave, Onesimus, back to his "owner" — a man named Philemon — in Colossae. Philemon had the absolute legal authority to do what he wanted to do with Onesimus, but Paul sent a "personal" letter to Philemon along with his letter to the Colossian church. Philemon was probably the wealthiest and most influential person in this congregation. He also was a supporter of Paul. In this letter that Tychicus read in front of the whole church (Philemon 1:1-25), Paul urged Philemon to receive Onesimus back as a brother in Christ and not a slave.
Paul didn't just ask for reconciliation; he asked Philemon to forgive and grant Onesimus' his freedom as a brother in Christ since Onesimus had become a Christian. Paul considered Onesimus as a valuable brother. So he asked Philemon to regard Onesimus in the same way. Of course, for that very uncomfortable moment to have happened in a church service in Colossae, Onesimus had to risk his freedom and his life to go back to Colossae where he was a wanted man by the law and at the mercy of his "owner"!
As remarkable as that story of grace is, Paul's words to the Colossians contain one other example of the importance of reconciliation, forgiveness, and unity. Along with Onesimus and a man named Tychicus, Paul also sent (John) Mark to visit the Colossian church. He was the John Mark who had "deserted" Barnabas and Paul on their first missionary journey (Acts 13:13; 15:37).
When Barnabas later wanted to take Mark with them on the second missionary journey, he and Paul had such a sharp disagreement that they split and went their separate directions (Acts 15:36-41). While God used both influential leaders, Barnabas and Paul, to do incredible mission work, their disagreement was a well know scar on their ministries. Decades later, Paul had reconciled with Mark. The old and grizzled imprisoned apostle then let others know how useful John Mark was in Jesus' mission and Paul's ministry (Colossians 4:10; Philemon 1:24; 2 Timothy 4:9-13). John Mark was no longer a deserter, but a friend who risked his freedom to minister to Paul.
What's reconciled? To be friends with each other again after a fight or an argument.
Paul practiced what he preached:
Be kind and compassionate to one another, forgiving each other, just as in Christ God forgave you (Ephesians 4:32).
He knew the heart of Jesus. So also did John Mark, Philemon, and Onesimus.
So, dear friend in Christ, here is where these stories intersect our stories. With whom do we need to reconcile?
In our western church culture, many of us shop for churches like we shop on Amazon — which one offers the best bargain with the things I like and devoid of the people with whom I don't get along? We harbor grudges, carry resentments, and share our criticisms about one brother or sister with others. We've forgotten the lessons that the apostle Paul exemplified, my dad practiced, and Dr. Lightfoot taught.
We must know that Jesus was completely serious about this principle of reconciliation, forgiveness, and unity. So, if the examples of my dad, Dr. Lightfoot, Paul, John Mark, Onesimus, and Philemon are not enough, let's remember what our Lord said after the Lord's Prayer.
For if you forgive other people when they sin against you, your heavenly Father will also forgive you. But if you do not forgive others their sins, your Father will not forgive your sins (Matthew 6:14-15).
Why?
Because the world needs to see a group of people who love, forgive, and reconcile like their Savior!