For we live by faith, not by sight (2 Corinthians 5:7).
Growing up on my grandparents' farm, I was too busy playing outside with my sibling and cousins, chasing butterflies or climbing trees to worry very much about my poor eyesight. I was born with a progressive eye disease known as Retinitis Pigmentosa. As a child, I didn't understand that much about it and my family didn't make a big deal of it. Thankfully I was allowed the freedom to have fun in my childhood.
My best friend's family took me to church with them. It was there that I knew I wanted to be like Jesus and learn as much about Him as I could. I carried my Bible around the farm and lay back in the hay in the barn with my collie to read the words in red.
I began sketching at twelve. One of the very first pictures I recall doing was of Jesus Christ. I enjoyed sketching the life around me — animals, landscapes, and people.
As I grew older, my eyesight diminished, but my love of art and Jesus didn't. I kept sketching even though it was getting harder for me to see. By the time I was twenty, I'd given my heart to the Lord. I became more involved in church activities as I joined my youth group doing things in my community. We took literature to inmates in jail, we visited residents in nursing homes and created holiday plays and programs. Our church believed in helping those in the community.
As I grew older, I followed my lifelong dream of becoming a professional social worker. When you are in a profession that you were born to do, doing something God wants you to do in life, you think that it will last forever. However, RP was taking a toll. By the time I was 40, I was legally blind and had to retire from my social work career. I prayed about my situation and wondered what I would do with the rest of my life. In time, I became a freelance writer. This was something I could do as a legally blind person with help from accessibility features on my computer.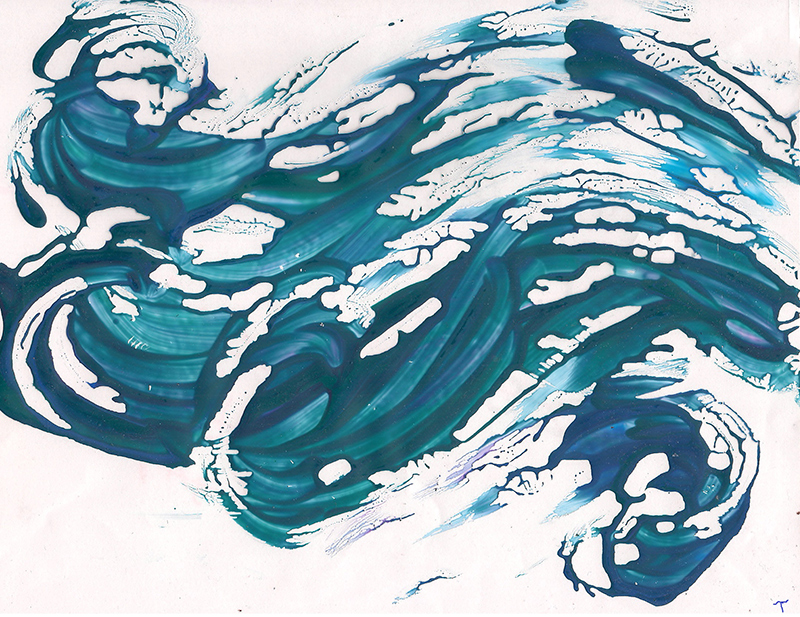 Today's technology allows the blind and visually impaired to do virtually anything. But by early 2013, art was something that was coming to an end in my life. I simply couldn't see details well enough to sketch anymore. I tried to be gracious about it, but the truth was, I would miss it. I tried to find a way to accept the fact that art wasn't meant to last forever either.
Then in April, an online friend suggested I try my hand at finger painting. This would be something I could do with my intuition. I was very skeptical. How could it be possible? I'd always been a sketcher, not a painter.
I paint by faith and not by sight!
Praying is something I try to do in all cases, but especially when I need help sorting things out. Reading the Bible taught me to want God's will. But, sometimes I'm not sure what that is. And I didn't want to do something that was just my will alone.
The idea of trying to finger paint just wouldn't leave me. I knew there was only one way to find out if it were possible. I just needed to do it.
With a small seed of faith, I gave it a try.
Feedback regarding my finger paintings was positive. Even though I can't see my paintings very well, other people can. They tell me what they like, what they see, or how it makes them feel. In a way, I paint by faith, certainly not by sight. I do have some residual vision, enough to see if I get the general shapes and colors. But, for the most part, I rely on my imagination, my instinct and my memory. My vision is 20/400 and I don't know how long it will be at this level.
I began to receive encouragement from local galleries. I had some of my paintings included in exhibits. I realized art was opening up opportunities I hadn't thought of before — or maybe it wasn't art that was opening them up, but God. I'd never realized it before, but art was a gift God had given me that I hadn't really used to its fullest to glorify him. I'd used it on a personal level, doing it as a hobby, to bless me.
Now it felt like art could really mean something. My paintings are mainly of the natural world — landscapes, flowers, the ocean, the sky, birds, fish, and other similar kinds of things — images of God's creation. How can you not see God in nature? It is alive and real just as He is.
On a more personal level, art allowed me to reach out to others again — just as I'd done in church when I was younger and just as I'd done as a social worker. I taught finger painting to a group of children with a community outreach program. I met with local art teachers to discuss ways to teach art to blind or visually impaired students.
Finger painting has created a closer relationship with God by teaching me to walk more by faith than by sight. That is perhaps the biggest gift art has given me. Yes, I paint by faith and not by sight!